Art Students' Fear in the Shadow of Renovations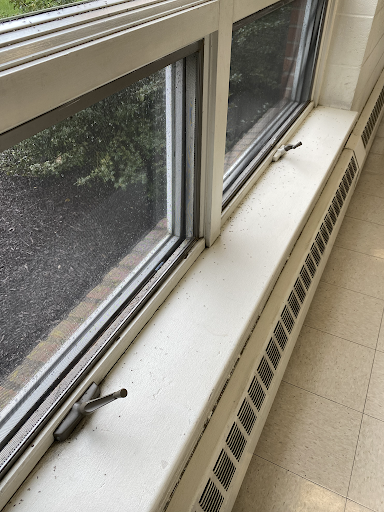 Many art students have found it difficult to be excited about the HUB renovations when their buildings are in a state of disrepair. 
For the majority of the fall semester, art students relayed complaints of broken easels. In addition, most of the upperclassmen art studios suffer from broken windows with peeling and chipping paint. 
Although, this decay is not only limited to the studio art rooms. Students are currently complaining about handrails that are not adequately secured and windows that do not fully close, letting bugs into many of the rooms. 
"It's hard to be excited about creating when the place you are in is barely functional, and there's very limited space, especially compared to the Sally building, with only three–and a half if you count the ceramics room, which is the size of a shoe box–dedicated art rooms," said studio art major Theo Berenato '24.   
Many of the windows are not sealed properly, leading to gnat infestations in many of the buildings. Regarding the bug issue, Facilities relayed that bugs have been an issue nationally and locally due to the mild winter. As many other student concerns go, problems cannot be fixed if they are not reported. 
In addition, some of the art rooms lack properly functioning A/C and fans, which can lead to an influx of issues considering the lack of ventilation for chemical fumes. 
"It is clear we are a second thought, not even having access to proper safety regulations," said Berenato.
Students have raised concerns about cabinets needing replacement, as many cannot properly close. 
"[The Art Department] needs just a general update of materials and furniture such as chairs; easels and carts would be greatly appreciated," Berenato said.
A lack of access to materials limits students and professors, and students must fund many of their materials out of pocket. These materials include but are not limited to brushes, rags, and, most significantly, paint. Even during an art student's first semester, when they buy a kit for their beginner classes, they have to pay roughly $100 out of pocket for each kit. 
Many art students fear that South campus is being undervalued and not adequately taken care of by the school due to its current conditions. Yasmin Bugaighis, Director of Facilities Management, Planning & Construction, assured that Facilities is continually working to maintain Moravian's campus. 
"We have a whole bunch of other projects [Facilities is working on] to see if we can pull together grants to get other monies. South Campus is a gorgeous campus; we have every intention of keeping it that way," Bugaighis said. 
The Facilities Department's Renewal and Replacement (R&R) funds may seem vast at 2 million dollars annually, but replacing one broiler can cost over half a million dollars. The R&R budget funds projects, buildings, and appliances that have fallen into disrepair. Despite this, Facilities works to maintain both North and South campus within that limited budget. 
"We all see it [South Campus] falling apart; it is a punch in the gut to [see] the promotion of nursing and science programs but nothing about arts," Berenato said. "And with the eventual removal of the theater in the HUB, the arts program will become lesser and lesser until, eventually, it will be no more [at Moravian]." 
Right now, Facilities is not doing any work specific to the art department but plans to complete some renovation work on South campus soon, including new flooring and painted windows in the Clewall Dormitory, along with new patios and balconies for Main Hall. Facilities is also planning on adding a gender-neutral/family restroom that is ADA-compatible in Foy Hall. 
"Honestly, it's really hard to want to continue your work and education when you aren't even seen as a worthy major or student," Berenato said. 
Following the pandemic, Factilies renovated South Hall to offer two more floors of studios for the art students, but shipping delays have prevented the new furnishings from arriving. 
"South Campus has received a lot of attention, and we've done some major things that [students] are probably not going to see but that they will feel," said Bugaighis. 
In addition to expanding the art studios, Facilities has added air conditioning to South Hall in recent years, as well. However, as most issues go, these renovations are dependent on finances and priority.
In addition to applying for further grants, Moravian has submitted an application to be a World Heritage Site, which could provide further finances, tourism, and protection for the campus in the future. 
Many Facilities projects depend on feasibility and priority, especially concerning how many students a project would affect. 
"We rely upon students to also inform us as to what they're seeing if they're seeing anything," said Bugaighis. 
View Comments (2)