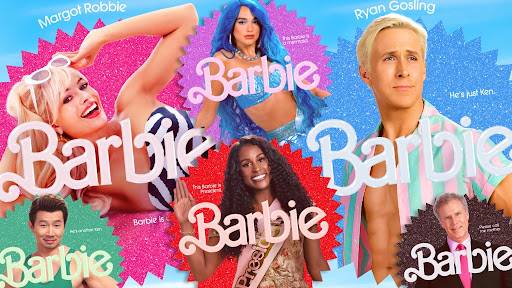 It seemed inevitable that Mattel's famous "Barbie" dolls would eventually find their way onto the silver screen. Having a prominent role in 2010's Toy Story 3, it was proved that the character was more than just a child's plaything. Now, in 2023, Barbie stars in her own movie accompanied by many of her additional Barbies and Kens. Initially, I just assumed that this movie would be nothing more than a film with an awful script made for kids. However, I decided to go see it regardless after a couple of my friends asked me to go with them. I have to say, I was pleasantly surprised at how deeply some of the themes were explored. Despite having many expected flaws, the movie also does some things extremely well.
I'll begin with the parts of the film that aren't very good. First, there are a few moments that feel forced. Mainly, it comes from Will Ferrell's character as the CEO of Mattel. He seemed a little too out of place in the movie, and it only feels like he was put in the movie for marketing purposes. Also, I can't help but notice how all over the place the movie is in the first half. It feels like the focus shifts a little too quickly from time to time, rendering the movie uneven.
The plot of Barbie is admittedly a little dull. Barbie and Ken visit the "real world" and experience the truth about negative gender roles in our society. From a strict storytelling perspective, there isn't much substance here. There's a basic inciting incident, rising action, climax, falling action, and resolution. The movie moves quickly and doesn't spend much time with characters that aren't Margot Robbie's Barbie and Ryan Gosling's Ken.
The story doesn't have any plot twists or major arcs. It's a basic story that kids will understand and enjoy. Most, if not all, of the suggestive content and jokes will go right over their little heads. However, that was done on purpose. The story structure is appealing to kids and will let them enjoy the movie without too much confusion. The underlying themes of gender expressed through the story, however, are a different story. These are strategically placed in the narrative as a commentary for anyone of any age on the negative effects that gender stereotypes can have on men and women.
Barbie masterfully expresses how women today and throughout history have not been treated and represented fairly. Barbie learns that even though she was initially created to help women, the world of toxic masculinity doesn't allow her to do so very effectively. The image of a "perfect woman" like Barbie just isn't something that is actually possible. It's Barbie's realization of this that drives the movie forward.
This message is excellent. So many times, studios attempt to create films that feature a female protagonist only to have them ridiculed for being another movie with a "strong female lead." Barbie takes that very idea and flips it on its head.
It shows us how this very idea of the "perfect woman" and how our preconceived notions of women are hurtful. Barbie's character arc incorporates her coming to the realization that she was made for one thing, but that doesn't necessarily mean that she has to be that thing. This theme acts as a commentary on the dangers of the assumptions that society has regarding women. Barbie's dynamic character is some of the best I've seen. I was flabbergasted at how well they wrote her. Seriously, it will make anyone who watches it think about the way that they perceive women in our society.
The other big theme revolves around, you guessed it, men. The Kens act as a sort of antagonist, taking over Barbieland. They basically absorb toxic masculinity and force the women to take a back seat in their society. Morons on the internet will have you believing that the film paints men as the enemies and the source of all the problems. However, it's actually the opposite. Ken also gets his own character arc, where he succumbs to societal expectations, which is also dangerous. Yeah, the film's second major theme revolves around the danger of society's preconceived notions about men. While it isn't explored as much as the other message, it's still very prominent.
I can't get around how well these themes are conveyed. In a movie that's painted as a silly adventure with Barbie dolls, the writing in some portions is exceptional.
The movie also succeeds when it comes to visuals. In Barbieland, where the majority of the movie takes place, your eyes won't be disappointed. Its colorful atmosphere coupled with the enjoyable set makes for a very fun viewing experience. Also, I want to point out the comedy. There were comedic moments in the movie that really hit. Ryan Gosling's Ken has some of the funniest moments in the movie that I feel will make anyone laugh.
Overall, Barbie is an unexpected treat. While the narrative does jump around and everyone besides Barbie and Ken don't do much, the themes of feminism and toxic masculinity are exceptional. I'm still thoroughly impressed with how well they handled the themes in a movie about a toy. Additionally, fun visuals with great comedic moments (mostly from Ryan Gosling) make for a movie most people will find pretty good!
Score: 8.5/10