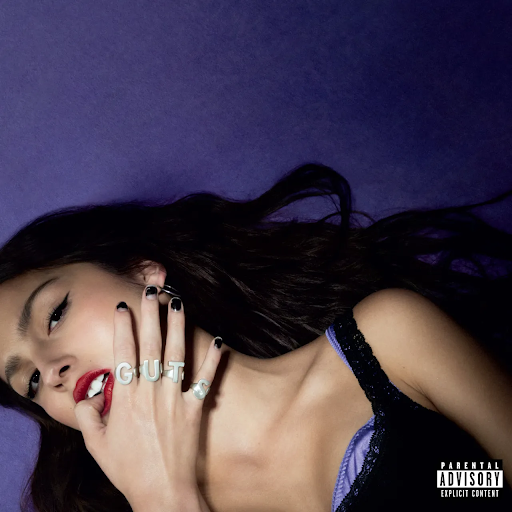 Disney star turned youth-pop juggernaut Olivia Rodrigo cemented her versatility in 2021 when she released her debut album SOUR. Infectiously melodious, SOUR sweetened her music career with critical acclaim, streams in the billions, and a revived revolution of 21st-century girlhood. Rodrigo dismantled the Taylor Swift copycat mold by establishing her spell-bounding presence and refining different genres with her own original flair. 
In 2023, Rodrigo returned to the pop sphere with GUTS, an expanded, enlighted continuation of SOUR. With this new album, Rodrigo revived her spunk punk attitude with confessional poetry on past relationships and insecurity while expanding her lyrical versatility with subjects like body image issues, social anxiety, and even hints of sexuality. 
Alternating between wispy verses to a devil-may-care chorus, All-American Bitch revs this album to be full of spellbinding spunk. During the acoustically delicate verses, Rodrigo is "light as a feather and as stiff as a board" before she kicks it up a few notches and shout-sings her way through pop-punkish guitar passages, fervently claiming "I know my age, and I act like it." The verses allude to American culture and the expectations of women like Rodrigo to be multi-faceted or "built like a mother and total machine" as she so cleverly puts it. Once the chorus sparks, she dismantles the projected image of womanly fragility, fully confident in being "the perfect all-American bitch, with perfect all-American lips and perfect all-American hips." 
Bad Idea, Right? unravels a spool of self-believing lies, desires, and bad decisions. Rodrigo's repetition of seeing her ex as a bad idea shows this push-and-pull between what she wants versus what is good for her. Even she doesn't believe that she only sees him as a friend, remarking that it's "the biggest lie I've ever said." This track is also where we get introduced to her endless witticisms and snappy tones that spice up the album and its angsty atmosphere. 
Vampire feels too poignant to be a lead single but regardless, it's beautifully melancholic with a melodrama that builds up through Rodrigo's pained upper register and added instruments with each new verse and chorus. Sadness and resentment course through Rodrigo's vocal deliveries as she details being used and discarded by a heartless, vampiric man. It's much more haunting than Rodrigo's 2021 smash lead single, Driver's License, with much more mature realizations that make it an anthem of anguish.
Pained with sickly jealousy, Lacy shows an obsessive Rodrigo who wishes to attain the "dazzling starlet, Bardot reincarnate" status of a girl named Lacy. To Rodrigo, Lacy is the embodiment of unreachable divinity and represents all the things she's not. Her voice is subdued and insecure, layered and poisoned with this lamentable obsession. Moreover, her unfeigned self-awareness of her feelings makes this track so real and tangible for her audience. 
Ballad Of A Homeschooled Girl doesn't really subscribe to traditionally melancholic balladry as the title suggests. However, that doesn't undermine the diaristic greatness that Rodrigo brings to this confessional piece. Each lyric is loaded with a calamitous confession from breaking glasses to tripping over words to comically mistaking someone's mom for their wife. Rodrigo pokes fun at her own social ineptitude while also feeling suffocated by the "social suicide" that comes with being outside or even being alive. Her textbook examples of social anxiety really pack a neurotic punch for a vulnerable audience.
We revert back to the actual balladry with Making The Bed, an anhedonic track about the bad "bedmaking" of Rodrigo's career. Referring to the common adage "You've made your bed, now lie in it," she internalizes her faults and laments over how things turned out for her, riddled with awareness again. In some respects, it's an expressive cry for help from a person who feels like a detached background character in their own life, strung along by this lack of control and insurmountable dread. Musically, this track is a grower but the purely confessional lyrics edge the musical simplicity very nicely after a few listens. 
Exposing love's illogicality, Logic details a relationship marked by manipulation and lies. It builds on its pianistic poignancy through deep, retrospective reflection. Rodrigo highlights her ex's deceit as a "master manipulator" who convinced her that "two plus two equals five, and I'm the love of your life." Even though she's not in the relationship anymore, she's still reeling from the aftermath of it all, sorrowfully ending the song questioning why she couldn't stop it and cycling back to her culminating self-blame. 
With Get Him Back! Rodrigo completely switches the tempo and embraces the spirit of late 90s and early 2000s pop-rock pettiness. Her sing-rap verses ooze with cheekiness, reminiscent of the grit of Paramore's Hayley Williams. Meanwhile, the hook explodes into this summery chant of ambivalence towards an ex. She strikes each lyric with an infectious cadence when she describes how temperamental and egotistical her ex was while also romanticizing his fun side and their wild escapades. Ultimately, she's caught in the middle between getting him back for what he's done and getting him back in her life since she misses him. 
You can't possibly be any more blunt with a title like Love is Embarrassing, and its flurry of descriptions of how love contorts us. With every crushing retrospective revelation and complimentary second-hand embarrassment, Rodrigo rejects the way her past self acted within the trenches of love but willingly jeers at the ways in "I crucify myself" for someone who wasn't even worth it and yet "I keep comin' back for more."
Unleashing her inner Phoebe Bridgers, The Grudge feels like a sister song to Driver's License. Although the vulnerable sentiments and vivid vitriol contribute to the themes of the album, the musicality disappoints and doesn't build up as swimmingly as a song like Vampire does. Yes, there's some fascination to be found with the personal experiences but I feel other songs convey the angst much more profoundly and with specificity.
There's something so wistfully youthful about Pretty Isn't Pretty, being so sonically summery like an electrifying road trip to the beach as a kid. Lyrically, however, Rodrigo revs up her audience with an articulated assertion on beauty standards. She discards superficial observations and instead attaches her detailed insecurity of body dysmorphia and tries to keep up with our culture's ever-changing definition of "pretty." Earlier in the album, she alludes to feeling like "my skin doesn't fit right over my bones" in Ballad of a Homeschooled Girl, and this song feels like an expanded thesis on this idealistic standard. She tries and tries but isn't able to fit this cruel mold for beauty and yet, she feels compelled to keep subscribing to this harmful mythology. 
A final statement on her last year being a teenager, Teenage Dream finds Rodrigo crooning sorrowfully over growing pains and a festering apprehension towards adulthood. She acknowledges her inevitable fall from grace and that the best parts of her are already fleeting like the sands of time. As the end of the song culminates into a choir of worries, Rodrigo leaves the audience with an unsettling question of not if it will get better but if she will get better, not offering any resolution for getting older. 
For all its crushing honesty and spell-bounding revelations, GUTS carries all the glory of being a captivatingly personal project on being 19 and conveying growing angst. Rodrigo goes above and beyond to supply so much intricate insight into her life with self-aware commentary and necessary retrospection on this tumultuous time of her life. This project is a mosaic of all these different sides of her and doesn't try so hard to resolve her problems but illustrates the life she leads going into her 20s. When it comes to musicality, she almost consistently constructs this collage of pop-rock panache and balladry even with a dud or two creeping onto the tracklist and her vocal performances undulate beautifully to match her earnest wordsmithing. With all its pop passion and confessional cognizance, GUTS is an 8.5/10.
Favorite tracks: All-American bitch, Bad Idea Right?, Ballad of a Homeschooled Girl, Logical, Get Him Back!, Pretty Isn't Pretty
Least favorite track: The Grudge