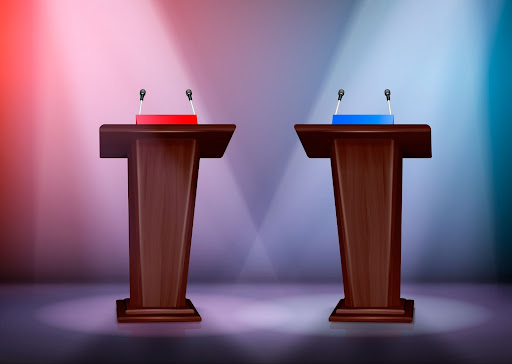 The Republican Primary Debate was, unfortunately, one of the most exciting pieces of news I have watched in a long time–and not for a good reason. 
These candidates are spineless, complete cowards. They are so afraid of Trump and MAGA extremism that they are willing to confess to, or worse, lie about, supporting former President Donald J. Trump. 
I'll start with Ron DeSantis. Every word that comes out of his mouth is filled with fake charisma, oozing corruption. He claims to understand the struggles of lower-class Americans while owning more than $69 million in assets. But yeah, he understands the struggle of not being able to afford groceries and gas. 
In addition to raising his hand in support of Trump, he initially refused to answer a question of whether Mike Pence did the right thing on Jan. 6, 2021, deferring that "we need to stop the weaponization of federal agents." Yep, according to him, the federal agents doing their job and investigating not only one crime but numerous are being "weaponized." 
When the candidates were asked if they would still support Trump if he was convicted, seven out of the eight Republicans raised their hands.  This is where my biggest vice lies, showing how spineless these candidates truly are. 
If I could encourage anyone to watch any moment of this debate, it would be this one. Slowly, after looking back and forth at each other, the candidates began to raise their hands once they saw that they had enough coverage of other candidates vouching for Trump. 
Tim Scott, a South Carolina senator, proceeds to lecture about abortion, stating he will stop "abortions on demand up until the day of birth. It is immoral, unethical, it is wrong." Of course, Tim Scott, a man who could never carry a child to term, is an extremely qualified person to talk on this topic. And, as we all know, all abortions happen the day before the fetus is born! 
Hearing that man talk makes my blood boil. He is so blinded by his political opinions that he refuses to address the fact that less than 1% of abortions occur within the third trimester. These 1% of abortions are almost always due to medical necessity. If he would rather watch someone deliver a fetus that had already died within the womb–forcing a woman to birth a dead baby–he is not morally sound enough to even consider judging others on their decisions with their body. 
Don't even get me started on his argument that God is included in the Declaration of Independence, that he "gave us inalienable rights, including life." What happened to the separation of church and state? 
Hearing Nikki Haley go on about, "I think we're all pro-life," made me nauseous. These are the people that could be possibly passing life-altering policies. 
Hearing Vivek Ramaswamy and Haley arguing back and forth opened my eyes. These people aren't civil enough to have a polite debate, impassioned or not. They are cutting each other off, pointing fingers, and essentially insulting each other. The American public is choosing between candidates who won't even let each other finish their sentences. 
I have an issue with Ramaswamy on many accounts. He tries to make a name for himself by claiming he is the only one that is not bought out while later saying he has founded multiple multi-million dollar companies. Seems suspicious. 
On top of that, he has been publicly criticized for copying previous President Barack Obama's exact words during a debate, remarking how he is a skinny kid with a funny name: what is he doing up on this stage? Again, we are supposed to trust this man with the fate of our country when he can't even think of his own lines during a debate. 
This does not even include his belief that climate change is a complete hoax. 
Ramaswamy will not address climate change because he is afraid of it, just as all the other Republicans. It is a common trick they like to use: digging their head in the sand to ignore the issues occurring. The idea that we are destroying our world for our selfish, materialistic gains is indeed frightening, but even scarier is the Republican's inability to take action to address this collective issue leaves the consequences for their children and grandchildren. 
This debate is filled with smearing, false charisma, and bitter blame, but I should have expected nothing less. Digging your head in the sand is the only solution that doesn't cost money or reputation, so I see why they take this approach, even if I disagree with it. 
And yet, after this entire debate, Trump still remains the frontrunner in polls. Good luck, America.