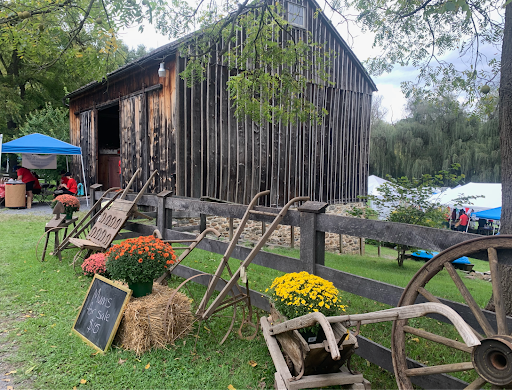 Hosted annually by Historic Bethlehem Museums & Sites, Apple Days is a great event for children, families, or even just a day trip. I made the last-minute decision to attend on Sunday, Sept. 17, the last day of the festival. 

Apple Days is just down the road from Moravian, held at Burnside Plantation. There were many activities on the site, providing something fun for everyone.

General adult admission was $12, access to the brewer was $25, and children's tickets cost $5. 

While I was there, I got to participate in many activities. I started at the petting zoo, where there were two donkeys, adult and baby goats, and bunnies. I was able to purchase a $2 bowl of hay to feed the animals. 

One of the women who runs the traveling petting zoo told us this was the first time there was a group of all-female animals! They all seemed truly happy and well taken care of, which is always great to see. 

We then headed downhill towards the Tri-County Potbelly Pigs "Pigcasso" Painting tent. The pigs painted pictures by licking treats on a layer of plastic film that separated the food from the paint. They created pictures for whoever purchased one. Again, their owners were in the pen with them and prepared the paint for the pigs. These pigs truly loved what they were doing, I even saw one try to steal the other's painting! They also had tunnels, a bed and blanket, and other seating areas and toys laid out for the pigs to enjoy. 

Next to the Picassos tent was the Crafters' Village, where local artists were selling their work. There were also lots of apple foods and other food trucks such as Taco Town, Heaven on a Bun, and Pretzel Revolution. Also in this area was a community stage and seating to enjoy food. There were live performances by Frank Porter, Mark Hannig, Tom Storm, and more. These performances were occurring all day in this tent and another at the event. 

Then, I wandered over to the Pollinator Garden, where native plants are grown to help local pollinators thrive. 

The pollinator garden is located just outside of Hass Barn, where the Bethlehem Public Library hosted a reading to dogs. There, I was able to pet a therapy dog, Lucy, as well as a new pup that passed her certification exams to become a therapy dog just two months ago! There were plenty of stools and books in the barn for children to sit with the pups and read to and pet them. 

Heading into the big Johnson Barn, I was able to shop handmade spreads, jewelry, and more. I purchased pumpkin butter, which I must say was delicious! My boyfriend also bought a harmonica and became inspired to learn how to play it. 

I then watched colonial brewing and colonial blacksmith demonstrations. 

On the way out, I made sure to stop at the take-home dessert stand, where apple-themed goodies were being sold. 

In addition to all the activities I was able to partake in, there were pony rides for children, a brewery tasting tent, tours of the farmhouse and colonial garden, an apple orchard, and much more! 

This is definitely a great local event to check out and is within walking distance of campus. I highly recommend attending next year if you're able!