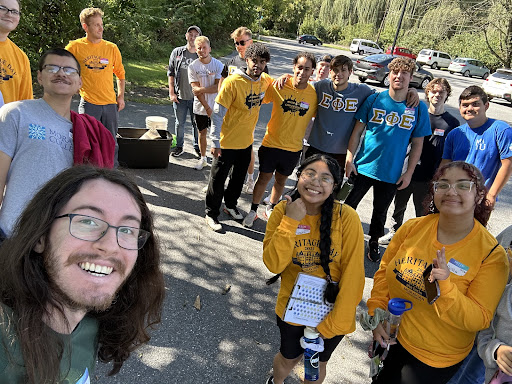 I've been to Heritage Day every year that I've been here at Moravian. Well, every year that it happened, since it didn't occur my Freshman year of 2020. I can safely say that I've done my part in ensuring that my community has been sufficiently serviced.
Despite many years passing since my first Heritage Day, I've noticed that it really hasn't changed that drastically since I first stepped foot into Johnston Hall when I was still a starry-eyed sophomore. What I've noticed has really changed throughout my Heritage Day experiences was me.
A very bold and intellectual statement, I know. A combined total of six hours of community service over three years surely sounds like a lifetime's worth of work. I hope my sarcasm is landing here, but I'm serious when I say I've been able to experience much more than just community service projects at each Heritage Day I've been at. All things considered, it's been a wild ride that's really helped me grow and make the difference I want to make, not what other people want me to make. Allow me to expound . . . .

Sophomore year, I went to my first Heritage Day, and the first one back since the COVID-19 pandemic, with my suitemates whom I lived with at the time. They dragged me out of bed despite my grumblings of not wanting to initially go. Little did we all know, we'd not get the experience we were expecting at all. Upon facing the endless choices of service, we went to support the Burnside Plantation with the task of helping maintain their garden and doing some groundskeeping.

When we got there, we did no gardening at all and helped them set up for their annual Apple Days event. Okay, no big deal. We were more or less just very upset that we were misinformed about what our day's tasks were going to be. After the two hours of service, and here's when it gets scary, we trekked back to campus to finish off our day. We were spent and wanted some really nice shirts that I didn't know we'd get prior to seeing them (the purple ones that year were beautiful). Unfortunately, I desperately needed to get back to my dorm, as I really had to stock the Monocacy with brown trout, if you get what I'm saying. 
When all seemed clear, and the shirts were secured, our exit from the Heritage Day rat race was blocked off by someone who I don't think even works here anymore. When he angrily demanded that we either get on Makuvek Field for a picture or put the shirts back and go home, we questioned what the issue was. When we even DARED to question his almighty authority as John Heritage Day, he called us bodies used for publicity and that the service we did didn't even matter in the grand scheme of the image Moravian gets from this event. 
We were shocked and speechless. However, we really liked the shirts and went down to the field defeated so we could claim our spoils. At that moment, I could have sworn that I'd never go to another Heritage Day again.
However, things can, and most definitely did, change in a year.
Flash forward to my junior year, one day before Heritage Day. I was so excited to sleep in that day and enjoy the peace of not being called a statistic again until I ran into one of my favorite faculty members within the biology department, Dr. Natasha Woods. In her usual cheery way, asked me if I'd be attending Heritage Day. Pshhhh, me? Attending another Heritage Day? The only way I'd show up to Heritage Day that year would be if she'd be leading a site where we'd be removing invasive weeds from the Monocacy Creek and supporting the local ecosystem in doing so. 
Imagine the look on my face when she told me that she was leading a site where she'd be removing invasive seeds from the Monocacy Creek and supporting the local ecosystem in doing so. Twenty-four hours later, I found myself right back in Johnston Hall searching for Dr. Woods. This was going to be the best Heritage Day ever!!!
Well, that's what I thought until I found Dr. Woods and that year's site captain, freshman Kylie Dowd, all alone at the table with absolutely no other visitors other than myself there. To put the cherry on top of this dirt and creek water sundae, our group got absorbed by another which was leading a trash pickup crew along the Monocacy instead. 
I will say it was an absolute blast being able to spend time with Dr. Woods, but my heart is still shattered that I couldn't learn more about invasives to the Monocacy, nor was I able to lend a helping hand to support it. No matter, it was a blast; I got my shirt, engaged in some awesome community service, and wasn't yelled at! I left that year's Heritage Day with a smile on my face and with a new sense of appreciation for the event despite my initial plans being thwarted.
Now we've made it to senior year. One last Heritage Day. Surely nothing could go wrong. 
In my usual fashion, I rolled up to Johnston with my sights set on Dr. Woods' group for a second year in a row. To my absolute joy, not only did I find her leading another Monocacy Creek cleanup, but she was accompanied by Dr. Proud and Dr. Lord from the biology department. Their three tables were almost all filled with students eager to clean up the creek and its surrounding trails. 
I was over the moon to see so many people there, not to mention three stellar faculty members to interact with. Besides that, the actual opening ceremony had some changes to the usual repertoire that made it more bearable.
A vine boom-filled Moravian University history video, created by Joel Hendricks and Sabrina Moody, as well as an audience engagement section from DEI served as a breath of fresh air before we set off on our creek cleaning quest.
The highlights of the cleanup had to have been seeing about ten brothers from Sigma Phi Epsilon being giddy over getting suited up in waders to clean up the Monocacy Creek itself and being able to catch up with a fellow environmental science major, Helaena Holjes, about our current and future endeavors. For the first time, I can say that I left Heritage Day with a big smile on my face and was very happy that I went (and got another cool shirt)!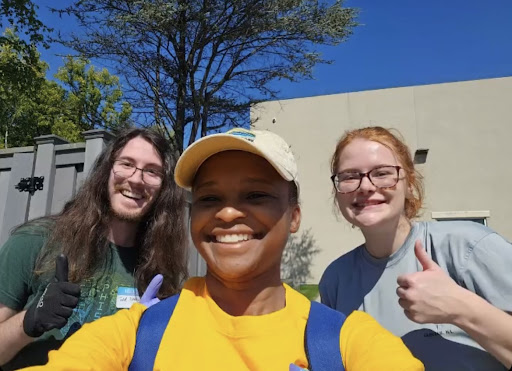 Above: Todd Reedy (Left), Dr. Natasha Woods (Center), and Helaena Holjes (Right)
So what can I say that I've taken from Heritage Day after all of these years? I love it. 
To be specific, I love being a part of Heritage Day. I love being able to apply myself and do something that I take pride in and would love to do more regularly.
I love being out of marketing's prying eyes and feeling like I'm making a difference without letting the world know that I'm doing it. I love getting to spend time with my peers and mentors, sharing life experiences and our excitement for the future. I love being able to stick it to John Heritage Day, who yelled at me for needing to use the bathroom by doing what makes me happy with this special day out of the year. 
Being able to look at this event as a hallmark for Moravian's community to give back is undeniably beautiful, and I realize now that one bad experience didn't sour the event for me at all but has only helped me discover what Heritage Day means. 
Career and Civic Engagement, primarily Kristina Scesa for being the new lead organizer of Heritage Day, keep up the great work in keeping this event alive. It means so much to so many people here, and hopefully, everyone can have an opportunity to find themself a little bit more there, just as I have.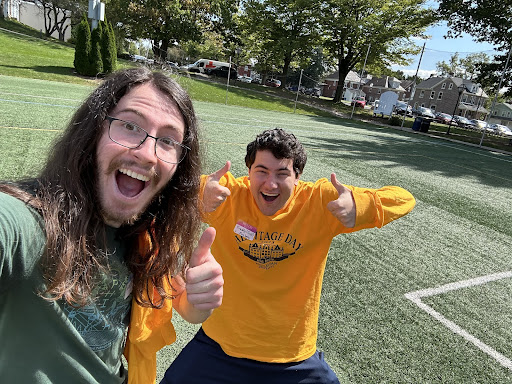 Above: Todd Reedy (Left) and Joel Hendricks (Right)