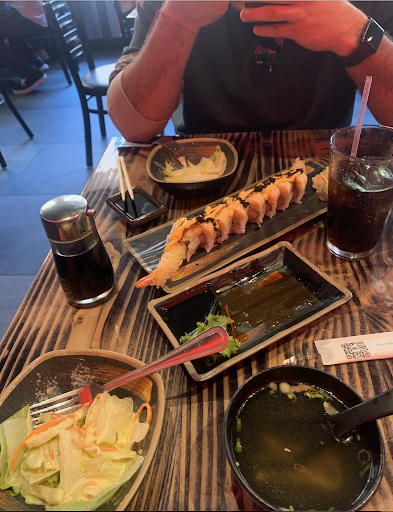 Steak and Steel is a newer edition to the Bethlehem community. Located across the street from the Walnut St. parking garage, it is a short walking distance from campus. 
The restaurant has three seating options: hibachi seating, normal restaurant seating, and bar seating. When I went, I sat in the restaurant area. It was clear that they were a bit short-staffed, but all of the servers kept up very well with the rush! I have so much respect for restaurant workers and know how difficult it can be as a member of the food service industry. 
Our server gave us enough time to review the menu before greeting us and getting our drinks. I ordered water, and my boyfriend ordered both water and a Diet Coke. Later into our meal, we also ordered a pot of tea, which was very tasty. 
We started by ordering a shrimp tempura sushi roll, beef gyoza, two house salads, and two miso soups. If you couldn't tell, we were really hungry that day! 
We decided to save the sushi roll to eat with our hibachi meals, which was a great combo. We both ordered steak as our protein. I got noodles, and my boyfriend got both noodles and rice. Both plates also came with vegetables. 

My only complaint was that my steak came out somewhat cold, colder than my boyfriend's. However, that is to be expected when cooking on a hibachi grill and then transporting it to the restaurant seating. My steak was also cooked to my preference: medium well. 
My noodles were absolutely fantastic! They had a subtle hint of sweetness and paired great with the house sauce that came with each meal. 
"It was really filling and flavorful!" said my boyfriend, Levon Karapetyan. 
Overall, I highly recommend coming to Steak and Steel, and I will be sure to return to dine in the hibachi area! 
Steak and Steel is located at 44 W Walnut St in Bethlehem and their phone number is 610-849-2323.