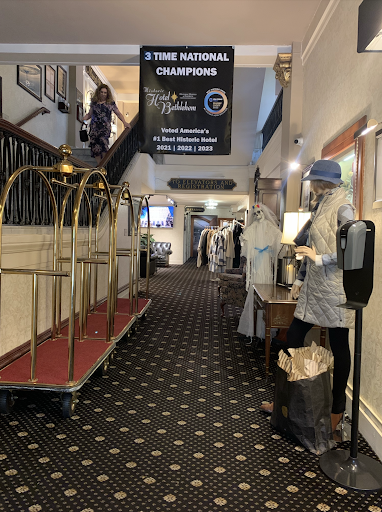 The Historic Hotel Bethlehem was built by the Moravians in 1741. The structure on this plot of land was originally known as the First House of Bethlehem. The First House of Bethlehem was a "rustic log cabin" that housed the Moravian settlers as they built the rest of the town. 
On December 24, 1741, Count Nicolous Von Zinzendorf sang a hymn about Bethlehem outside of the building, and the Moravians chose the name of the town. Today, there is a nod to this fact in the name of one restaurant, 1741 on the Terrace. 
In 1794, the First House of Bethlehem was converted into a general store for the townspeople. This general store was slowly converted to the Golden Eagle Hotel and was named such in the 1820s. For a time, in 1919, the hotel housed veterans returning from the battlefields of World War I. 
In 1921, Charles M. Schwab, President of the Bethlehem Steel Corporation, purchased the property and envisioned a grand hotel with state-of-the-art innovations and steel. He formed the Bethlehem Hotel Corporation and raised $1 million in stock to finance the construction of the new building. This is the building that stands on the property today. 
This new building featured many modern amenities, such as a barber shop, cigar shop, and fitness room. The Hotel Bethlehem opened in 1922 and attracted many distinguished guests, such as Shirley Temple and The Rock. These guests are today highlighted in the hotel's Taproom restaurant, which houses the Gallery of Distinguished Former Guests. 
In 1936, the Bethlehem Hotel Corporation hired the American Hotel Corporation to run the hotel during the Great Depression. The president of the American Hotel Corporation, retired General Lindsay Kinkaid, hired George Gray to paint the history of Bethlehem in a set of murals to be placed in the Pioneer Tap Room, the restaurant at the time. 
When the murals were finished, they were placed around the Pioneer room bar at eye level of patrons. These murals are now located in the Mural Ballroom, located just off of the lobby. 

Today, the lower lobby of the hotel serves to preserve and encapsulate the history of the building for all guests to enjoy in the Hall of History. It contains old photographs, artifacts, and documents, as well as highlights the Pioneer Tap Room. 
Historic Hotel Bethlehem continues to thrive and serve the community of Bethlehem. They host many events for the community, such as Sunday brunch buffets, monthly wine dinners, and more. The hotel has also won recognition as the number one historic hotel in the country from U.S.A. Today, three years in a row.