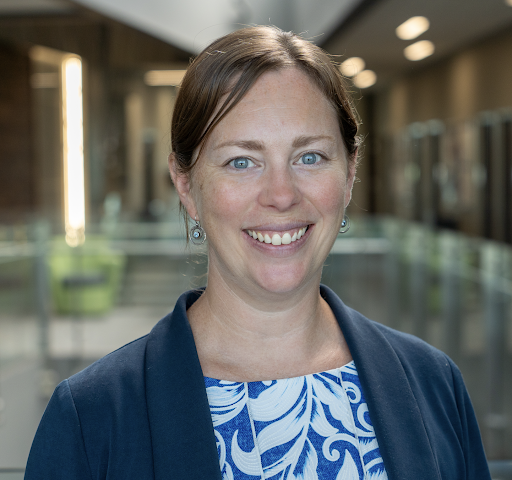 Elise M. Colancecco, Ph.D. is an assistant professor of nursing at Moravian University and has been passionate about nursing education from her first years of nursing practice. She graduated from Moravian College in 2004 with a B.S. in nursing and then worked as a medical-surgical nurse on an ortho, neuro, and trauma unit for the first two and half years of her career where she fell in love with trauma. To further her skills, she transferred to a challenging but rewarding step-down unit and earned her CCRN. During this time, she often worked in roles of preceptor, and decided to also work as an adjunct clinical instructor. Teaching clinical is how she fell in love with nursing education. In 2009, Dr. Colancecco earned her MSN from Duquesne in nursing education and continued to work as a clinical adjunct and registered nurse at the bedside. She began teaching at Moravian in 2011. During this time, she continued to work per diem and then returned to school to further her education. In 2019, Dr. Colancecco earned her Ph.D. from Pennsylvania State University. As nursing education continues to be a passion, Dr. Colancecco currently chairs the curriculum task force working to create a new, innovative undergraduate nursing curriculum to bridge the education-practice gap while fostering emotional wellness. In her personal life, Dr. Colancecco is the proud mother to three amazing children who inspire and challenge her daily. She is grateful to share this wild journey of parenthood with her husband.
What inspired you to go into your field of study?
I have always wanted to help people, and was introduced to nursing by a family friend. I also worked in a nursing home in high school. However, I truly developed my passion for nursing as I went through my schooling here at Moravian (class of 2004!). In terms of nursing education, while working I found myself very engaged with assisting new nurses and working with student nurses. This is where my passion for nursing education began.
What research are you currently working on?
I am very interested in investigating strategies that aid in the development of resilience and emotional well-being. Currently, I am working in a team implementing an emotional wellness program for our accelerated nursing students. We are piloting this program as part of our desire to incorporate a culture of wellness and our curricular redesign. For the study, we are collecting data on students' stress, anxiety, and coping strategies as they navigate the 16-month program. I am also collaborating (teams!) with colleagues on other studies. We have recently finished our study on the effects of student death on nurse faculty. We are continuing to develop this work as there is very little guidance in the literature for faculty on how to navigate the loss of a student. Additionally, we have examined the work-life balance of nurse faculty. We continue to work on identifying strategies to aid nurse faculty in achieving work-life balance.
What do you think is the most recent important development in your field of study?
On the tail of the COVID-19 pandemic, and the resultant loss of nurses from the bedside, there has been a more focused effort on nurses' mental health. Nursing is a high-stress profession that can lead to moral injury, compassion fatigue, and burnout. I think this is a wonderful step. However, without safe staffing, I fear the efforts will stagnate.
What job would you have if you couldn't be a professor, regardless of salary and job outcome? Why?
A wound care nurse or nurse coach who helps individuals manage their chronic condition. If you mean outside of nursing, I would love to be an artist, particularly working with clay.
What do you know now that you wished you knew when you were in college?
Stepping outside your comfort zone opens you up to a world of opportunities. Do it often.
What is your biggest student pet peeve?
Not reading directions/directives and/or following rubrics.
What should students expect from your classes? What is the secret to succeeding in your classes?
Pay attention! Engage in the discussion and complete the outside prep work.
What was the last streaming show that you binge-watched or the last good book that you read?
I loved "The Paris Library" by Janet Skeslien Charles. 'Binge-watching' "Murders in the Building."
What is something interesting about you that most people don't know?
I love to dance!
What inspired you to teach one of the RISE Teamwork & Leadership classes?
I love the concepts and skills being developed in the RISE program! Life is full of teams, and they need leading! I believe these skills are essential for everyone and applicable to any area of work/life. Practicing these skills while in a supportive environment allows for the incorporation of feedback and the further development of the skills and eventually your overall confidence.