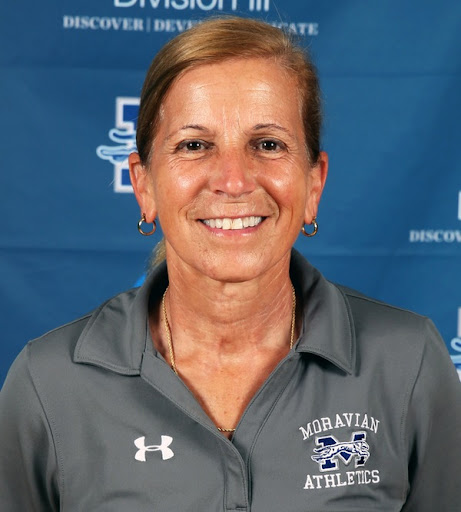 Mary Beth Spirk is the athletic director and Women's Basketball coach at  Moravian University. Outside of Moravian, she enjoys playing golf, reading a good book, attending sporting events (any Philly team!) or watching them on TV, and walking her dog, Boomer. 
What does your work usually entail? What department do you work in? 
I work in the Athletic Department, and my work day is very different every day. I could have meetings with coaches, staff, student-athletes, and/or constituents across campus. I can be planning practice, doing a community service project, or making phone calls with other athletic directors, and the list can go on and on.
What are some of the unique challenges that come with your position? 
I think the challenge for me is balancing my time between AD and head coach. It gets extremely hectic during basketball season. Another challenge is being available to all the coaches and staff in the department. It is a tricky balancing act to help each of them, as they all have different needs and wants.
What are your favorite aspects of working in your position? 
As challenging as it is to balance my time, that is what is great about the job: no day is the same, and every day, you get to help student-athletes achieve their full potential. I get to work every day with a great group of coaches and staff while also interacting with all the student-athletes.
What made you decide to work at Moravian? 
I grew up in Bethlehem, and after I graduated from college, I applied for an assistant coach position.I was hired and never left!
What's an interesting fact about yourself that most people don't know about you? 
I played rugby for over 20 years and had the opportunity to play internationally, representing the US team. I competed in tournaments in Ireland, Amsterdam, Canada, and Spain, as well as many cities in the US.
Are there any interesting projects or things you are working on, even outside of your career? 
I work on my putting (golf) … my dad was a great putter and by working on that part of my golf game, it reminds me of him. It also serves to relax me while helping me to simply focus on one thing.
Did you plan to work in higher education? 
No. I had plans to go to law school after graduation from college. My path changed when I started working at Moravian, and I would not want to be anywhere else.
Anything else you would like to add? 
I went to Dickinson College in Carlisle, PA, and majored in political science with the intention of going to law school. I did take my LSAT's but decided to save some money and work for a year or two before going to law school. Once I started coaching, I fell in love with it and the rest is history, as they say! I earned my master's in sports administration at the United States Sports Academy in Alabama. I would not change my path as I have loved working here at Moravian.