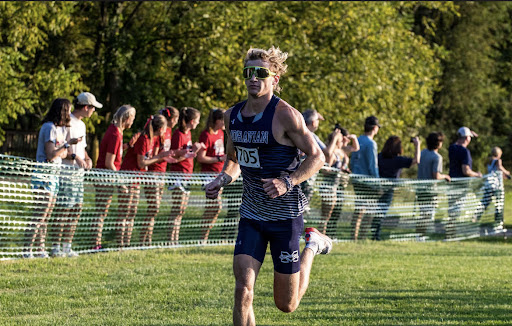 Owen Nahf ('25)is a Moravian University cross country and track and field athlete, who runs anything from the mile to 5k during his seasons. Majoring in health sciences in the physical therapy track, Nahf is a dedicated student-athlete. He is coached by Jesse Baumann, Jonathan D'Ottavio, and Molly Sear in both cross country and track and field. Outside of sports, he enjoys going to the beach, rock climbing, hiking, and cooking. 
When are your next few games/ meets/ matches?
Our next few meets are on Oct. 14 at Rowan University, Oct. 27 (this is our conference meet) at Juniata, Nov. 11 (regional meet) at Rowan University, and our last meet of the season is Nov. 18(national meet) at Dickinson University.
What is your favorite thing about the sport?
My favorite thing about this sport is how there are no limits. This sport is always evolving and seeing how far I have progressed from the first time I started brings such enjoyment.
Why did you choose to play at Moravian University?
I choose to play at Moravian University because of academics and for the team. Obviously, academics are a priority when deciding schools but the team played a major factor as well. When I came for my visit I felt an instant bond with the guys on the team and knew right there this was the school I wanted to come to.
What seasons are your sports played in?
Cross country is a fall sport but our preparations for this sport begin at the beginning of the summer. Track follows very closely and starts indoors, which that starts in the winter and ends in spring, and finishes with outdoor training which takes place during the spring. This is pretty much a year-round sport. 
What accomplishments have you had while playing for Moravian?
Some accomplishments that have happened while at Moravian are definitely winning the Conference Championships back-to-back with the team and having the team finish 3rd at Regionals. We worked very hard for these accomplishments and seeing them pay off was truly amazing.
What is your preseason like?
Preseason begins with a 1-2 week break after outdoor track. We build our weekly mileage every week until we hit our max mileage near the end of the summer. As well as the workouts. Everything gets longer and harder, but it is monitored by our coaches and athletic trainers. The summer training is very crucial for how we perform during the season. Mine was a little different as I was coming back from an injury so I spent most of my training on indoor bikes, ellipticals, in the gym, and in swimming pools. I didn't start running till the middle of the summer.
Biggest sports inspiration?
My biggest sports inspiration probably has to be Steve Prefontaine who set American records in every long distance race at the Olympic level between 1973-1975.
Why did you first get involved with this sport?
I got involved with this sport because of my family. My aunt and uncle were big runners doing triathlons and marathons and they got me wanting to do what they did. My grandparents and parents both pushed to try this sport out saying I had the body of a runner. My parents said this could be your sport as I was always running around and never got tired. 
How do you spend your free time?
I spend my free time studying first. If I don't have anything to study I am always around my friends or family doing anything. 
How do you balance your time?
I balance my time by making priorities. I prioritize school first, then running, and then socializing.
Challenges as an athlete?
Some challenges as an athlete are that not everything is going to go the way you want them to be. The future is never predictable and what matters is how you respond to what the future brings.