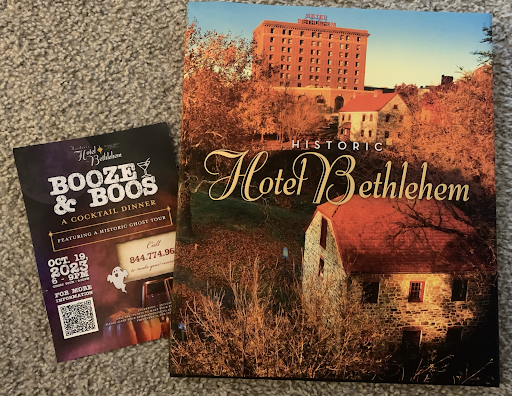 Operating since 1922, Historic Hotel Bethlehem has seen many guests. On top of this, the property has been in use since the Moravians settled in Bethlehem in 1741. It's not surprising that some of these guests decided to stay in the afterlife. 
First, there is May Yohe, whose grandfather, Caleb Yohe, owned the Eagle Hotel. She was born in the hotel in 1866 and passed away in 1938. 
Her ghost has been seen singing and dancing in the lobby of the hotel, which she also did while she was alive. She was so talented that the Moravian community pooled together money to send her to receive formal opera training in Paris, France. 
Throughout her life, she was constantly featured in papers, with both positive and negative headlines. She was known for her talent as well as her romantic endeavors. 
By the 1890s, she traveled to London, England, to perform for Prince Edward, Queen Victoria's son. 
People claim that when the lobby piano occasionally turns itself on, it is May giving yet another performance. She has also been spotted on the third floor of the hotel in the exercise room. 
The next ghost is Francis "Daddy" Thomas, one of Bethlehem's town guides. He was born in Germany and came to the colonies at the age of six. 
He worked as a courier in Bethlehem and was involved in cabinetmaking. He and his wife, Anne Graeff, raised missionary children who were sent to be educated at the girl's Seminary. During his life, he garnered much respect and trust from the Bethlehem community and became a town guide. 
He has been spotted in the area of the hotel's Boiler room. 
The last spirit is Mrs. Brong Landlord. Mr. and Mrs. Brong were terminated as the hotel 'landlords' in 1833 by a committee of the Moravian Church and the owners of the Eagle Hotel. 
They were terminated from their positions because Mr. Brong tended to join guests who requested him for a drink. He was frequently removed from the bar because of how drunk he became. 
As well, Mrs. Brong had a tendency to walk about without shoes or stockings, which was a big offense at the time. 
Mrs. Brong's ghost has been spotted in the kitchen and restaurant of the hotel, often seen without her shoes or stockings. 
Although not a specific spirit, there have been sightings of paranormal activity on the ninth floor in room 932. 
Guests of this room have seen reflections in mirrors, flashing lights, items falling off the desk, and more. There have also been many photos taken in this room where orbs appear. In 2007, a paranormal activity investigator was invited to stay overnight in the room and recorded voices. 
If you are looking for ghosts this Halloween season, consider stopping by Hotel Bethlehem. Maybe you will get to see one of these spirits!