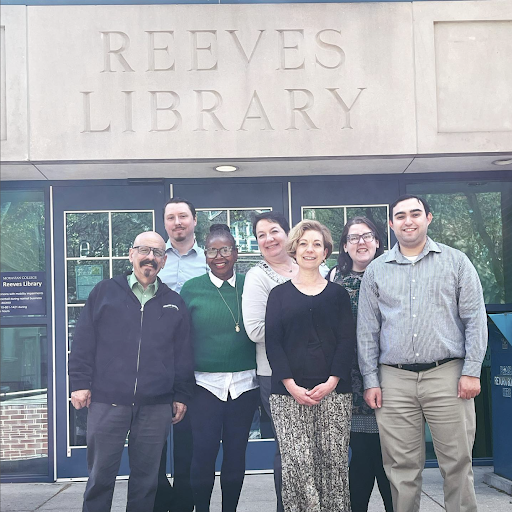 What can be said about the Reeves Library staff other than the fact that they're some of the best human beings to ever walk the earth?
Seriously, these people are the unsung heroes of this institution. Not only do they work behind the scenes to keep Moravian's most crucial study locations open, but they also guide students through the terrifying world of scholarly research. It might not be an exaggeration to say that this school would be in shambles if not for the dedicated workers within the library.
We cannot emphasize enough just how integral the staff of Reeves are to Moravian. They essentially form the academic backbone of this institution for both students and faculty. What's even more impressive is that each member of the staff is extraordinarily compassionate, creating an inviting atmosphere for everyone who enters through the doors.
The services provided by the library are incredibly useful for anyone who uses them. The Reference Desk, for example, helps students through research and other scholarly activities. The librarians behind the desk, Kris Petre, Rayah Levy, and Derrick Achey, are amazing individuals who deserve to be recognized. All three of them work hard so students can succeed in the classroom and beyond. From teaching entire classes how to conduct research to meeting with students to prepare them for honors projects, their work is pivotal to academic success. 
It's not just about research though. They always love to chat and check-in to make sure everyone is on the same page. That level of kindness is something that never fails to make us smile. To you three, we salute your dedication and we thank you for your hard work. We see you, and we appreciate you.
Online databases are crucial to any higher education institution, and luckily we have access to some of the best. Jeff Dickens, our Electronic Resources Librarian, works in the background to make sure students have these critical resources. Jeff, your amazing work and fun attitude make you a fantastic asset to the library.
The Circulation Desk handles all the books that come in and out of the library. Obviously, this includes all books that are checked in and out of Reeves Library but they also handle all the books from interlibrary loans which is such a useful service. This service essentially gives students and faculty access to books from a wide variety of schools. This essentially means that if the library doesn't have a book you need, they can usually find another library to send it to Moravian at no cost to the student.
Kris Beutler and Vince Condello both run the Circulation Desk along with all 60-plus student workers at the library. We frankly don't know how they juggle all those students on top of all the other work they do. Nevertheless, they are awesome bosses, especially when they have to deal with our complaining when we have to reshelve books and do inventory.
Cory Dieterly is the archivist and, in relation to The Comenian itself, the archives have been a great resource for us. It has been integral to preserving Moravian's and The Comenian's history so thank you Cory for all you do.
And then there's Kim Demyan … what can be said about you other than the fact that you are an angel disguised as a human? Your sheer warmth and gentle attitude always make my day brighter without fail. The fact that you constantly go out of your way for students is commendable, and you always greet every person with a smile despite the circumstances.
You are the foundation of the library, whether people know it or not. You deserve nothing but the best in life, and I couldn't imagine a better director.
Also, a special thank you to Angela Cortez for taking care of book cataloging and acquisitions!  
Of course, we cannot talk about the library workers without acknowledging all the student workers. They are always on the front lines whenever people have questions and they are incredibly helpful and nice whenever people need help. They really do keep the library running and their hard work is greatly appreciated.
We are both student workers at Reeves and our experiences working there have been awesome. We have made so many friends through working at the library and in the process have created some unforgettable experiences. The staff themselves have been some of the best parts of this experience because they are all so kind and easy to talk to. We cannot emphasize enough how amazing they are as not only our bosses but more importantly as people.