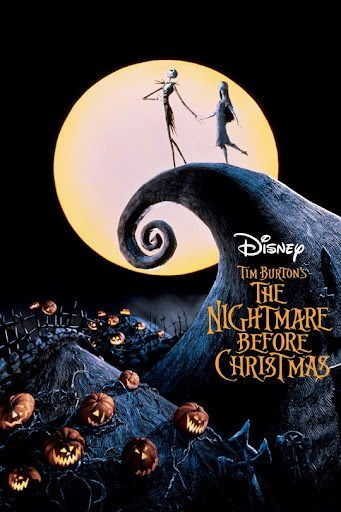 I never knew what to classify The Nightmare Before Christmas as, so I never watched it. Despite hearing amazing things about the stop-motion film, I could never figure out the right season for it. However, after indulging, I still don't have a perfect answer to this question. 
Despite being set in Halloween Town, the protagonist, Jack Skellington, does visit Christmas Town early in the film, becoming infatuated with the concept of the later holiday. In addition, the film was initially released in Oct. 1993, which seems to point toward more of a spooky theme. 
Yet, the film starts in medias res, so the viewers don't even necessarily see Halloween Town in business during the holiday it is famous for. Instead, the film focuses on Jack wanting to become a new version of Sandy Claws during Christmas, making it seem like more of a Christmas film. 
However, the iconic spooky-themed music will point towards a Halloween-centric film. One of the most famous songs from the soundtrack, This Is Halloween, is a staple for this time of the year, and I love hearing it at department stores, marking the beginning of the creepy season. A not-so-hidden treasure is also the song Kidnap the Sandy Claws, which uses dissonance to create a catchy tune that I am, quite frankly, obsessed with right now.
In addition, the merchandise for The Nightmare Before Christmas always comes out around October, and I usually don't see Christmas decorations with the characters on them, so I suppose that points towards the film being more Halloween-themed, as well. 
The film's characters embody Halloween themes, with Jack Skellington, Sally, and Oogie Boogie being staples of the holiday season as we know it. The film's dark aesthetic also contributes to this notion, with visuals of pumpkins, bats, black cats, and tombstones evoking the spirit of Halloween throughout the movie. 
In addition, the film's dark humor had me giggling as I watched. Hearing Jack be referred to as "Bone Daddy" was hilarious, and when Sally pulled the thread of her arm to get away from someone grabbing her arm, I couldn't stop laughing. I loved the film's silly, dark nature, and I feel like it points all fingers towards being a Halloween film. 
The spooky animation and haunted atmosphere of the movie also give it additional Halloween points, with squirming maggots, stitched skeletons, and the nostalgic, robotic movements of the stop-motion cast contributing, as well. The gothic animation features spooky characters, such as ghosts, vampires, werewolves, and other monsters and mythical creatures. 
Of course, films that Tim Burton has a hand in always seem to have an additional element of eerie-ness and dark aesthetics, and The Nightmare Before Christmas is no different. Putting his controversies aside, the film is very similar to Frakenweenie and The Corpse Bride, the spooky and whimsical stop-motion style contributing to a mysterious feeling of fantastical intrigue. 
The film almost completes a full circle, showing the viewer the end of the Halloween season, then cutting to Jack becoming obsessed with the idea of Christmas, to later discover why it is not a good fit for him. And with a central emphasis on advocating to be yourself, with Jack discovering he shouldn't have tried to steal Christmas after all, the Halloween theme is definitely warranted. 
And, if you ask the director, Henry Selick, he would answer that it's a Halloween film. 
So, if I had to pick, I would say it's a Halloween movie, which may not come as a surprise. But, I'll be honest and admit I completely judge things on the title, I can't help it. I never wanted to watch this film during Halloween since it has Christmas in the title, but during Christmas time, I would rather watch brain-rotting Hallmark movies, not dark animation. But, for people who don't feel the same way as me, this would be a great film to watch at any time of the year. 
My suitemate remarked that she doesn't like traditional Christmas films, so this is a great way to compensate. So, no matter what type of Christmas or Halloween movies you're into, this is an amazing film to watch at any time of the year; I'm just a little more biased towards watching during the Halloween season.