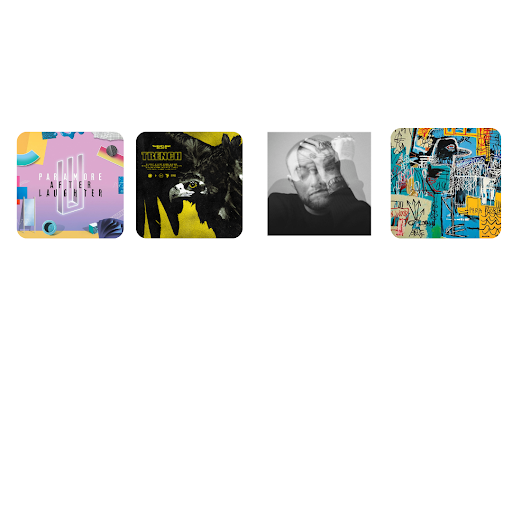 Trigger Warning: References to Suicide and Self-Harm
In facing mental illness or emotional turmoil, music is an enlightening medium to turn to for solace and resonance. In the last few decades, more artists and bands have crafted concept albums on mental illness and self-reflection as mental health awareness has become more mainstream and destigmatized. 
October 1st-7th is Mental Illness Awareness Week and I wanted to discuss my favorite albums that perfectly capture mental illness poignantly and weave musical landscapes with evocative lyricism.
Paramore's After Laughter (2017)
Undoubtedly, Paramore's 2017 retro record After Laughter represents the spectrum of mental struggle through concerningly dismal lyricism juxtaposed by sunny new wave production. Through its "cry hard, dance harder" groove, the band released a cohesive string of songs that cover depression and anxiety in a melodious kaleidoscope. 
The electrifying dance-rock depression of Hard Times illustrates hopelessness and perfectly encapsulates the tropical storm of suffering that can feel debilitating. Rose Colored Boy is every pessimist's in-my-feelings anthem that dispels the toxic positivity in response to depression or mental illness. Similarly, a song like Fake Happy further dismisses the "smile more" mantra with lead singer Hayley Williams willingly being candid on her mental misery and refusing to fake smiles for the sake of others. 
26 may be one of Paramore's poignant tracks, reflective on wistful daydreaming and "keeping all your hopes alive when all the rest of you has died." For those suffering from mental illness, this reassurance is so needed when it feels like all hopes and dreams are dead and things will never get better. 
Nostalgia is an underrated aspect of depression, and Caught In The Middle addresses the conflicting push-and-pull of the past and future that can weigh on our minds. Being stuck in the past, we're stuck ruminating over what could have been different or romanticizing the worst of times. Being trapped by the future, we're swamped by anxiety and the complexity of growing up, feeling betrayed by time. 
We only hinder ourselves and even when we "try to keep going," it's really "not that simple." After Laughter's dichotomy of upbeat sounds and depressing lyrics transcend it to be such a visceral listen, making it such an accessible project to dance (and cry) to. 
Twenty One Pilots' Trench (2018)
Although Twenty One Pilots are typically associated with emo melodrama, their projects have a considerable amount of detail put into themes like depression, paranoia, and even suicidal ideation. Trench is by far the best record in responsibly covering these themes and engaging more deeply with the band's audience than ever before. This record's mythology centers around the fictional city of DEMA, a psychological imprisonment meant to represent depression. Nearly every song is dedicated to breaking free of such a wretched place, every intricate lyric a statement on the gravity of the subject matter and really enhances the group's matured ethos
. The lead single Jumpsuit metaphorizes an article of clothing as armor against internal demons and the "pressures of a new place [that] roll my way." Meanwhile, tracks like the disoriented Morph catastrophizes future what-ifs and the instability of identity. When Tyler Joseph says he'll "morph to someone else, I'm just a ghost," it's a revelation of an unstable sense of self, willingly adopting other people's personality traits to compensate when "going under starts to take my wonder." 
Speaking more on instability, Chlorine is an ode to catharsis away from murky ideations and unwanted thoughts to feel sane. Metaphorically relying on a potentially toxic substance to cleanse when you feel like "a weathered flag that's by the sea" contributes heavily to this album's themes on what people with mental illnesses have to do just to keep themselves alive and not consumed by unfathomable darkness. 
A musical variation of Beethoven's Moonlight Sonata, Neon Gravestones is the most explicitly candid song on the record, a detailed analysis of the glorification and stigma of suicide. Joseph specifically dissects the wrongful weaponization of suicide as an act of attention-seeking by losing a battle with yourself. Additionally, Joseph advocates the celebration of life and treating suicide without using loaded language. It is haunting in its lyricism and can be difficult to listen to but nonetheless, its lyrical brilliance depicts suicide in an evocative, nuanced light. 
Bandito touches on lonesome escapism and overcoming mental afflictions through control. Although Joseph struggles to regain control over his thoughts and emotions, he finds solace in the empathy of others when he is struggling which is very real for victims of depression. Leave The City is a ballad for disoriented, weary wanderers who are "tired of tending to this fire," but find resolve in leaving the city. There is no guaranteed escape from the city – or being free from mental illness – but staying alive until you find some semblance of the resolution you're looking for is a masterful message to leave listeners with.
Mac Miller's Circles (2020)
Frat rapper turned introspective emcee Mac Miller crafted his later works around vice, vulnerability, and sensibilities and became quite the lyrical prophet with Swimming. The posthumous sister album, Circles, expanded his vision on tackling mental turmoil and emotional discordance through jazz-funk and singer-songwriter balladry. 
The mellow, therapeutic title track sparks the pathos of going through the motions but uplifts listeners by not putting "any more stress on yourself, it's one day at a time." Right after this relaxed musical meditation, Complicated finds an exhausted Miller wanting to get through the day without any complications and wanting to clean his cluttered head when he tries "but can't clean up the mess I've made." Underneath the intricate despondency, there is still the message of taking things one day at a time and not stretching yourself thin with recurring thoughts of the future.
Good News explores Miller's cyclical struggles with depression and being caught by the war in his mind. When he is in such a helpless state, he yearns for support but instead, everyone only wants to hear the good things from him and completely discard the internal conflicts that pain him. When he's "running out of gas, hardly anything left" or simply "tired of being so tired," he wants to find that verdant heaven that could be waiting for him on the other side. 
The Beatles-esque brilliance of That's On Me is imbued with reflective awareness and a cathartic desire to "cut the strings" of his depression and the guilt that weighs him down. Moreover, his contemplative voice matches with his navigation of emotions throughout the song and regaining a sense of inner stability. The stream-of-consciousness sentiments of the record come full circle (no pun intended) on the closer, Once A Day. Through the buzzing anxiety of a rushing world, Miller advises himself and the listeners to take our time healing and to bide our time on our terms. Healing is never instantaneous but gradually, it can be well within our grasp. 
The Strokes' The New Abnormal (2020)
Being more than just a tasteful helping of modern alternative rock, The New Abnormal is The Strokes at their most helplessly introspective spirit. The title itself suggests adjusting to psychologically disruptive changes, yielding to the transformative yet taxing weight of society. 
Brooklyn Bridge to Chorus reflects on sobriety, cutting old friends loose and desperately wanting "new friends but they don't want me" and points to wistful days of simplicity in an age of social disconnection. A summery jam like Bad Decisions expands on self-destructive impulses and the poor decision-making cycle that people with mental illnesses so often get caught in. 
A haunting rumination like At The Door fully delves into atmospheric loneliness and disillusionment in the wake of abandonment. Lyrics like "Holding out the knife, lonely afterlife" subtly point to self-harm as a means of escapism from endless anguish and the insurmountable fear of abandonment transcending beyond death, making it one of the band's most lyrically daunting songs. 
You can't get more on the nose with a title than Why Are Sundays So Depressing? In its depressive descriptions of nostalgia and painting a "then vs now" picture, it's a track laden with a "where did it all go wrong?" sentiment and the want of respite from the past. 
Not The Same Anymore completely indulges in extreme forms of melancholic – even debilitating – nostalgic to the point where lead singer Julian Casablancas feels "late again, I can't grow up," and is immobilized by the past. A common mental health struggle is feeling like it's too late for things to get better and that you'll always fall behind, which Casablancas eloquently expresses the want to change but feels he's past his prime to do so. 
Finally, Ode To The Mets completes the wistful, sentimental saga of the record by pointing to the band's personal history. From feeling out of control or feeling like "The Rubix cube [of life] isn't solving for us," it encapsulates the darkest realizations and the end of an era, not just for a band, but for any individual dealing with any type of loss and facing that "the only left is us so pardon the silence that you're hearing." In context to the album, it encapsulates the brilliantly pensive attitudes of The Strokes and is an engaging listen for bad mental health days.