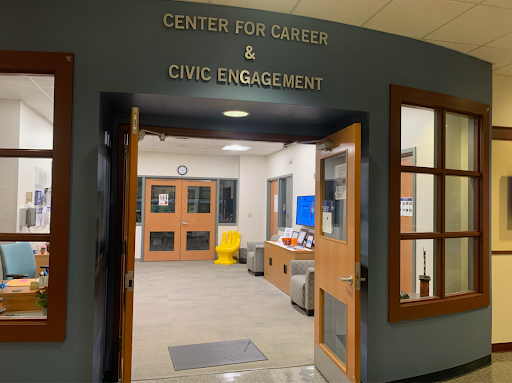 November is Career Development Month and to promote this, the Center for Career and Civic Engagement will be hosting events all month long with the goal of fostering collaboration on campus between departments, students, and staff to highlight how work on campus impacts students' future careers.
"I think it is important for students to know they have a supportive office. No matter who your strategist is, there is someone here every day to help you in your journey to find your passion," said Kristin Eicholtz, Executive Director of the Center for Career and Civic Engagement. 
On Nov. 1, the annual Coffee and Connections event kicks off the month. This networking event fosters connections between alumni and students. There are two sessions, one where alumni speak to students with the same major and a second where all alumni and students meet and chat. 
On Nov. 6, the College of Health Career Fair will be hosted. This event will support programs and careers in the health and medical industries. The Center for Career and Civic Engagement will have a table at the event to discuss healthcare careers and give students tips and advice for participating in the career fair. 
The Sweeten Your Connections event will be hosted on Nov. 8. There will be a table in the HUB where students can write thank-you notes to scholarship donors and get professional headshots taken. 
Nov. 15 is Career Development Day and the event Stacks of Gratitude will be hosted. This event will also be in the HUB, there will be coffee and pancakes, (per stacks) as well as thank-you cards and MoPaws (per gratitude). The event aims to promote the importance of thanking others, especially thanking employers and those who have assisted you, in any instance, across campus. 
The Center for Career and Civic Engagement will host pop-up tables around campus throughout the month with the Diversity, Equity, and Inclusion Office (DEI). They want students to know that the Career Center is a space for all students, regardless of background or need. 
The Career Center will also host a table in Reeves Library on the week of the 27 because they will be relocating there once the HUB renovations begin. 
The goal of hosting events and promoting Career Development Month is to encourage collaboration all across campus. There are always opportunities to connect, collaborate, and grow your network. The Center for Career and Civic Engagement hopes to recognize donors, alumni, faculty, staff, and students.