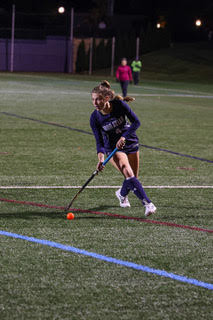 Although Sydney Anderson started out in a completely different sport, she found her way into field hockey. A junior nursing major, she has earned her place on the women's field hockey team. She has continued her athletic journey all the way from Smithtown, NJ. She is coached in the fall by head coach Sarah Dalrymple and assistant coach Morgan Mullen.
What is your favorite thing about the sport?
My favorite part about field hockey is that it gives me a break from the craziness of schoolwork and just time to enjoy the sport I love with my friends.
Why did you choose to play at Moravian University?
I chose to play at Moravian due to the highly accredited nursing program as well as the team dynamic and style of play. One of the biggest selling points for me was John Mak Field, which is located in the center of campus.
What accomplishments have you had while playing for Moravian?
From my last two seasons on the field hockey team, I have gotten Landmark All-Conference First team twice as well as NFHCA All-Region Second Team in my last season.
What is your preseason like?
My preseason starts about a week and a half before our first game. We have two practices a day, one in the morning and one in the afternoon. Every day, our team gets breakfast, lunch, and dinner together in the cafe between our practices. We also have lifts with our strength coaches, as well as team meetings.
When is your next game?
We just clinched playoffs, which we will be hosting as the 4th seed this Saturday, 10/28 at 1 p.m.!
Biggest sports inspiration and why?
My biggest sports inspiration is my sister Mallory. Even though I am older, we have always been competing with one another in our sports since I can remember. We both started off in soccer until I made the switch over to field hockey. But every day, she pushes me to be a better athlete by watching her wake up every morning to either go on a run or get touches on the ball. Seeing her motivation for her sport pushes me to do the same, so when I'm home over the summer, we get to work together to push each other to get prepared for our seasons. She just committed to Florida Atlantic University for soccer, and I couldn't be prouder.
Why did you first get involved with this sport?
It's actually a very funny story about how I first got involved in field hockey. I played intramural and travel soccer since I was three, but once I got older, the competition was getting harder and harder, and I wasn't enjoying it as much. Our middle school soccer team had cuts, so my mom pushed me to walk onto the field hockey team instead because she didn't want me to get cut. As much as I was angry with her for making me switch my sport, I couldn't have been more grateful looking back now. Once I made the switch, the sport instantly clicked for me, and I began to fall back in love with sports. I was lucky enough to make varsity as a freshman and continued to grow as a player in those four years.
How do you balance your time?
Being a nursing major and an athlete is a difficult task due to the increased workload as well as clinical hours, yet having good time management and not procrastinating allows me to balance my time. 
Challenges as an athlete?
A challenge I have as an athlete is knowing there is always pressure on your back as a player, either as a freshman or even as a senior. A position is never guaranteed just because you had it. Every year new first years come in, and they can be a more skilled player than you. So, every year, you have to work to be better than you were the year before. Coming in as a freshman and getting a starting spot was awesome, but it allowed me to realize early on that the competition is going to get harder and I have to work consistently to be the best player I can be, which doesn't just come by working in season, but it's the work you put in outside the short few months that make the biggest difference.