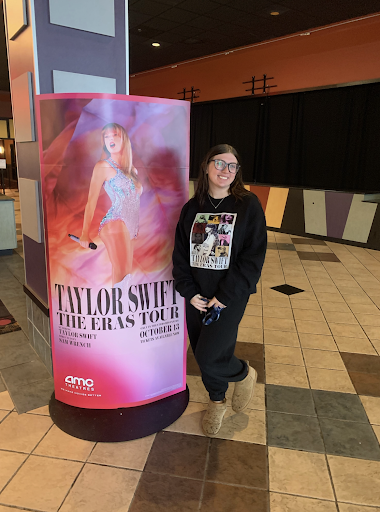 Taylor Swift's The Era's Tour took the world by storm this past year and will continue to do so until November 2024. However, the 'great war' of Ticketmaster caused many fans to be unable to secure tickets. Many could not afford the sky-high prices, and others were just unlucky. With the release of Taylor Swift: The Eras Tour the movie, fans were granted a more accessible concert experience.
This movie was not just a normal concert film. Swift and AMC encouraged fans to sing, dance, and trade bracelets during the movie. It was not a concert film; it was a concert experience. 
Directed by Sam Wrench, the movie truly encapsulates the concert experience. The film created space for fan chants and cheers, each era of music, beautiful transitions, and speeches Swift delivered to fans. 
With a nearly three-hour concert, Swift has pushed the boundaries of performance stamina and quality. She pushed the envelope even further by creating a concert that encapsulated 17 years of music and multiple genres. On top of this, she created a thoroughly engaging show with multiple costumes (and different versions of most outfits), stage effects, great sets and props, and amazing backup singers, dancers, and band. 
I saw the movie at AMC in Allentown on Catasauqua Rd., which is a pretty quiet theater. I went with my mom, and of course, we took photos with the Taylor Swift movie cutout that greeted us at the doors, wearing our matching Taylor Swift crewnecks.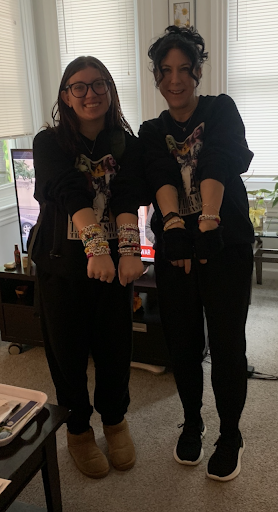 When we got to the counter to order our food and drinks, I obviously had to get a cup and metal tin! Our cashier was so nice and gave my mom and me two posters for free even though we weren't AMC Stubs members. 
The theater was pretty empty, which I expected because it has been every other time I have visited. We got our favorite seats, off to the side, and settled in for the show. 
The movie was filmed at the last venue of the tour's first leg, at SoFi Stadium outside of Los Angeles, California. The movie opens in the same way as the concert, with audio splicing the titles of all her albums and the call, "It's been a long time coming." This nods to the fact that Swift's three most recently released albums were never toured. 
As much as I love Taylor Swift and everything she produces, I have to admit that there were some awkward moments and transitions during the movie and some odd effects to combat, such as the quick, choppy cuts between each era where Swift was making quick changes. However, I feel that Swift's performance overshadowed the editing mishaps. 
Taking the stage, Swift begins the movie with the "Lover" era. She is rocking a purple and pink sparkly one-piece and knee-high sparkly Louboutin boots. She also rocks yet another piece of sparkly clothing during this set, a blazer, as she performs "The Man."
She then transitions into the "Fearless" era in a gold frilly and sparkling dress. For the "Reputation" era, she wears a black one-piece with a red snake. The one-piece has one pantleg, and the other is short, and there is only one sleeve to create an asymmetrical look. The "Evermore" and "Folklore" sets have beautiful, flowing dresses and a gorgeous velvet green cape. The "1989" era has a sparkly two-piece set in which she had four revolving colors throughout her time touring. 
My personal favorite outfit is her "Speak Now" dress, a giant purple gown that looks extremely heavy. I also love her newest outfit in the "Midnights" era, which she wore during the movie. It is another sparkly blue one-piece with so many beautiful details. She performs her last song with a frilly blue overcoat to match. 
All of these outfits encapsulate the personality of each song and album. She transitions from a badass look in "Reputation" to a witchy, folk look in "Folklore" and "Evermore," to such a sparkly and fun look in "Midnights" set. 
At 33, it was amazing how she encapsulated her teenage years and styles with her adult, more mature years of music. The way her music varies from vibes to genres is part of her appeal and why she is relatable to so many people. 
After the movie, I got to trade friendship bracelets with others in the theater. Even though we only spoke for a few minutes, it really put into perspective for me the community that Swift has built worldwide. 
As someone who grew up with Swift's music on the radio but wasn't a huge fan until more recent years, around the release of "Folklore," I found this tour and movie a delight. I think The Eras Tour gives me and younger fans the opportunity to experience performances of her past music. 
The tour and movie are also an ode to the way that Swift is changing the narrative in the music industry by rerecording and releasing her old music, a project she has dubbed 'Taylor's Version.' She even took the opportunity to announce two of these rerecordings during her tour and released one while actively touring. 
The tour and rerecording process are unheard of in the music industry and are allowing Swift to have more autonomy over her music, as well as breaking records along the way. The movie is just another feather in Swift's cap as she continues to reach new feats with each project she produces. 
Overall, I would rate the movie a 9.5/10.