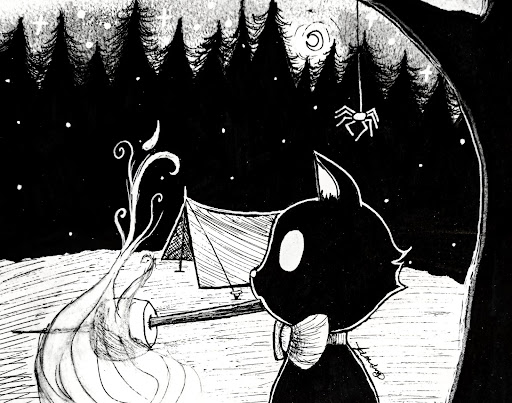 Beaumont, a wee black house cat who loved wearing bowties, flicked his tail excitedly. 
He sat by the door patiently as he waited for his beloved human, Miss Sally, to come down the stairs. It was their annual camping trip, one that he greatly looked forward to taking. His best friend, Sigmund, a spider, dropped down, landing on Beaumont's beige tweed bow tie. 
"We be a-campin', are we now?" The spider asked, seeing the pile of camping things and such near the door. "That's always fun, so it is!"
"I love our camping trips! You know, it's good to just get time to relax and have some fun sometimes," Beaumont replied with another flick of his tail and a twitching of his ears. 
"So it is, my friend, so it is," Sigmund replied. Just then, Miss Sally came down the stairs. Then, there was a knock on the door. Miss Sally answered it, welcoming in Mr. Thomas, Miss Sally's neighbor, a farmer whom she was rather fond of. He helped her bring the camping things out to the buggy, then returned to scoop up Beaumont. 
Out to the buggy they went, Miss Sally taking Beaumont and holding him in her lap, Mr. Thomas up front, taking the reins of his two mares, Lady and Eleanor. 
Beaumont always loved the company of Eleanor and Lady. They watched over him as a kitten, before Mr. Thomas found him in his barn and gave him to Miss Sally to care for him. They were like his mothers, when he had none, and they had since brought him comfort whenever they were around. 
Beaumont watched as they ventured forth, entertaining himself by counting things, like how many other houses they passed (5), or how many trees still had their fiery leaves (he lost count at 123). After an hour or so, they arrived at their campsite, a place up in the mountains, surrounded by pines not dissimilar to those near Miss Sally's house. 
They began unpacking, setting everything up. Beaumont helped, carrying the things he could and bringing them tent pegs when they began pitching the tents. By evening, the site was set up and they all gathered around a campfire. Time to relax. Beaumont took a stick and stabbed it through a marshmallow, intent on roasting it for Miss Sally, a way of saying thank you for bringing him along. Sigmund swung down from a tree branch, watching Mr. Thomas and Miss Sally with his fangs contorting into something vaguely resembling a smile. Seeing his best friend and his humans all happy made him happy in return. 
Then, as Beaumont was roasting his marshmallow, and Sigmund dangled from above, something caught both of their attentions. Mr. Thomas got down on one knee and held something out to Miss Sally. Beaumont couldn't see what it was, but he knew it was something wonderful by the way he heard Miss Sally squeal like an excited child. She quickly embraced Mr. Thomas, then the two shared a tender kiss. 
"Gollie, Beaumont, ole friend!" Sigmund exclaimed. "I thinks that Mr. Thomas dids that thing humans do when they wants ta be… what's the word… Married!"
"Mr. Thomas proposed???" Beaumont asked, dropping his marshmallow on a stick, not caring about it anymore. He was too excited. His tail flicked and his ears twitched as he ran over to Miss Sally and Mr. Thomas. 
"That be it, I do thinks, so I do," Sigmund replied happily.
Beaumont meowed enthusiastically, nudging their hands, "Oh boy, Miss Sally! Oh goodness, gollie, gee! I'm so excited and happy for you!"
Miss Sally scooped him into her arms, scratching his chin (his favorite), Mr. Thomas scratched behind his ears. He could just tell from the radiant glow that projected from her and the way she smiled that she had said yes.
And Beaumont was happy for them both, elated at the thought of having Mr. Thomas around a lot more. 
This was the best camping trip Beaumont had ever gone on.