Around the time I entered college, I started getting into anime again. One of the first series that refueled the anime aficionado in me was Bungo Stray Dogs. From the recommendation of a few internet friends, I decided to give the series a shot. Oh, and it should be noted that I had completely no idea what the series was about. Who or what was "Bungo"? Was this series about adopting stray dogs?
My friends, I couldn't anticipate that this series would be the perfect one for an English major like me. When I watched the first season, I was already mildly intrigued by the fictional world of supernatural ability users and elusive crime syndicates. But, as it turns out, there was another important component to this mystical world-building: all the characters are named after famous dead authors and their skills were named after the author's works. 
Yes, characters like Atsushi Nakajima and Osamu Dazai were the names of real Japanese authors who contributed greatly to Japanese literature. In season two, American authors like F. Scott Fitzgerald and Edgar Allan Poe are introduced into the chaotic plot. In seasons three and four, we get the names of famous Slavic authors like Fyodor Dostoyevsky and Nikolai Gogol.
You couldn't imagine how fixated I became on the series once I learned this. This became one of my favorite series and I even got some of my friends to partake in my fixation! What makes Bungo Stray Dogs such an exciting watch in my eyes? 
Apart from having a wickedly cool premise, the characters are dynamic and fleshed out (well, most of them at least). Our main character, Atsushi, serves as an endearing main character and one who is so easy to sympathize with. Still reeling from the abuse he faced as an orphan, his character arc revolves around him fighting for a reason to continue living and finding somewhere he belongs. This "somewhere" is the Armed Detective Agency, a group of ability-using detectives striving to protect Yokohama from harm. Once he joins, he not only gets stronger and is able to control his ability, but he has a found family of his own.
Another character, arguably more popular than our protagonist, is the deuteragonist Osamu Dazai. Even if you don't know anything about this series, you undoubtedly know Dazai. Also a member of the Agency, he becomes a brotherly mentor to Atsushi. Enigmatic and flirtatious, Dazai is a maniac. One of his most prominent characteristics is his morbid obsession with committing suicide, specifically with a beautiful woman. But, beyond being a suicidal romantic, Dazai has an intricate past of insane missions and partnerships that not even his closest colleagues know about. 
By far, my favorite characters in the series are Akutagawa and Chuuya, both mafiosos of the crime syndicate, the Port Mafia. When I first watched the series, I couldn't stand Akutagawa and his extreme social Darwinist personality. He quite literally dubbed himself as the Port Mafia's "rabid dog" and I thought that was all that he was: maniacal and uncontrollable. But, as the series progressed, I came to adore him and his conflicting behaviors. He's ruthless but fair, polite yet callous. Just like Atsushi, he was a traumatized orphan and lacked trust in others. Unlike Atsushi, he numbed his pain through violence and couldn't form any healthy relationships. And despite being Atsushi's rival and "hating" him, he understands him and they form a badass yin-yang dynamic. 
Chuuya, while not too relevant to the story, captivated me with his prideful yet rational personality. Despite being a mafioso, he can show hints of kindness in his work and is fiercely loyal. Even though he hates Dazai, he still puts trust in him and their "Double-Black" duo dynamic when paired against enemies. The real-life Chuuya Nakahara is also worth mentioning because he influenced Japanese experimental poetry, meshing nature with poignancy.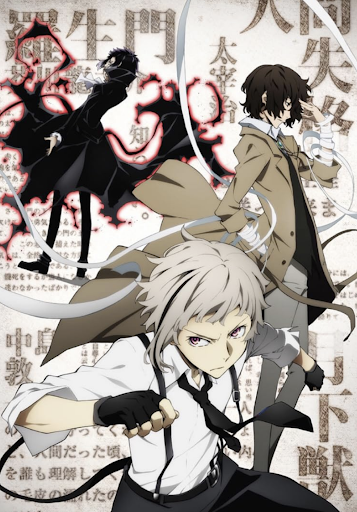 Even the villains are great! F. Scott Fitzgerald is a ruthless capitalist who wants to rewrite history to bring his daughter back from death and make his wife, Zelda, well again. Fyodor Dostoyevsky is as elusive and enigmatic as a villain can be. Why does an ability user want to purify the world of all ability users? No one really knows, and his backstory is still a mystery in the series, both in the anime and manga but his tactics to achieve his ideals are insanely incomprehensible. 
That's another amazing thing about this series: the moral ambiguity of these characters. No one is wholly good or wholly bad. Everyone has a touch of vice or virtue. Even the seemingly asinine ideals have some merit to them. 
As far as anime power systems go, Bungo Stray Dogs have a blissfully easy one to grasp. There are supernatural ability users with abilities; some use them for good and others use them for evil. That's all, no need to think too hard about it…until you watch the movie, Dead Apple. The movie introduces the more intricate side of abilities. It is a headache to understand sometimes so good luck, my dear reader, if you decide to give it a watch (I would still recommend it though). 
One of my favorite abilities is Nikolai Gogol's Overcoat which allows Nikolai to manipulate spaces with his cloak. Another favorite of mine is Lucy M. Montgomery's Anne of Abyssal Red which creates an alternative dimension called Anne's Room where a puppet monster named Anne resides. 
This series, of course, is not without flaws. These include too-close-for-comfort sibling relationships, introducing too many characters and not fleshing them out, and having unresolved (and frankly, irrelevant) side plots that never get resolved. There are so many cool characters that get sidelined hard because the series keeps adding more and more. Yes, some of these characters have their own arcs but most of them never get finished. 
And when other fans of this series say that the plot is chaotically convoluted, they aren't joking. This series tends to jump in plot points, both internal and external ones. Sometimes, the story is about saving the city of Yokohama. Other times, the story is about saving the individual organization within the city. And other times, it's about learning to live with yourself and shed your burden.
Still, this series remains such a fascinating one to watch. For me, it renewed my love of literature, introducing me to worldly writers that I never heard of before while also fostering a new appreciation for writers I was already familiar with. I was in my American Literature class and we were discussing short stories by Edgar Allan Poe, it took all my might not to info-dump about him and how the series portrays him.
Bungo Stray Dogs, according to the author Kafka Asagiri, is "not for people who are good at living," but for "people who need stories like oxygen…" It may not be the most psychologically profound series but it reaches deep when it comes to the human condition and what it means to be alive. 
There is so much more I could fixate on in this review but for the sake of everyone (and especially my poor editors), I will just say that you should definitely give this one a shot. You don't even have to be a literary fanatic to appreciate a series like this because there is just so much to enjoy from this whimsical tragicomedy. Don't stray away from such a great series!