Challenges of the Commuting-Working Student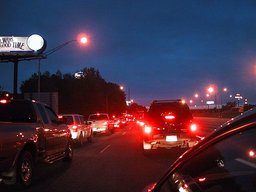 Hang on for a minute...we're trying to find some more stories you might like.
Society's view of college students — and the cultural narrative that high school graduates are led to believe —  is severely outdated.
We all know the narrative: earn high grades in high school, gain acceptance to your top three colleges, attend the one of your choice, then graduate and accept a lucrative job that allows you to live the American Dream. As a narrative, it's comfortable, with a clear beginning and end.
The problem? It's false.
For an increasing number of students, the "college experience" is dynamically different. That's particularly true of the growing number of students who don't just carry a full load of courses but also commute to campus and hold part-time jobs.
As a working and commuting student myself, I know the challenges of trying to balance studies and work. I just wish my college professors could appreciate them, too.
In my experience, they appear reluctant to meet the needs of this new student demographic of which I am a part. So, I'm writing to encourage the Moravian community to recognize our needs and, likewise, to encourage working students to inform their professors of their situation early in the semester.
According to Moravian's website, over 30% of students are commuters. The number of working students is unknown. Through casual conversation and some outreach, however, I have discovered that many, if not most, commuters are also working students. In my many conversations, I have discovered that we all fall into this demographic for the same reason: necessity.
Even with financial aid and scholarships, working commuters cannot afford to live on campus and attend school full time without a consistent source of income.
You know who we are. We're the students jogging across campus to get to class, eating bagged lunches in the library while furiously typing our papers, and hustling out of class because we have to get to work.
On-campus students who make friends with us understand why we can never hang out after class or on the weekends. Often when we're invited out we have to say, "I'm sorry I work" or "I have to do all my coursework tomorrow. It's my only off day."
"Free time" is a luxury we can't afford. For us, it's the rare chance to do our homework uninhibited by the disruption of an evening shift. Our classmates accept our reality and seem to understand it. Too many professors don't.
In my time at Moravian, professors have asked me about my work schedule multiple times and have even advised me to quit my job. Several  have told me that they feel I could "get more out of my time at Moravian if I lived on campus." Some have even told me that I'm "ruining this experience by working so much."
When I've said that I need to work, some have responded positively while others have asked me to "take it a little easier." I've always appreciated the first response but have struggled with the latter.
My grades are respectable, mostly A's and B-pluses every semester (not counting the math course that I've struggled through).
Can't my professors see that I am working to manage the workload? The answer is complicated, I know. Yes, my professors see that I can succeed and balance both work and school. Yes, my professors can appreciate that I work to pay for school. However, it appears many do not fully understand why I have to work as much as I do, nor do they fully understand my complex schedule.
My day starts roughly around 6:30 or 7:00 a.m., even on weekends. After completing my morning routine, I normally work on coursework until I have to depart for school.
My commute is a nightmare. Theoretically, I live 20-30 minutes away in Coplay. I have a choice between two routes to school: Route. 22 and back roads. Route. 22 is typically out of the question. The dense morning traffic would make my commute well over an hour long and get me to class late. The back roads are fraught with construction, flagmen and elderly drivers who consistently drive 5 to 10 miles an hour below the speed limit.
My biggest source of aggravation is the construction site of the new FedEx plant. This route is my best option, and yet my commute is still over 45 minutes long. Because of this, I have to rush out the door every day. If I run even as little as 5 minutes behind schedule, I will be late to class.
Parking is an issue, of course. The lots are usually full, so as I forego a parking pass, I park on neighboring streets and jog to campus.
On campus, I spend my time in class or in Reeves Library. It's rare to see me anywhere else. After my classes end, I usually leave for my job, where I work anywhere from 4 to 6 hours. Every night I do homework until 1 a.m., only to wake up and repeat the schedule the next day.
On the weekends I work anywhere from 8 to 13 hours and dedicate my nights to homework. "Free time" is an illusion: that's time for homework. During breaks, I work full time. This past winter I worked an average of 60 hours a week. With that number of hours, you would think I wouldn't need to work so much during the semester, but that isn't the case for several reasons.
The money I earn isn't for discretionary spending. The majority goes to tuition, textbooks, gas and helping out at home.
I have been a commuting-working college student ever since I started school. I've worked as a deli clerk, an insurance agent, and an optical-assistant/salesman at LensCrafters. Currently I am a salesman at Kay Jewelers. All of my jobs have been demanding ones that have taught me to appreciate both life and people from every walk of life. I come from a working-class family and while my parents do not charge me rent, I regularly contribute to expenses. I am proud of what my parents have accomplished, and I am proud to play a role in maintaining our quality of life. I work for a purpose, out of principle and with dedication.
At the start of my academic career the bulk of my income went to Lehigh Carbon Community College, where I can proudly say I paid for my education in full without borrowing. Moravian's cost is too high to pay for without taking out a loan, but my funds are prioritized so that I can begin repaying those loans immediately. This is a principal reason I work the hours I do.
LCCC expected students to have jobs of various hours, and professors were understanding and appreciative of this. If a student was a few minutes late due to a commute or needed an extension for a project, the reason for it was understood.
Moravian's faculty, however, does not fully appreciate the challenges that commuting-working students face. Some professors are downright unforgiving of commuting issues, holding class past its scheduled time and expressing discontent when a student who has to leave at the scheduled end of class to go to work. Those professors seem to take these actions as a sign of disrespect, when they are anything but. Commuting-working students have limited time and must adhere to a strict schedule to ensure success.
I am not mad at Moravian. I am simply speaking from the perspective of a growing number of those in our student body. As a student focused on entering professional education as his lifelong career, I can sympathize with both perspectives: the student's and the professor's. For the professor, this new reality is a culture shock. Colleges are oases of self-discovery and intellectual growth, a place where one can explore different experiences before entering the "real world".
At the same time, the "real world" and college are no longer separate entities, as more and more students now must balance course schedules with work schedules. Students are blending their self-discovery in the classroom with the life lessons they find in the workplace: barriers are crumbling and students are maturing in ways previously unseen.
So, professors: If your commuter students are a few minutes late, please understand. If we have to leave promptly it isn't because we are disinterested: it's because we have to. If we request an extension, it isn't the result of mismanaged time but a lack of time.  
At the same time, we commuting-working students must better communicate our needs to our professors. We need to speak with our professors about our schedules and challenges. We need to build rapport and ask for assistance when necessary, while not taking advantage of our situation to turn in work late or arrive late to class. 
Commuting-working students and our professors must work together in way that breeds success but does not promote unfair privilege. We are a growing population of students at Moravian that share in this responsibility and experience.