Spotlight on Artist-Lecturer Megan Durham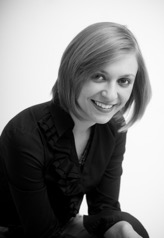 Hang on for a minute...we're trying to find some more stories you might like.
Megan Durham, mezzo-soprano, is an artist-lecturer at Moravian College. She earned a B.A. in music with a concentration in voice at the University of Richmond. She then went to the Westminster Choir College, where she earned a Masters of Music degree in voice performance and pedagogy. Durham is also a singing voice specialist and registered voice teacher, and works with injured voice patients at the Bethlehem ENT.
What inspired you to go into the field of music, and singing therapy?
I don't think it was any one particular thing, because music was always a part of my life, and music was always just a part of who I am. I grew up in a musical family, and while I was growing up, I was in church choir, band, and, of course, I was always singing. When I was an undergraduate student, I just felt that music was the path for me to pursue. I never honestly said to myself while growing up, "I want to be a voice teacher someday!"
My talents and interests in music led me to becoming a voice teacher and a singing therapist. It was while I was in graduate school that I discovered that I love singing and that I would like to become a voice teacher. I was first introduced to voice science, voice pedagogy, and singing therapy for vocal injury patients while I was in graduate school, and the more that I learned about the voice, the more inspired I became to become a singing therapist and a voice teacher.
What inspired you to become a YogaVoice Teacher?
As a young singer, I struggled with a lot of issues with self-worth, and I never felt like I was good enough. I also struggled with a lot of vocal tension, but I never had any vocal fold injuries. I also felt like there was a lot that I wanted to express in my music, and through my singing, but physical and psychological issues were preventing me from fully communicating to the audience all that I had to offer. After graduate school, I took a lesson with a teacher who used yoga in his voice lessons. He asked me to sing a piece that I didn't really care for, and after I finished singing it, of course, I felt horrible. Then, he asked me to sing the same piece again while sitting in a seated twist yoga posture. He asked me to inhale, and put my arms up as I twisted to the side, and sing. Afterwards, I thought to myself, "What is this? What is this miracle?" And, of course, I found out that it was yoga.
What research are you currently working on?
I am currently doing research on using simple yogic breathing techniques to calm ear, nose, and throat [ENT] patients who are experiencing a lot of anxiety about their ENT visit. I'm using it to specifically calm patients' nerves before they have the stroboscopy test, because patients typically have a lot of anxiety about receiving negative news about their vocal health and larynx [voice box] after the procedure. It is important that I calm a patient's nerves before their stroboscopy test so the doctors and I can get really good images of the voice to see what may or may not be impacting their ability to produce a healthy, beautiful sound.
What do you think is the most recent important development in your field of study?
I think that the most important recent development in the field of vocal health is the advancement of technology in phonological surgery. Surgeons are now able to use very tiny surgical instruments to remove obstructions on the vocal folds that leave behind very minimal scarring. Another recent development in the field of vocal health is working with transgender voice patients. Transgender voice patients need our support to help them find their identity through their voices and to communicate that voice to others daily in a healthy way. I have a transgender client right now and I use yoga in his lessons to help him find not only his true identity, but his physical as well as vocal identity. The yoga postures also help him to identify and experience the production of sound throughout the entire body.
What is one thing that you notice that most voice students struggle with?
The number one thing that most voice students struggle with is confidence, self-esteem, and feeling like their voice is necessary. A lot of technical issues in singers typically stem from a fear to sing, and most technique issues can be corrected by simply releasing the fear that is holding them back from singing well. Shame and self-judgment can also get in the way of being able to share one's authenticity. Singers need to be constantly reminded that they have a gift that needs to be shared with the world, and that other people want to hear them sing.
What is the number one piece of advice that you would give to students who are studying voice?
The number one piece of advice that I give to all of my students is that singing is just an exhale with sound. If we remember that singing is just exhaling with sound, then we can create healthy vocal production, and share our authentic voice with others.
What are some of the major benefits of yoga for singers, and for treating vocal injury patients?
Yoga can be used as a way to mitigate fear and tension in the body, so that the authentic voice can just emerge. Yoga helps to calm the waves of the mind and find that stillness in the mind. It allows us to feel the space in the mind to be ourselves and to share our own authenticity with others. Yoga helps us find the feeling of space inside and around the body, whether it be space inside the mouth and tongue, the space around us, or the space in the muscles. Yoga also helps with finding space in the music, such as taking the time to breathe before singing.
What do you know now that you wished you knew when you were in college?
That you're enough! Always remember that before you perform or audition that you are enough, and that you don't need to put on any act. Be yourself!
What's your favorite piece of music to sing?
My favorite work to sing is Handel's "The Messiah." I enjoy singing all of the alto solos, such as "He Shall See His Flock," "O Thou That Tellest Good Tidings To Zion," and "He Was Despised."