Reaching a Milestone: Mary Beth Spirk Becomes MoCo's First Woman Athletic Director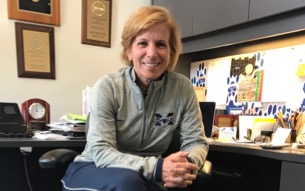 From being the head women's basketball coach to teaching physical education classes as an associate professor, and now recently being named Moravian's first female athletic director, Mary Beth Spirk has become a legend at Moravian College.
Although Spirk has made a career in athletics, she did not always want to pursue this avenue. Spirk had aspirations of becoming a lawyer after college;  she even took the LSAT's.
However, after graduating from Dickinson College in 1981, Spirk applied for an assistant women's coaching job at Moravian.  
"Ironically, over Christmas break of my senior year in college, I came to Moravian to work out with the women's team because the head coach at the time knew my brother," said Spirk. "I worked out with them for a few months, and then before I knew it I was coaching them."
The decision to become athletic director, though, was one that Spirk never really considered until the opportunity presented itself.
"Over the course of the years, I got into an administrative role and became assistant athletic director," said Spirk. "For me, obviously coaching is my passion, but I also really liked being able to deal with other athletes besides just women basketball [players]. I wanted to have the opportunity to help younger coaches, too."
Throughout the history of athletics at Moravian, there have only been male athletic directors.  Spirk changed that when she replaced Moravian's previous athletic director, George Bright after his resignation on March 6, 2017. In part, Spirk gladly accepted the position because she felt that it is important for female student athletes to see that it is both possible and achievable for a woman to be in an administrative or "power" position.
"I never really thought about being the first woman to be in a position like this," said Spirk. "I never said to myself, 'Oh, I need to be the first woman athletic director.' But when people mention it to me, that's when I really appreciate being in a role like this."
As athletic director, Spirk is responsible for taking care of all of the coaches and athletes by ensuring they have the proper equipment and areas to practice. She also is the liaison to the administration at Moravian and sits in on committees to address concerns and think of ways to improve athletics.  
Spirk's advice for both athletes and non-athletes is to "be present in the moment and be where your feet are. It's easy to get side-tracked with the craziness of society and with our phones constantly buzzing. But try your hardest to live in the moment so it doesn't pass you by."