USG Gives Campus a Welcome Surprise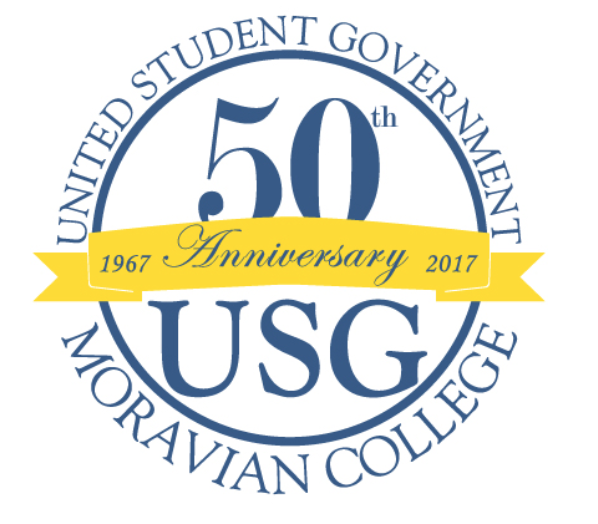 Hang on for a minute...we're trying to find some more stories you might like.
The United Student Government (USG) hosted their second town hall meeting on Wednesday, Feb. 28, and they dropped a huge surprise on eager attendees.
The meeting was the second of its kind, with the first town hall being held last year. The meeting is hosted by USG and allows students, faculty, and advisors from different departments of the college to meet and discuss what is being done around the school. At the gathering, students were encouraged to ask questions, suggest improvements, and give feedback on projects that the faculty have in progress.
The representatives at the meeting included Nicole Lloyd, dean of students and vice president for Student Affairs; Greg Meyers, assistant dean of students; George Boksan, chief of the Moravian College police department; Amy Saul, assistant vice president for Student Affairs; Kevin Hartshorn, dean of Student Success; Colleen Marsh, IT project manager; Amanda Merson, director of housing & event management; Liz Yates, associate dean of students; Kristin Piazza, Dining Services general manager; and President Grigsby.
The big announcement that USG promised was presented by Kristin Piazza, director of Dining Services, who explained that the B&G and Marketplace are going to be getting a major facelift over summer vacation. Moravian will be tearing down all the familiar sights in both dining areas and replacing them with new and improved stations.
In the B&G, the only station that will remain is Hissho Sushi. All of the others will be removed and replaced with CRU5H, a station that will have numerous offerings, including pizza, pasta, sandwiches, burgers, salads, tacos, burritos, even loaded cauliflower bites. They will have all of Moravian's late night snack favorites, as well.
Joining CRU5H will be Garbonzos, a hummus-based station that will serve made-to-order falafel, steak, chicken, and pitas. And the best part — there will be milkshakes!
With the B&G's makeover, it's only appropriate that the Marketplace receives some updates as well. Construction workers will be stripping down the Marketplace, opening up some of the walls, and moving the kitchen around a bit. Dining Services is attempting to make the kitchen accessible for students to see, allowing them to view their food being made in front of them. They are also looking to make the seating more luxurious and cozy.
The Sustainable Table, a student favorite, will have more room, cooking space, and amenities. New stations will be added, including a fresh bakery, classic dishes, a salad station, and a new allergy-friendly station, which will have its own supplies to make foods that are free from the eight most common allergies.
And that's not all — starting in the fall of 2018, Tapingo is going to start delivering around campus. Soon students will not even have to leave their dorms to get food because they will be able to have it delivered right to their rooms. In addition, students will have the opportunity to snag a job as a delivery person and make some extra money walking to class.
Many other topics were discussed. Some of the questions brought up were the possibility of a gender-neutral bathroom in the HUB, the search for two new advisors, class registration taking place on March 26, adjusting the course schedules to be more accommodating to pre-majors, the possibility of starting a new women's golf team, and Jo Smith being the next dorm to receive renovations.
Representatives also addressed concerns regarding the Moravian College app. Colleen Marsh, IT project manager, explained some features that many students were not aware of. She demonstrated that students have the option to adjust their personal settings for notifications to limit the number they receive.
Marsh also explained that there is an invisible mode that allows students to join calendars and groups without anyone else being able to see them. Finally, she announced that the IT department is working on developing a Moravian College web app, MacBook app, and a new MoCoGo app.
All in all, USG had some very exciting and welcome announcements to share with the student body.