The Secret to MOCO's Track and Field Success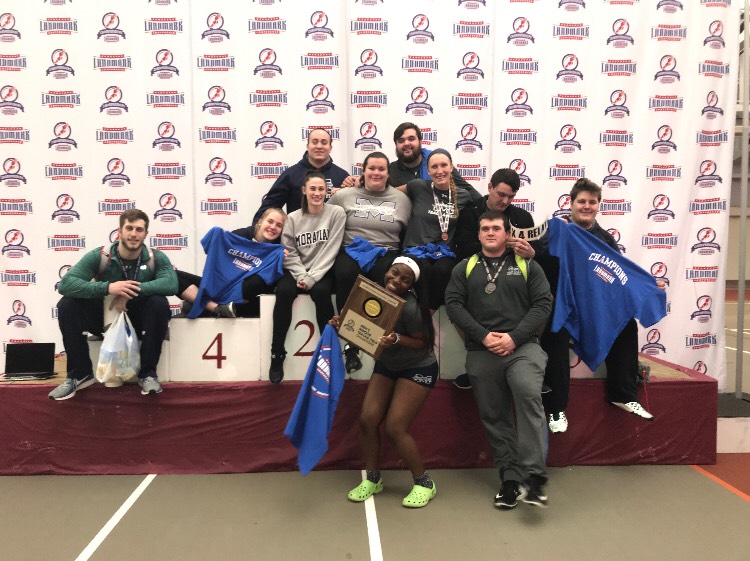 Success is not a goal but a tradition for the Greyhounds' track and field teams.
Both the men's and women's squads have dominated in the eleven years they have competed in the Landmark Conference. Of a possible 42 indoor and outdoor conference championships, Moravian's teams have won 39 of them.
Clearly, success is something that the Greyhounds' track program fosters.
How do they do it?
"Recruiting is the biggest part," said head coach Jesse Baumann. "You can be the best coach in the world, but if you don't have the tools, it doesn't matter."
Moravian welcomed 27 freshmen to the team this year. Many of them added to the team's total point haul of 199.5 (men) and 173 (women) at the Landmark Conference Championships on Feb. 24 at Susquehanna University. The next closest competitor was Elizabethtown College, which lagged by some 40 points.
Among the contributing freshmen was Shane Mastro, who won the shot put event with a throw of 13.82m (45'4.25").
Also making the medal stand in their first seasons as Greyhounds were Camaryn Wheeler (60m dash bronze medalist at 8.25s), Marty Thorpe (200m dash bronze medalist at 27.37s), Tatiana Lopez (60m hurdles bronze medalist at 9.81s), Jenevieve Eberly (long jump silver medalist at 5.06m/16'7.25"), and Michael Elo (long jump bronze medalist at 6.55m/21'6" and triple jump silver medalist at 13.63m/44'8.75").
The big medal winner among this freshman class, though, was Zion Howard, who won gold medals in the 200m dash and the 4x200m relay, a silver medal in the 60m dash, and the coveted Track Rookie of the Year honor.
While bringing in young athletes is certainly important, reflecting on past success and relying on veterans are vital, too.
"A lot of success is due to our history," said Baumann. "We've certainly benefited from what coaches like Coach Pollard and Coach Will-Weber did before us."
That groundwork paid off at the indoor conference meet, as upperclassmen Greyhounds won a total of 30 medals.
Among the highest awards went to John Spirk '19, who earned the Landmark Conference Track Athlete of the Year.
Although the team has multiple strengths, it also has weaknesses. "We're thin in the men's high jump, and we're losing two stars to graduation in that event on the women's side next year, " said Baumann. Nonetheless, the Hounds have achieved incredible success, which is all the more noteworthy because NCAA policy limits the team to only 24 practice weeks (26 for NCAA National Championship Meet qualifiers) each year.
To create a culture of excellence, Baumann puts up pictures of former Moravian students who were NCAA All Americans and National Champions. One of them is Mary Kate Duncan '18, who last season won the NCAA championship in the javelin throw.
Baumann also mentioned other standouts, such as Spirk, Melissa Cheong '18, Casey Cronk '18, and Rob Condo '18, all of whom are on the cusp of competing strongly at NCAA events this year. In fact, Condo competed with Duncan at last year's spring championships, finishing ninth in the nation, while former athlete Mike Guarino '17 finished twelfth.
While NCAAs is the ultimate goal, the Hounds' coaches are firm in their commitment to win the Landmark Conference this season. In particular, this year looks like competition will be heavy in the discus, javelin throw, and steeplechase, thanks to Hunter Gibson '19, Jon Anthony '19, and Greg Jaindl '20, among others.
The Greyhounds track and field team knows how to get the job done. They've been winning for so long and so often that it has become the expectation. If you were to talk with any athlete on this team, you would feel the confidence they have in themselves and each other.
The Hounds start their outdoor season on the weekend of March 31 as they travel to Lafayette for the 7-Way Invite. The Hounds will also host two home meets on April 13/14 and on April 20/21.