Garbanzo: A Welcome Addition to Moravian Dining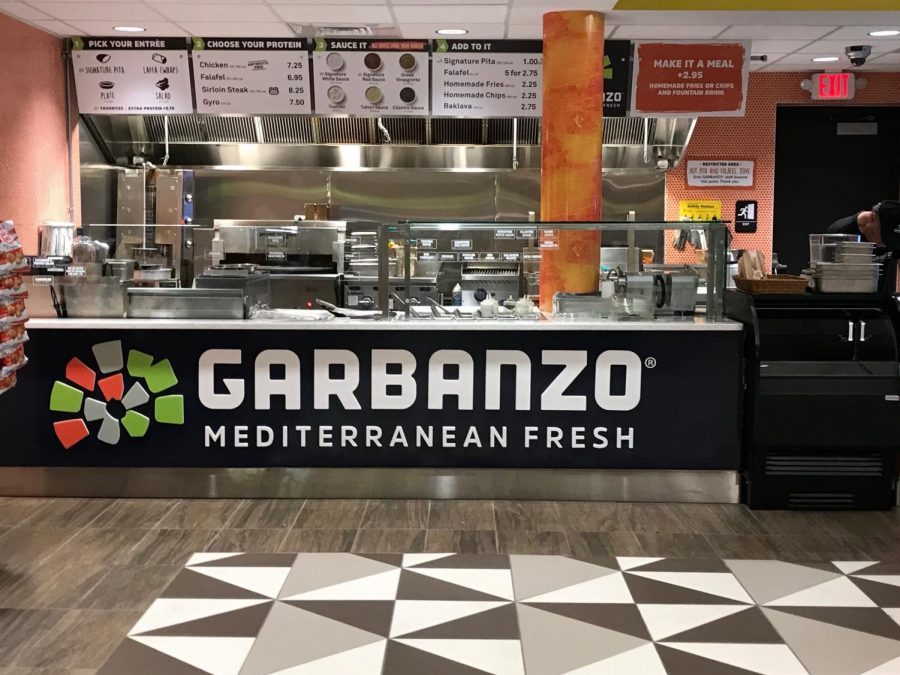 With all of the major changes to Moravian dining this year came a pretty impressive upgrade: Garbanzo. If you haven't spotted it yet in the back of the Blue & Grey in the HUB, be sure to go investigate.
Your taste buds won't regret it.
The restaurant, founded in 2008 in Colorado, has been a major seller of Mediterranean food, as well as a major influence for introducing it into the casual dining scene. The restaurant focuses on healthy food and clean eating, which is a current trend in casual fast dining restaurants like Chipotle and ModPizza.
Similarly, the way that you order food follows these trends, where you piece together your order while a server prepares the food directly in front of you. The food is made-to-order, fresh, and completely tailored to your tastes.
Besides being fresh and personalized, the food is really quite good.
The basic menu items are all Mediterranean and Middle-Eastern inspired, ranging from falafel to pitas.
The general system to order a meal begins with either choosing a plate (where the items you want are simply placed on a plate), a salad (your choices on a bed of lettuce), a pita (your choices stuffed in a pita), or a laffa (your choices wrapped in a tortilla). Next, you can choose a protein for your meal, which includes chicken, steak, gyro meat, or falafel (a deep-fried blend of chickpeas and numerous spices). Finally, you can finish off your dish with a variety of additions, including seasoned rice, tabbouleh salad, roasted vegetables, onions, cabbage, and a variety of sauces.
Everything I've tried so far has been tasty, warm, and perfectly cooked.
The falafel in particular is my favorite. It is crunchy and warm, not dry or hard like frozen falafel can be. I have also watched the servers here on campus prepare fresh batches of falafel for waiting students for free while they wait and prepare fresh fries and falafel for single orders.
There is a choice for everyone of all dietary restrictions. There are vegetarian options, vegan options, dairy free options, and gluten free options.
As a student with a severe gluten allergy who has had trouble eating at restaurants in the past, I am delighted with the care and the options available to me at the stand. The falafel and French fries are even gluten-free, which is a rarity in casual dining. Garbanzo is even hoping to provide gluten-free pitas soon!
While the gluten-free option is available on campus for us, that is not usually the case elsewhere. This restaurant is an independently-operating chain that has stores all around the country. They cater and do business with the general public rather than college campuses like most of our other dining options, which makes Garbanzo unique.
Finally, if you are intrigued by this spot on campus but think getting your food will take too long or is too complicated, have no fear. You can select all your options of toppings and sauces and sides on the kiosks in the Blue & Grey to pick up right away, or you can order everything through Tapingo and pick it up at your convenience.
Garbanzo is a fantastic new addition to good dining at Moravian.