Bethlehem Feels the Bern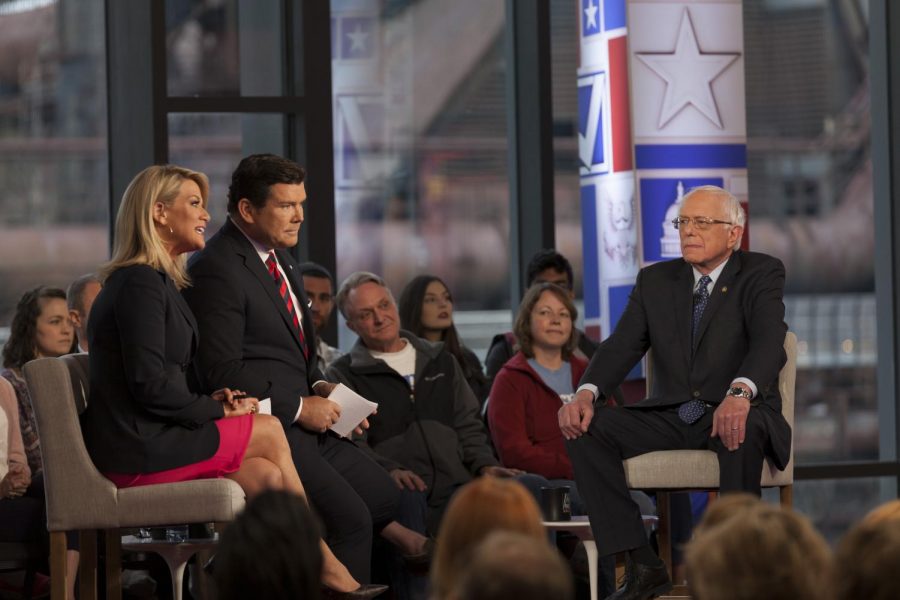 On the night of April 15, Senator Bernie Sanders of Vermont came to Bethlehem, a stop on his campaign for the presidency of the United States. 
The town hall, which took place in the SteelStacks and was hosted by Fox News, featured the Democratic hopeful before an audience of approximately 500 people, according to a Fox News representative.
Sanders is among 18 candidates seeking the Democratic presidential nomination in 2020. Sanders said he agreed to appear on the traditionally right-wing news station despite his left-wing views, because he wanted to appeal to a new, more conservative demographic.
According to Fox News, Pennsylvania is commonly a swing state, one that elected Barack Obama in 2008 and 2012 but elected Donald Trump in 2016, making a town hall in Bethlehem an important stop on the 2020 election trail.
Overlooking the steel stacks, once evidence of an illustrious industry in the Lehigh Valley, Sanders sat on stage with Fox News co-hosts Bret Baier and Martha MacCallum and answered questions from the audience on the economy, tax reform, immigration, and universal health care, among other voter issues.
"I believe healthcare is a human right," said Sanders. "I believe that there is something embarrassingly wrong when the United States is the only major country on Earth to not guarantee healthcare for all."
Sanders who has been called a socialist, answered one audience member who asked,"How can you challenge the ideal that socialism is bad?"
"Democratic socialism to me is creating a government, an economy, and a society that works for all rather than just the top one percent," said Sanders. "The American people have got to conclude whether it's appropriate for the top one percent to own more wealth than the bottom 92 percent, whether it is right that 49 percent that all the income goes to the top one percent when many people are working two or three jobs just to pay the bills."
During the one hour town hall, Sanders covered his usual talking points, speaking on universal health care and free college, while receiving boisterous cheers and applause from the audience. Although during the final minutes of the event, the questions drew on more specific political issues, less discussed by Sanders.
"It's been made into a political issue, but at the end of the day, I believe that the decision over abortion belongs to a woman and her physician, not the federal government," Sanders said, when asked about late-term abortion laws.
Sanders also addressed his support of Representative Ilhan Omar, who has recently faced backlash due to comments some believe to be anti-semitic.
"Do I think she is anti-semitic? No I don't," Sanders said. "I will do everything in my power, and I hope every member of Congress will fight, not only anti-semitism, but also racism, and anti-Muslim activity so that we may have a non-discriminatory society. But it is not anti-semitic to be critical of a right-winged government in Israel."
Sanders who recently reached millionaire status, also addressed concerns claiming that he cannot fight for the lower and middle classes while being a member of the upper class.
"What we are fighting for is a society where not just a few people can make a whole lot of money but a society where everybody in this country has the opportunity to live with security and dignity."
As the town hall drew to a close, Sanders concluded by saying, "I'm looking forward to a good campaign. I want to see our country have the highest turnout in the industrialized world. So no matter what your views are, get involved in the political process, stand up and fight to make this a better country."