10 Questions for Student Musician Julius Sarkozy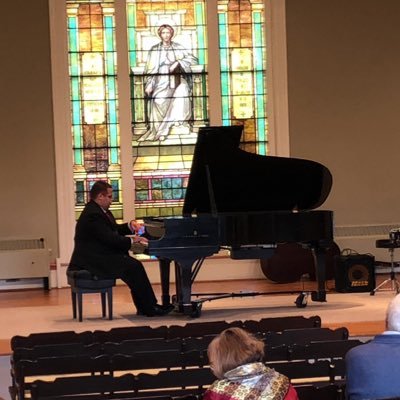 On November 10, the Moravian College Community Orchestra performed a concert featuring the 2019 Concerto Competition winner, Julius Sarkozy. After Sarkozy's performance Sunday night, The Comenian asked him questions about his concerto and what the process was like for him while learning it.
How long have you been playing piano? With whom have you studied with?
I have been playing piano since I was about 7. I have studied with a lot of people over the years, but currently I am studying with Dr. Arianna Goldina here at Moravian College.
What made you decide that you wanted to audition for the concerto competition?
I have always wanted to play with an orchestra and perform a [large] work like that. I thought it would be a wonderful challenge for me to take on.
What made you select the piece you are playing? 
I did not pick the piece [myself.] [My piano teacher] Arianna picked it. 
Which is your favorite movement to play or listen to?
I absolutely love the first movement. I think it is so expressive and so perfect for what that whole concerto is about, and it really sets up the playful second movement and the absolutely insane third movement. 
What has the process been like while preparing for the concerto?
It has been absolute hell. It has been many, many hours practicing. Every single day. And it's not just practicing the concerto. It is practicing scales, arpeggios, and knowing my transitions. It is just so many hours and hours of work.
What has been the most challenging parts while preparing for the concerto?
Some of the technical passages were very difficult and took a lot of time to figure out.
What have been the most rewarding lesson you have learned while preparing for the concerto?
I have learned that there are certain things that I can play now that I never thought I would be able to play. It has improved my ability to read, to perform, and to accompany. It honestly has helped my musicianship in every possible way, from recognizing harmonies to reading music to analyzing a score to [honestly] anything.
What has the process been like in regards to putting the piano solo to orchestral accompaniment?
I have to thank Dr. Arianna Goldina and Dr. Paula Ring Zerkle a lot for helping me for being my personal orchestra on demand. It also took a lot of rehearsals with the orchestra themselves as well.
What advice do you have for fellow students who are considering auditioning for the concerto competition in the future?
This is a tremendous time commitment. It is also way more work than you could imagine because the more you learn while working on it, the more you realize there is to learn. And so, you are never truly done and it will drive you crazy and it will make you insane, but it is 110% worth it [in the end.]
After the concerto, what else will you be working on or involved with?
I will be involved with musical directing Catasauqua Area Showcase Theater's spring production of "Cinderella," playing piano in some local high school shows, as well as preparing for my upcoming junior piano recital in the spring. I also will be making my Broadway conducting debut in "Phantom of the Opera," which is the longest running production on Broadway.