The Pros & Cons of Graduating Early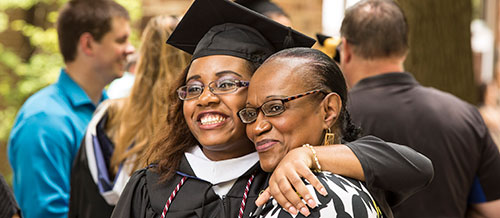 It's December, which means we are getting closer to finals week and the end of the fall semester. For some, this may just be another semester that has gone by, but for others, it marks the end of their college career.
Graduating college early comes with both pros and cons. 
Pros
1. Save money: This one is pretty obvious, but graduating even a semester early can save thousands of dollars. At Moravian, graduating one semester early can help students save $29,640 in out-of-pocket cash or loans that would have had to be paid off at a later date. This is money that would have gone toward tuition, room and board, and a meal plan. There's also the added bonus of not having to pay for textbooks or a campus parking pass for the additional semester(s). 
2. Less job competition: In May and June, immediately following college graduations, there is a rush of new grads looking for jobs. Graduating in December means less competition for employment. This gives you a better chance of landing your dream job. It also means that you get a job earlier than everyone else, so you will have more experience in the workforce and more money in your pocket. 
3. Less pressure to get a job: Graduating early doesn't necessarily mean you have to start working right away. December grads may take a few months to de-stress after college before getting a job in the spring with the rest of their graduating class. 
4. Paying off loans: Loan payments usually start six months of graduation, so graduating early allows students to begin paying them off sooner than later. 
Cons
1. Fewer  opportunities: If you've been focused on graduating early since your freshman year, that probably means you will have missed out on a few opportunities, like an internship or studying abroad. You could even miss out on a class that's offered the following semester. 
2. Overload fees: In most cases, graduating early requires overloading on courses (unless you have enough AP credits from high school). Those overload fees can add up over time and lessen the amount of money you save by graduating early. 
3. Added stress: If you choose to overload on courses to graduate early, a fifth course can add a lot of stress on top of other classes, clubs, and part-time jobs. 
4. Leaving your friends: A large majority of students don't graduate early, so you'll most likely have to leave all your friends behind when you move back home. However, you can still visit your Moravian friends occasionally and see them walk at graduation in May, but it won't be the same as living with them and seeing them every day. 
Graduating early isn't for everyone. Some students, like education or nursing majors, cannot graduate early due to student teaching or clinicals. Make sure to fully weigh the pros and cons of graduating early before deciding if it is the right thing for you.
As someone who is graduating early, I have mixed feelings. I'm excited to see what the future holds (in terms of a job) and am glad that I'll be saving myself money. However, I am sad to leave my friends and the atmosphere of Moravian behind.