MN350 Executive Director Sam Grant Speaks on Environmental and Social Justice
On Tuesday, October 6, at 7:00 pm, activist and educator Sam Grant spoke about environmental and social justice on a Zoom call with nearly 100 students, faculty, and other members of the Moravian College community. 
Grant, who is the executive director of MN350, a Minneapolis-based organization that focuses on the intersection of racial and environmental justice, was brought to campus virtually as part of the College's year-long InFocus programming on the theme of sustainability. 
Grant focused his presentation on the concepts of shallow and deep sustainability and how we as a collective of people can work together to rid the world of both environmental catastrophes and wide-scale oppression."This pattern of not being together is designed into the fabric of society," he said. "Structural racism sits at the core of modernity. We have created a world organized around divisions." 
Grant suggested that we look inside ourselves to make the changes necessary in order to design our relations in a way that fosters deep sustainability. Shallow sustainability, on the other hand, is the over-reliance on market-based and technology-centered solutions that reinforce privilege in the distribution of environmental benefits. Deep sustainability allows us to coordinate the efforts of business, civil society, the public and social movement sector, and everyone on Earth to care for the environment, each other, and the future. In order to develop this deep sustainable future, however, we need to look further into the concept of development. "Is the environment the tail on the dog of development?" Grant asked. "Or is development the tail on the dog of the environment?" 
In the heat of the discussion about environmental justice and sustainability back in the 1980s, there were clear issues at play, such as mass deforestation and land degradation, in which people transitioned from rural lifestyles to the more appealing urban lifestyle of the inner cities that relied on industry rather than the environment. 
To make this change towards a deep sustainable future we need to look at the other drivers of change as we do not have time to dwell on easy solutions for our problems. "We talk about it a lot," said Grant. "But we are not yet doing a good job as humanity of delivering this triple bottom line which is to have an ecologically-sound reality, a socially-just reality, and an economically-viable reality that we co-create, share, and sustain."
Grant then proposed ways we as a community can work together to ensure this deep sustainability. Through the process of intercultural orientation, we can practice a deeper democracy and find ways to understand how we share the world. Through this method, we can all come to a similar-minded ecological common sense to take care of the Earth and all of its inhabitants. "And if we do this work, I'm trusting that there's a lot we can do within the next 10 years to make this a decade to look back on," Grant exclaimed enthusiastically. "We gotta do this, and actually we can!"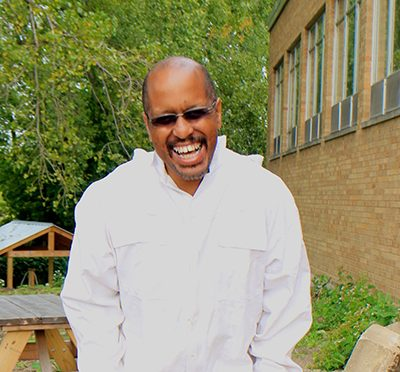 Grant also shared his perspective on how we can view different cultures. He believes that we can still maintain the distinct cultural pathways that we enjoy and celebrate; however, they do not have to remain exclusive. "In order for that to be true and sustainable, we have to learn a whole lot as human beings about how to honor and respect differences better than we do at the current time," he said. "Unfortunately, it's moving so slow in that regard." 
As MN350 is located in Minneapolis, which is the epicenter of the George Floyd's death, Grant has reflected on Floyd's influence on the movement. "Clearly, George Floyd's sustainability did not matter to those four police officers," he said. "And many people all over the planet are saying, 'Let this be the last time that we as human beings on the Earth that we share, refuse to stand in solidarity and mutual support with each other when any of our lives are put at risk by patterns of disrespect or ecological degradation.'" 
Following Grant's presentation, the attendees were split up into 15-minute breakout sessions where faculty and students discussed the question of what sustainability means to them and the biggest issues that they think about relating to sustainability. After these sessions, the groups returned to a brief Q&A with Grant, who responded to the group feedback. 
Grace Gilbert, '21, who is double-majoring in Spanish and English and minoring in art, believed Grant's presentation raised important issues. "[He] brings a lot of good points up that we are all connected," she said. "We like to view things as separate issues, but for the purposes of accomplishing anything within our country and as citizens of the world, we have to be able to put aside our differences and put aside the mythology surrounding the fact that we are from different countries with different people because we made those up, those lines don't exist in nature. So we have to come together to really create equitable solutions for our future." 
Nursing major Jenevieve Eberly, '21, found a new perspective on how we can implement these themes into our daily life at Moravian College. "We can do small things around campus to be more sustainable and to be more diverse, so I think that's the first step of our whole community and nation, to just take the small steps," she said.