Best Beats: Love Song Edition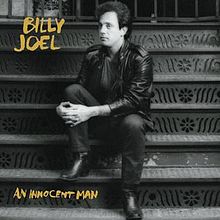 "This Night" by Billy Joel (1983)
Love songs aren't my favorite, but I can't pass up a song that is as sickeningly sweet as eating an entire box of Valentine's chocolates in one sitting. Billy Joel's doo-wop album track "This Night" from his 1983 album "An Innocent Man" is about as sweet as it gets. 
If you listen to this song and close your eyes, you will feel like you are being transported back into the 1950s. The doo-wop beat starts off with some a capella background harmonizing but slowly builds with jazz instruments like a saxophone, piano, and continued background vocals. While the beginning of the song is rather slow and peaceful, the music reaches a crescendo towards the end, piquing with Joel's emotions during the serenade. 
Interestingly, the song actually pulls inspiration from the melody of one of Ludwig van Beethovan's piano sonatas, specifically one commonly known as "Sonata Pathétique." With the doo-wop instruments and harmonies, it's almost unrecognizable. 
However, while the music is emotional and romantic on its own, the lyrics are the part of the song that really make it my favorite love song. The song opens with the introduction of two acquaintances, both emotionally burned from old flames. They seek comfort in each other, but they agree early on that they would only remain friends. However, a fateful slow dance between the two has them "breaking [their] promises right there and then." 
They stay together for the rest of the night, fighting off all rational thought of how they really shouldn't be together. He "needs time to forget her," and she's "running from someone who's not over" her. However, despite all that they think should keep them apart, it is really only bringing these two together because they have so much in common. 
The two keep dancing and ensuring themselves that their connection will only last the night and that "tomorrow is a long time away." However, I think we all know that they will probably stay together longer than just this night.
-Elizabeth Horn
"Wonderful Tonight" by Eric Clapton  (1977)
The song "Wonderful Tonight" was written by Eric Clapton in 1976. The song was featured on Clapton's album "Slowhand," which was released in 1977. The song is one of Clapton's most well-known songs, featuring female vocals performed by Marcella Detroit and Yvonne Elliman. The song captures Clapton's feelings towards a woman while she is getting ready for a night out. 
The song was written about Clapton's girlfriend at the time, Pattie Boyd. Before the two began dating, Pattie was married to Beatles's member, George Harrison. The two were married when Clapton first expressed his love towards her in his classic rock ballad, "Layla." Even in the chaos of this love triangle, Harrison and Clapton still remained good friends. 
The song follows Pattie as the two are getting ready to go to a Buddy Holly tribute concert that was put together by Paul and Linda McCartney. The song reflects Clapton's emotions as he watches Pattie get ready. As she begins trying on dresses, Clapton begins strumming his guitar. In the moments that Clapton spends observing her and casually strumming his guitar, some of his most iconic song lyrics come to life. 
The two eventually got married. The day after their wedding, Clapton brought Pattie out on stage and sang the song to her at his show in Tucson, Arizona. The song has been featured in several movies and even well-known TV shows all around the world. The song was featured in the episode of "Friends" when Chandler proposes to Monica on "The One With The Proposal." 
The song reflects the importance of appreciating the little moments in life, the moments that we often take for granted every day. Clapton expresses his feelings towards Pattie through a simple song in which he conveys his feelings towards her. "Wonderful Tonight" is a song packed with beautiful lyrics, powerful vocals, and some of Clapton's best guitar riffs all wrapped up in one. 
-Liz Schwartz 
"Can't Help" by Parachute (2013)
Parachute is one of those bands that people have heard their songs but don't know who they are. I often hear some of their songs in grocery stores and restaurants, and I get ridiculously excited every time. They do not have a single song that I don't enjoy. 
Their song "Can't Help" on the album "Overnight" is a fairly high-energy song. The lead singer, Will Anderson, desperately tries to avoid his feelings for someone but finally gives in. His song is his way of saying that he gives up trying to avoid it because he has not been successful anyway.
Initially, Anderson "tries to fake it" and "tries to break it" but was unable to, comparing it to a spell cast on him. Now doing a complete 180, he decides to be with the person of interest. He writes this song as a message, hoping that his crush hears it and knows that he has accepted his feelings. 
Throughout the song, Anderson sings about how unexpected it was for him to fall for this person. He has no control over his feelings and cannot avoid them as he wishes he could. I am sure that many of us can relate to this. Regardless of better thinking, we develop feelings for others, even if we wish we didn't. Even if we try to run from love, it still finds us. 
Anderson goes on to say, "I tried to let it fade but I can't get away." Despite our desperate attempts, we cannot just stop having feelings for someone. Even if it does eventually fade, it may take a long time. 
Better than avoiding such feelings is to allow yourself to feel them and see where it takes you. Will Anderson tells us that no matter how hard we try, our hearts overpower. But what is wrong with such emotions anyway? What is so wrong with love and happiness? Even if that is not the final outcome, you will learn more about yourself and the world. So, if you can't help yourself from falling in love, why try to fight it?
-Shayla Borger
Leave a Comment