Dom Reviews: "Happier Than Ever" (2021)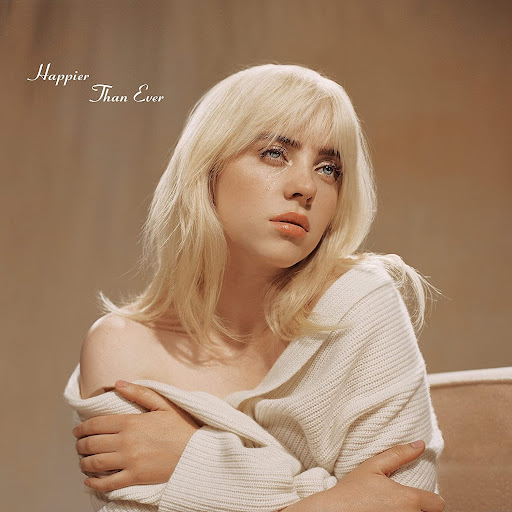 Billie Eilish is one of the biggest breakout stars of the past decade and is likely the most talked-about musician of my generation. She first garnered massive attention after the release of her infectious, low-fi pop hit "Ocean Eyes" from 2017's Don't Smile at Me EP. Then, she stunned the world with her Grammy-winning and groundbreaking debut album When We All Fall Asleep, Where Do We Go? (2019), an album that I've since fallen in love with. 
The alluring nature of Billie's music can partly be attributed to her brother Finneas, who has masterfully produced Billie's entire discography. He'll also co-write and feature on many of Billie's songs. The two clearly work incredibly well together and this collaborative process has no doubt aided in making their music so fascinating. Billie's brand of off-the-wall, dark, and hypnotic pop music (if you can even call it pop) has dug its hooks deep into my ears. She is a genuinely refreshing act.
I was quite curious going into this album how Billie would change up her sound and top her enormous debut album. Happier Than Ever marks a moment of significant musical maturity for Billie Eilish. The album truly feels like it has its own identity and makes a number of bold statements throughout its hour-long runtime.
Track by Track
The album opens with "Getting Older", a quaint and bouncy synth driven track that proudly bears Billie's minimalistic sound. It's a song about self-reflection, growing up, Billie's experience handling fame, and relationships with other people. These themes are the general focus of the album, so it's a nice introduction to what we will be hearing about for the next hour. It's immediately clear that Billie as a vocalist has gotten much stronger and more confident (on this track and throughout the record as well). The curious lyrics on the chorus are sung gorgeously: "Things I once enjoyed/Just keep me employed now/Things I'm longing for/Someday, I'll be bored of." Synths are slowly layered on to emphasize certain sections and a thumping beat gives the track the perfect amount of momentum. The song ends with "I've had some trauma, did things I didn't wanna/Was too afraid to tell ya, but now, I think it's time," an impeccable line to end an opening track with. It's the perfect blend of simplicity, melancholy, and introspection. 
"I Didn't Change My Number" opens with snarls from Billie's dog followed by an "okay" from Billie, which is quite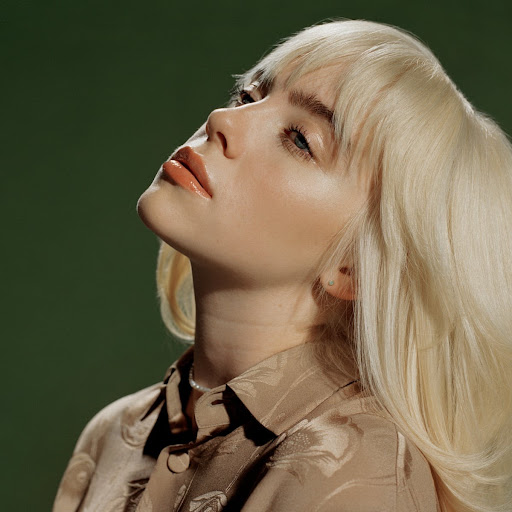 an amusing transition from the previous track. You then get smacked with a sharp and punchy hip-hop/RnB beat with syncopated synths. Billie's hushed yet snarky vocal performance compliments the beat well. Lyrically, it's about Billie cutting off toxic people from her life. Her unapologetic and blunt writing on this track feels badass – it's like she's finally taking a stand against someone for whatever reason that may be. Finneas leads the track out with some background vocals and a dissonant, experimental synth line that catches me off guard in the best way possible. It's a sassy and satisfying cut despite the outro being a bit long-winded. My only complaint is that I wish it had some other standout characteristic besides the aforementioned synth.
"Billie Bossa Nova" is… exactly what it sounds like. Billie and Finneas absolutely nail the bossa nova sound on this lush and indulgent cut. The beat on this track is fantastic and razor sharp while leaving space for the jazzy electric guitar and Billie's vocals. The synths that hit on the chorus are lush and it's here where the song feels dreamlike. Additionally, the piano keys on the outro are gorgeous and add another layer of wonder to the track. Instrumentally speaking, I'd say it's pretty flawless. Once again, Billie's vocals sound great. The only part I'm not crazy about is the pre-chorus because it feels like a melody I've heard many times before and is far outshined by the actual chorus. I also feel that the vocals are mixed too high on the pre-chorus.
Speaking of dreamlike, that's the perfect way to describe the song "my future". I originally included this song in my "Songs That Got Me Through The COVID-19 Pandemic" article for how simultaneously stunning and comforting this song is. In a few words, this song feels like a much needed hug. Lyrically, it's about accepting where one is in life and being in love with one's future. It has one of Billie's best vocal performances ever as she effortlessly glides over melodies straight out of the jazz genre. The swelling bass synths in the first half and the glistening electronic piano keys feel like a moonlit summer night. Then, about halfway through the song, the track transforms into a funky, electric guitar-driven dance pop track that takes the song to a completely new level. Billie then grows louder with her vocals and the synths from the first half make their way back to the chorus but are now joined by what is essentially a small jazz band minus the horns. This song never gets old to me a year after its release and the evolution it takes is so satisfying to hear.
"Oxytocin" is another one of my favorites on the album. A grimy, bass-heavy beat keeps the song pumping forward in the most satisfying way – perhaps my favorite beat on the album. Billie's vocals are as claustrophobic and ASMR-like as ever, perfectly matching the intense sexual nature of the song. The chorus will burrow its hooks deep into your brain for days. The repeated vocal line ("look away look away look away", "involved involved involved", etc.) works so well. Additionally, the section immediately following sees Billie reaching into very high ranges, even yelling at parts. The stuttering synths on the chorus are disorienting and heart-pounding in the best way. By the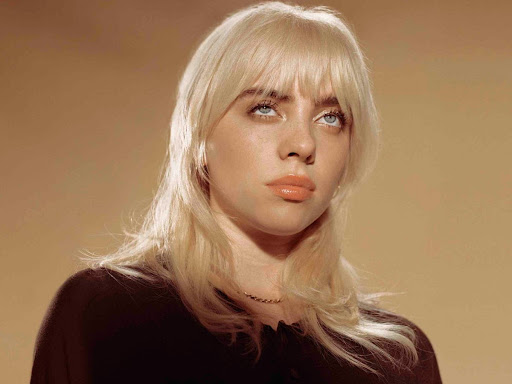 time everything builds up to the explosive final chorus, the track feels like a chase sequence in a horror movie complete with screams in the background courtesy of Billie. The song barely gives you a second to breathe and I love it for that. It's hot, it's intense, and it's exactly the type of banger that I would have liked to see appear on the album more. 
"GOLDWING" is a great contrast from "Oxytocin", swapping the intense, dirty, and sexual nature of the previous track with ethereal, airy vocals and no other instruments. I don't much care for the first half of the song because it comes off like an uninspired church tune, which is quite a let down after how explosive "Oxytocin" was. Like "my future", "GOLDWING" has a switch up about halfway through that helps give it some momentum. It introduces the repeated "goldwing" line and integrates it into the beat in a cool way. This section is also a bit forgettable except for the chorus which has one of the coolest sounding melodies I've heard on the album when Billie sings "you better keep your head down down d-d-down down, d-d-down down". It's an interesting track at its core, but feels a bit half-baked and unengaging.
"Lost Cause" is a track that lost some of its magic on repeated listens for me. I really like how smooth and sultry the bassline sounds on this song – it's easily the track's biggest strength. The drums are also produced fantastically on this cut. Lyricially, it's an unfiltered critique of an ex-lover. Billie Eilish genuinely sounds fed up with the person she is singing about on this track, which helps sell the lyrical theme of moving on. However, it feels a bit early in the tracklist to include a song this cutthroat if the album is, among other things, about a single relationship arc. It would have made more sense to put this later on the album. My other gripe with this song is that the lyrical melody on the chorus gets a bit stale on repeated listen. However, I love the more lo-fi outro and the quaint piano keys.
"Halley's Comet" brings things down to perhaps the most somber moment on the album. The lyrics on this track are genuinely heart wrenching as it details Billie's thought process immediately after a break-up. It's extremely sad and well performed. The chord progression and melodies on this track are sharp and memorable. When the drums finally come in on the first chorus it's a moment of pure euphoria and warmth. Some electric guitars get sprinkled in later on to give the track even greater depth. The track ends with a poorly recorded outro of a small piano tune. While I don't mind the outro, I wish the song would have instead chosen to expand the song even further, but the two pieces fit together nicely. 
"Not My Responsibility" is an incredibly potent and well-written spoken-word song about the obsession that people seem to have with Billie, particularly her body. It critiques beauty standards and how unhealthy public opinion can be to a single person. It's all set to a hypnotic and spacey instrumental that only bolsters the central message. While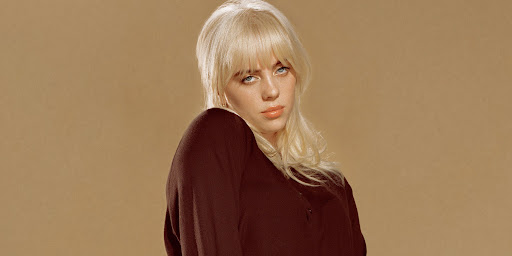 I think it's a really important piece of art for Billie, "Not My Responsibility" is not something I come back to often on repeated listens. It is 100% worth listening to at least once, though. A seamless transition into "OverHeated" continues the spacey and hypnotic synths of the previous track. Like the previous track, "OverHeated" continues discussing Billie's struggles being in the public eye, referring to this overwhelming attention as existing in a state of being overheated. Finneas's production has just the right amount of eeriness and the syncopated synths on the chorus give the track some life. The downfall of this track is the repetitive and uncreative repeated vocal line on the chorus. Other than that, it's a great nocturnal sound that works well within the confines of the album. It reminds me of her other song "ilomilo" which I love.
"Everybody Dies" is the weakest song of the bunch on this album. It doesn't add much lyrically to the story of Billie or her relationships – which is primarily what the album is about. Instrumentally, it's just way too bare and doesn't do enough to hold my attention as a listener. At least "Getting Older" had the lyrical content to get me through the song, but the lyrics on "Everybody Dies" are pretty much what you'd expect with a title like that. At this point in an hour-long album, this was a huge momentum killer, especially with its drawn-out outro.
"Your Power" is a great palate cleanser for the album as it mainly focuses on the acoustic guitar. Billie's vocals are soaked in reverb and right in your ear. It generally fits for the vibe of the song, but I think her vocals could have been turned down a bit in the mix. Her performance on this track is personal and captivating as she sings about people in positions of great influence abusing their power. It's an important and timely message in the digital age. This stripped back track is both cute and profound even if I wish it gave a little more.
"NDA" comes awkwardly after the last track, trading the acoustic sound for a hyper-electronic focused beat and programmed strings and synths. While the placement gives me a bit of whiplash when listening to the album in full, I can't be mad when the song itself is this creative and enthralling. The beat is sharp and almost sounds like a ticking clock. We get a stiff yet intimidating vocal performance from Billie. It works well here with the lyrical content as she navigates thoughts about her fame and the way her life has changed with it. She sounds numb to it all in the most effective way. I love the programmed plucky strings that serve as the song's pre-chorus as well. Then, we get a pounding, synth driven chorus that sees auto tuned vocals from Billie that serve as a nice contrast from the verses and it feels like we are veering off of the road along with Billie. Things get extremely intense and cinematic in the final chorus as Billie yells "Did I take it too far?!", referring to both a past relationship and her public image. 
An absolutely exquisite transition into the swaggering beat of "Therefore I Am" is effective both musically and lyrically speaking. This song sees Billie taking a firm stance on the relationship she has been mulling over for the whole album. The track is Billie at her most confident and the dark, brooding production is something right off of her last album. The chorus is catchy and satisfying as she sings about disassociating with the person she once knew. This is the type of song I think the album could have benefitted from more as it's undeniably Billie Eilish and helps bring the record home in the final stretch.
"Happier Than Ever", easily the greatest song on the album, is a career defining moment for Billie. It's both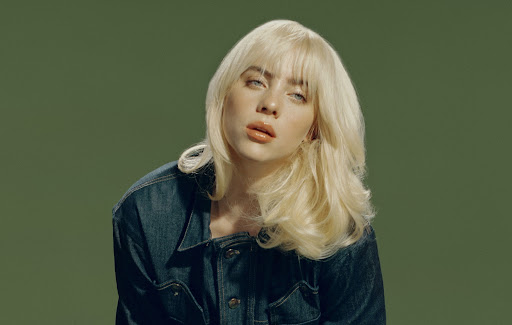 gargantuan and quaint at the same time. It's bold and jaw-dropping. It's one of the best songs I've heard all year. It has a sound that's instantly recognizable and timeless. The track begins with a 40's style guitar (or is it ukulele?) driven ballad that is genuinely heartbreaking in its lyrical content as Billie softly sings that she's happier than ever when she's away from this person. It's beautifully performed and you can feel the weight of the situation mounting as the track goes on through Billie's voice. If you don't pay any mind to the lyrics, it sounds a bit like a bittersweet, sing-along lullabye. A high-pitched electric keyboard gets added on to the melody on the second chorus to make the track feel extra light and hazy. About halfway through the song, the track transitions from a strumming acoustic guitar to an electric guitar and Billie's vocals grow grittier. A pounding bass gets added in and Billie begins raising her voice as her emotions grow increasingly angry to the point where it sounds like she's about to explode. She starts unloading about how this person made her hate the city she's in and that she can't relate to them because she would never treat herself this poorly. Finally, the track transforms into a full on rock-opera banger in the style of My Chemical Romance combined with the sass of an Olivia Rodrigo song. Billie delivers her most impressive and intense vocal performance ever to match heavy instrumentation. The lyrics are heart wrenching to the point where you'd simply have to read them for yourself. It's the moment where the entire album and the relationship we've been learning about over the course of the hour comes to a head. It's the release that Billie has been holding in her all along and is one of the most satisfying songs I've ever heard. It's a journey from beginning to end.
"Male Fantasy" closes out the album on a much more somber note. There has been heavy debate online over whether this song or "Happier Than Ever" should have closed out the album. I'm of the opinion that "Happier Than Ever" should have ended the album because it felt like Billie closing the chapter on everything. "Male Fantasy", on the other hand, just feels like an understated after-credits scene. It's got some quirky and amusing lyrical content about how pornography is mostly made with male viewers in mind, but by the end of the song it's about not being able to get over the person in question. Assuming it's about the same person we've been hearing about throughout the album, it almost takes away from the statement of hate and regret that was "Happier Than Ever". It isn't anything as interesting instrumentally as that track either.
Final Thoughts
Happier Than Ever sees a more stripped-back, mature, and confident Billie Eilish exploring fame, beauty standards, and a tough past relationship. My biggest gripe with this album is that, at times, it doesn't justify its runtime. Too many times the album slows down or hits a speed bump without trying anything particularly different or captivating. While the highest points on this album are some of the highest of her career, the lowest points are enough to make me yearn for her more focused and unique debut album. So while I don't think Happier Than Ever is her magnum opus, the album has proven that Billie has some serious staying power.
Rating Scale:
0 – 4 = Ranges from "utter garbage" to "generally disliked it"
5 = Indifference
6 – 10 = Ranges from "generally liked it" to "masterpiece"
Final Rating = 7.6/10
Leave a Comment