Stories From Around the World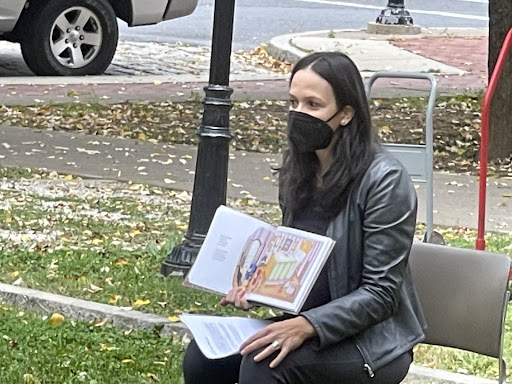 On Saturday, Oct. 9, the Bethlehem Area Public Library hosted its second World Stories Program near the Japanese tea house on the library grounds.  
Moravian created the program in partnership with the Bethlehem Area Public Library for children ages three to eight. The goal is to use stories to introduce children to world cultures and languages. 
Saturday's event started with a reading by Modern Languages and Literatures professor, Dr. Claudia Mesa. First in Spanish and then in English, Mesa read the story "Cuentos Pintados," which in Spanish means "Painted Tales." She then talked to the children about where they are from. 
The families who participated in this event came from both the local area and from China, Canada, and Colombia, among other countries.
Afterwards, to celebrate "Feria de las Flores" (Festival of Flowers), the children and their parents used crayons and markers to create personalized paper flowers. "Feria de las Flores" is held in Medellín, Colombia, every year to celebrate the country's renown culture of flower-growing.
Leave a Comment