Commuter Corner: ChatGPT Recommendations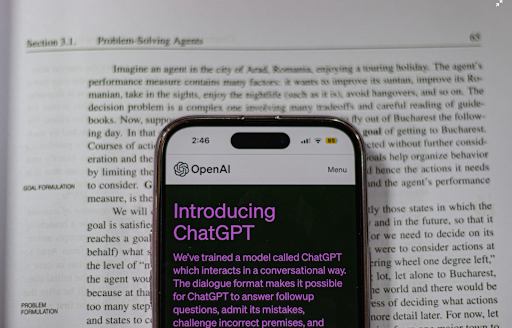 With this refresh centered around AI and ChatGPT, I wondered, "What does AI think about being a commuter student?" 
So, I asked ChatGPT, "What recommendations do you have for college commuter students?" 
Here's what it had to say: 
"1. Plan your schedule: Make sure you have ample time to commute and do your coursework. Consider traffic, parking availability, and other factors that could impact your commute time." 
For Moravian students, we should keep in mind that often, the shuttle will arrive at Lot X in time for us to get to class. That means we have to take a roughly 10-minute walk uphill to class. 
Keeping this in mind, I always aim to arrive at Lot X about 15 minutes before my class starts. This gives me enough time to walk to class and prepare before class begins. 
"2. Stay organized: Keep a schedule of your classes, study times, assignments, and other commitments. Don't schedule too many back-to-back classes to give yourself enough time to commute between them." 
Commute time is not usually something we have to worry about because of the small size of our campus. The only time we have to be mindful of that is if we have to catch the shuttle or drive down to South campus (or North). 
I know many commuters try to schedule as many classes as possible on a few days so that we do not have to be on campus five days a week. This is when I recommend being mindful of providing a gap throughout the day to eat lunch.
"3. Pack essentials: Pack all necessary items you need for the day, such as laptops, chargers, textbooks, and snacks, so you don't waste time and money." 
I also always make sure to have my wallet with me because I tend to buy food on campus. 
As I said in my last Commuter Corner, packing your bag the night before can help prevent any forgotten belongings. 
"4. Find a quiet place to study: It is essential to have a quiet-distraction free space to study, such as a library or quiet café." 
On the weekends and in the evening, I either study in my bedroom at my desk or my local Starbucks. While on campus, I go to the third floor of Reeves or find an empty classroom in Comenius Hall or PPHAC. 
No matter where I am studying, I always have my noise-canceling headphones on to eliminate any possible distractions. 
"5. Avoid distractions: Socializing can be fun, but it can also reduce your focus and productivity. Stay away from the crowd and focus on your studies instead." 
I think that you should plan out times when you will socialize and times when you will study. Socializing is an important part of college and is great for mental health. It should not be something that is eliminated entirely. 
Especially as commuters, it can be even harder to make friends and socialize with people on campus. Be mindful of scheduling it into your time. 
"6. Get involved: Joining clubs or organizations on campus can help you feel more connected to the school community and give you opportunities to meet people and network." 
Commuter students can join the Commuter Student Association to meet and make friends with other commuter students who have a similar college experience. 
There are also clubs for all students' interests and organizations that suit all majors. Getting involved in these clubs can help meet friends with common interests and goals. 
"7. Manage your time wisely: Manage your commitments effectively and don't overload yourself. Allow some extra time for unexpected situations." 
I stay organized with a planner and Google Calendar to keep track of work, clubs, classes, meetings, and assignment due dates. 
For some, it is hard to say no to certain things. But sometimes, it is in your best interest to do so. Ensuring you have enough time for your studies is the most important thing, so don't take on too many clubs or work commitments. 
"8. Take care of your wellbeing: Commuting can be tiring, so be sure to get enough sleep, eat well, and exercise regularly to maintain your health and energy levels." 
Taking Melatonin or drinking tea to help induce relaxation and sleep can help improve the quality of your sleep and make you feel more energized the next day. 
Packing a lunch to bring on campus rather than buying food can help to maintain a healthy diet. Make sure to pack fruits and vegetables and a good source of protein to help keep you full and fueled for the day. 
Finding time to exercise can be one of the most difficult things to fit into your schedule. There are many options; you can utilize the free gym on campus and bring a change of clothes to wear during a workout. You can also get a gym membership at your local gym. Planet Fitness is one of the most affordable gyms, at $10 a month. You can also do home workouts, which is one of the least time-consuming commitments. 
If you have any questions, comments, or recommendations, you can fill out this form, email me at [email protected], or leave a comment.
View Comments(1)