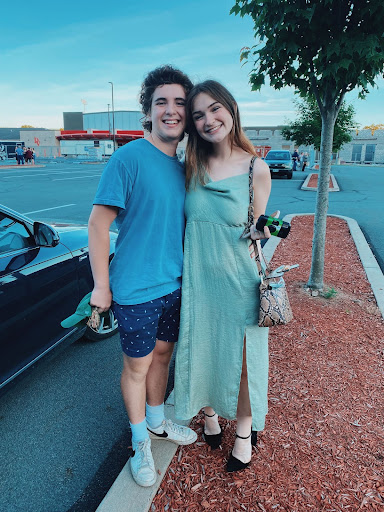 Welcome to the Kameenian Korner, our newest relationship column in the Comenian! For a bit of background on me, I'm a sophomore English and Political Science Major, and I've been in a relationship for almost five years now, and our anniversary is coming up in early September.
My boyfriend's name is Gavin, and he's a Business Management major at Albright College and plays D3 tennis, so we've certainly learned how to mesh our conflicting schedules throughout last year. I'm super involved on campus, so it might be hard for us to find time to connect throughout the day, but we always find moments to reconvene. 
You might see his comments pop up on my articles; he's one of my most dedicated readers and commenters! 
Considering the current misconceptions surrounding relationships in today's society, I felt this was an essential addition to the Comenian. I reach a level of violent rage when I see social media posts glorifying abuse or mistreatment within relationships.
Partnerships should be founded on mutual respect, trust, and communication, and if they aren't healthy, they should be cut off like a dying limb before they infect the entire emotional being. 
Although I'm certainly not a relationship expert or a therapist, I feel like we've been through enough to understand how to fight through our highs and lows together. I've also written a few other relationship pieces, like Ways to Lose a Would-Be Lover and An Open Letter to Oblivious Partners, to the point I figured I should just start my own column! 
For most of this column, I'll probably focus on medium-distance relationships since I've never experienced going to the same college as my significant other. However, we did go to the same high school, so it was definitely an adjustment not to see him every day. 
For future columns, I intend to provide advice on common issues that arise within relationships, especially after being with the same person for so long. So, for a few future issues, I figured I would write some pieces highlighting trust, communication, mental health, and maybe more specific topics, for example, not getting along with your partner's family. 
However, I'm entirely willing to write outside of this category if any reader has a specific request. I would also love to feature some pieces of anonymous advice, so please feel free to contact me! I recognize that every relationship is unique, so I aim to provide advice that is inclusive of all partnerships, regardless of gender, sexual orientation or relationship status.
As always, thanks for reading the Comenian! If you have any questions or comments, feel free to contact me through email at [email protected], in the comments, or fill out this Google Form!