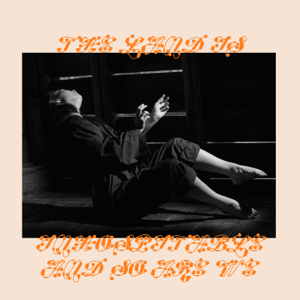 Mitski's musical majesty is one of transformative love, timeless yearning, and echoed loneliness. More than just a TikTok indie darling, Mitski exceeds standard storytelling through her insightful observations on relationships, fragility, and feeling misplaced in the world. A monstrous single like "Nobody" unspools her signature lyrical yearning. "Next Best American Girl" allows the listeners to comprehend how her Asian identity and cultural differences frame her relationships. No matter the song or project, Mitski creates an intimate space for her listeners through an artful musical dreamscape. 
In her latest endeavor, The Land Is Inhospitable and So Are We, Mitski is in her most transcendental cowboy element. Trading the synth-pop, 80s-centric musicality of 2022's Laurel Hell for contemporary folk tunefulness, this new project evokes a mystical tenderness that the average indie listener can come to enjoy. 
Bug Like An Angel launched this new era with an air of stripped-back softness. As a track, it is decently placed within the context of the rest of the album, hitting the themes of alcoholism and yearning for familial connection that check off all the right boxes for an intimate Mitski song. But, as a lead single, it doesn't really thrill or entice at all. The skeletal guitar instrumentation cheapens the lyrical sentiments. Even Mitski's sparkling voice and the incorporation of a gospel choir can't compensate for its lackluster composition. 
Buffalo Replaced changes the tempo with its grittier instrumentation and gutsy lyrical attitudes. Mitski's wild-hearted imagery captures the free spirit of American wanderlust, epitomizing the unabashedly industrious mindset of America and the myths of hard labor. There is something so ruminative and profound when Mitski analogizes a "buffalo replaced" to how industries treat their people as dispensable and the metaphorical "buffalo" of an individual can be replaced so easily by someone who is "stampeding" much more speedily. 
When I hear something as timelessly transcendental as Heaven, I feel truly immersed in its cosmic divinity. This intimate piece of country balladry is wistful yet hard-edged, grounded yet far off, in a realm of romantic restlessness. Her celestial crooning compliments the poetic bliss of her relationship where she feels "Like a murmurin' brook / Curvin' about you." And even poetic brilliance aside, the melodic landscape of the track spellbinds with lush strings and an otherworldly orchestra.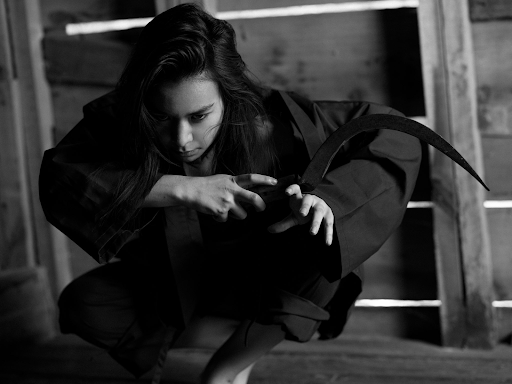 In typical Mitski fashion, she anguishes over being stuck within the confines of her ever-scrutinizing mind on the waltzy I Don't Like My Mind. Her suffering manifests in a string of lyrics of eating a whole cake "on an inconvenient Christmas" or not wanting to be "left alone in a room full of things that I've done." Similarly, on The Deal, her self-destructive tendencies cause her to feel burdened by her own soul. So pertinent is her burden that she sees herself as a bird that is "perched on a streetlight, watching me." Backed by plucky-stringed poignancy during the chorus, she finally implores someone, anyone, to take her soul from her.
Frosted with discordant catchiness, When Memories Snow finds Mitski ruminating through and shoveling past memories that "cover up the driveway" of her mind. She doesn't specify what these memories are that inflict so much trauma, but it is clear to the listener that she desperately wants to thaw away their wintry hold on her. The track is definitely a grower and it took me a few listens to appreciate its chaotically culminating instrumentation of a minor-keyed piano passage, honeyed strings, and robust trumpets. In essence, it's reminiscent of A Horse Named Cold Air from Be The Cowboy but with more weighted lyricism and a more disorderly yet fascinating progression. 
A lovesick sonata like My Love Mine All Mine best displays the classic hopeless romantic appeal of Mitski. What better way of conveying romance than chamber pop melodrama and rich contralto vocal passages?  Not only is her lower register tenderly reflective, but she eternalizes her relationship through amorous gestures like asking the moon to shine down on her lover. This lover is a woman, as she reveals in the second verse, so the added queerness to the song's narrative resonates deeply especially for her sapphic listeners. Even when "Nothing in the world is mine for free," she confidently proclaims that her love is unmistakably hers against all odds. 
Mitski's vocals are all but icy on The Frost; in fact, there's so much hearth and home in her sultry lower register as she conveys her signature lyrical lonesomeness. Sonically, the track carries a homely, folksy twang to it that matches the loss of a corporeal "home" for Mitski – her best friend. Metaphorizing frost as something to be shared and remembered once all else is lost, she clings to its mournful memory and closely associates it with her best friend. With this person no longer in her life, she is alone with the frosty remnants of this friendship, concluding that she's "just witness-less me."
You don't need to be astrologically intellectual to believe in love as the universe's conspiracy. At least, Mitski seems to think so on Star. Just as cosmically nomadic and mystical as Heaven, the song's composition feels like the trajectory of a shooting star gliding across the night sky. It also contributes to the title and the land, our Earth, being inhospitable and needing a galactic escapism from our Earthly burdens. For Mitski, this escapism comes in the form of a love that transcends all else. 
Imbued with religious allusions and self-depreciation, I'm Your Man is a lamentation of a dying relationship. Backed by a moody acoustic guitar, a hymnal choir, and actual dogs barking, Mitski points to a relationship of turmoil, toxic dependency, and misunderstandings. She attaches an image of masculinity to the song, delineating the ways in which men are promoted to be godlike and infallible. However, by the end of the song, she twists this when she ends with "I'll betray you like a man," satirizing how men who try so hard to emanate their overwhelming masculinity are deeply insecure and fall into "unmanly" tendencies like betrayal. 
I Love You After Me would've been an anthemic final statement for the album if it was backed by more hefty instrumentals. Still, I can appreciate the healing sentiments and Mitski reaffirming herself as "king of all the land." I can also appreciate how the song feels like it could've been on a B-sides to Laurel Hell with its swelling buildup and buoyant vocal harmonies. Although not the strongest note to end on, Mitski's self-affirming convictions and composed tone really evoke an Emersonian self-reliance and truly bring the transcendental storytelling to a satisfying conclusion. 
The Land Is Inhospitable And So Are We doesn't feel as musically monumental as other Mitski projects but it doesn't necessarily need to be. Even in its subdued, stripped-back folk framework, Mitski's contemplative voice does so much to create a believable pathos for the project. More than ever before, Mitski conjures delicate intimacy while offering much-needed commentary on societal inhospitality and discordance within ourselves, even when there was more to be desired sonically in bolstering that commentary. The Land Is Inhospitable And So Are We is a…7.5/10. 
Favorite Tracks: Buffalo Replaced, Heaven, I Don't Like My Mind, My Love Mine All Mine, The Frost, I'm Your Man
Least Favorite Track: Bug Like An Angel