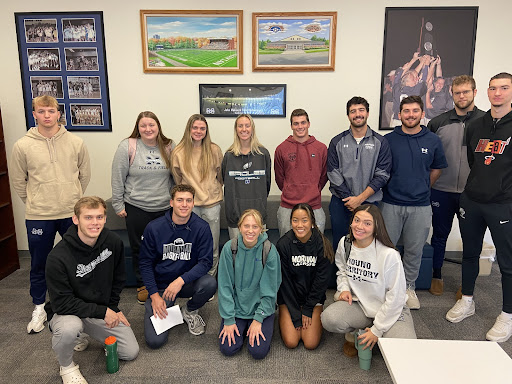 The morning of Thursday, Sept. 14th started the three-week-long Leadership Program. Built like an open forum, the program was designed to help athletes better support their teams based on what coaches think are the best leadership qualities. 
It was hosted by men's basketball coach, Darryl Keckler, and assistant athletic director, Brynn McNamara, who were both very involved in the creation of the program at Moravian.
The program consisted of upperclassmen student-athletes attending three one-hour sessions in Johnston Hall to further their understanding of what it means to be a leader. Athletes who attended the early morning sessions were led through various open discussions, small and large group work, and even interactive activities with their peers. They covered communication and trust, team identity and goals, along with what the student-athletes believed a leader should be.
"The starting point was finding out important characteristics and then building from there," said Keckler. "The main topics that stood the most out were confidence building and communication tools."
The coaches were a major factor in deciding what topics to cover in the short sessions with their athletes, as they had previously gone through similar training. Keckler left it up to the coaches to choose who they believed would be best fit for the program.
"We really opened it for the coaches to pass it along to their aspiring leaders because they are the future of their programs," he said.
A foundation of leadership skills is shared with athletes across other universities as well. Keckler wanted to bring this program to Moravian University because he had implemented it during his time at Drew University and he believed it was very successful. He had seen an "uptick" in performance among the teams and thought it would be useful for athletes here.
Communication, trust, and teamwork, among other qualities, are usually building blocks to a program like this, according to McNamara. Although some universities follow this trend with defining pillars in their programs, she doesn't believe that Moravian needs them. 
"The pillars of success are different everywhere," said McNamara. "As this generation changes, society changes. It's all up to the current athletes to decide what they need."

McNamara and Keckler believe leadership is important to any team's culture. It brings teammates together and allows the bond of the team to become stronger. This is a vital factor for any team's success and accomplishments.
"We have great people here that strive to push each other a little bit harder," Keckler said. "Softball and Track and Field are great examples of the culture we are trying to implement. Both teams have been very successful."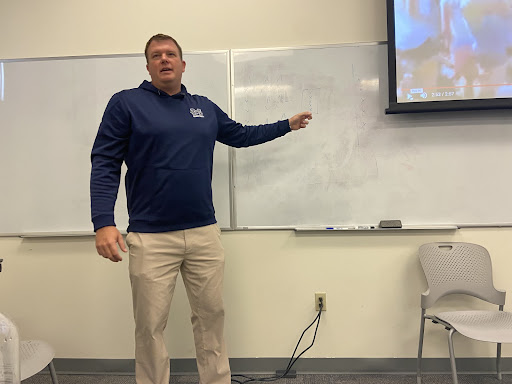 Both Keckler and McNamara enjoyed working with the coaches and athletes. It allowed them to get to know the athletes and understand who they really are outside of shin guards and shoulder pads.
"The program gives me joy and brings worth to what we do. Providing these experiences for the athletes helps me do my job better," said McNamara. "It shows that what Coach Keckler is trying to do is meaningful and impactful." 
Keckler and McNamara plan on further expanding the program in various ways. They plan to host two sessions for the freshmen because they were not allowed to attend with the upperclassmen. McNamara could see it continuing as a group meeting or developing into a class similar to the RISE Teamwork and Leadership Program. 
"The possibilities are endless," said McNamara.
With the winter season approaching, Keckler and McNamara hope to see some of the skills they shared being implemented into all of Moravian's athletic teams and their leadership dynamics.