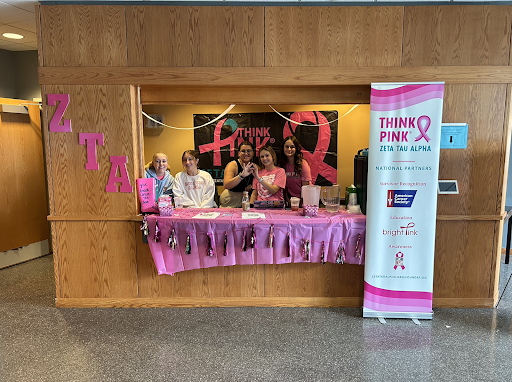 Oct. 16 began Zeta Tau Alpha Kappa Iota chapter's annual Pink Week, where the members of the women's fraternity raised money to battle breast cancer. Their philanthropy relates to breast cancer awareness and education. The HUB was transformed pink to signify this important cause for the wider Moravian community. Throughout the week, Zeta collected donations and held events, all culminating towards the spaghetti dinner that was held in the pavilion that Friday night.
Zeta accepted donations through their crowdchange link, and at the HUB kiosk throughout the week. Anyone who donated $10.00 or more was eligible to attend the dinner that upcoming Friday. 
On Monday, sisters of the organization provided a "pink drink" to the Moravian community. This drink was sponsored by Starbucks, and Zeta was able to donate the profit made from sales.
Tuesday was where people acknowledged who they wore pink for. This allowed for people to write down who they're honoring with their donations, and share their own stories. Then, the messages were later posted for everyone to see.
On Wednesday, Zeta were selling pink lemonade and cake pops for the Moravian community to enjoy.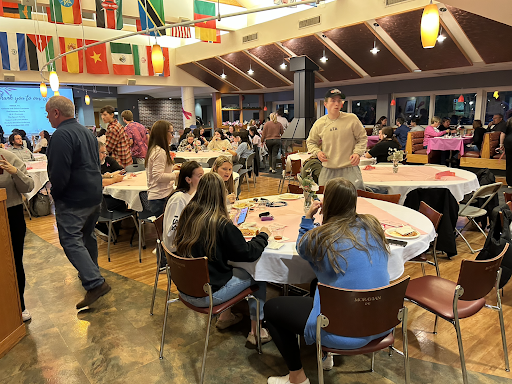 Thursday had a small duck pond, where people could pay to pick up a rubber duck and receive a prize based on the number underneath it. A single play cost $1.00, and prizes ranged from sensory strips to your very own rubber duck.
Friday was the big day: the spaghetti dinner. The pavilion was decked out in pink, with members of the women's fraternity out and about mingling and collecting donations. There was pasta, caesar salad, and breadsticks for everyone to enjoy. The dinner wrapped up with a few words from Zeta members Aylia Mahon and Elizabeth Pansa. Additionally, Zeta provided a few raffle prizes for people to purchase tickets for during the event.
Finally, that Saturday, the sisters of Zeta came together at the Bethlehem Steel Stacks to meet survivors of Breast Cancer and offer their support. Thus, Zeta turned the page on yet another successful Pink Week.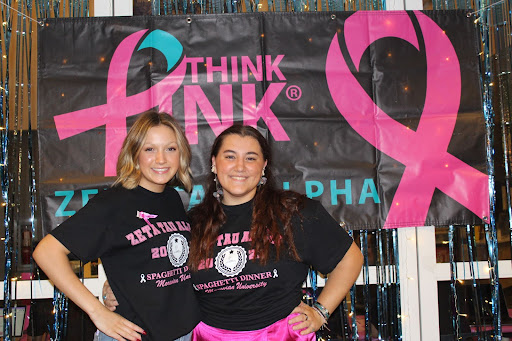 "Pink week is a way for Zeta Tau Alpha Kappa Iota to raise funds for the Zeta Tau Alpha foundation, which [furthers] breast cancer education and awareness," said Mahon.
The foundation has sponsorships with the National Football League and American Heart Association. The proceeds themselves are used to provide free education and spread awareness for breast cancer, such as purchasing mammograms for communities that may not have access to them normally.
Zeta Tau Alpha is happy and proud with how the week turned out and how all the events came together. "We've honestly surprised ourselves with what we've been able to do this week. And we're only on the up and up from here," said Pansa.
Much of the work that Zeta does relates to the philosophy of assisting others and helping when they can. Pink Week is just one example of the work that the members of the Zeta Tau Alpha Kappa Iota chapter do.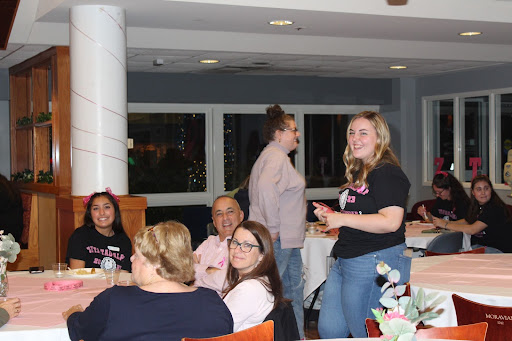 "All of our events are kind of surrounded around caring for people that have dealt with breast cancer in the past, who have it currently, and who have family members and friends who dealt with it," said Zeta member Kylie Dowd, '26.
The crowd change is still active, and Zeta hopes to potentially reach a donation goal of $8,000.00. Over $6,000.00 has been donated already, and you can donate using this link.