Greyhound Roundup (2/19)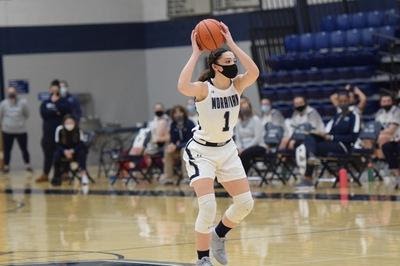 Greyhound freshman forward Sam Osorio earned Landmark Conference Women's Basketball Rookie of the Week honors for her performance in the first week of the abbreviated 2021 season. 
The Kearney N.J. native had a double-double of 14 points and 13 rebounds to go with two blocked shots in her impressive collegiate debut, a 65-45 win at Lancaster Bible College. She then had nine points and seven rebounds in the Hounds' 68-57 victory at Juniata College before finishing the week with five points, three rebounds and two steals in a 65-55 win versus Juniata in Moravian's home opener.
"Samantha had a tremendous start to her college career last week," commented Head Coach Mary Beth Spirk. "It is difficult to be a starter as a freshman in 'normal' times, however; Sam has adapted and performed at a high level in her first three games under these most unusual circumstances. Sam is going to get better and better in all phases of her game as the season progresses."
Moravian dropped its next three games, falling to The University of Scranton, 56-47, and The Catholic University of America, 61-54, in Johnston Hall, and the Catholic University Cardinals, 69-62, in an away game. 
Sophomore guard Madison Amy netted a career and game-high 22 points against Scranton. Moravian had three players in double figures at home against Catholic with junior guard Kayla Yoegel netting 14, and Osario and sophomore guard Jackie Kelly scoring 12 points. Against Catholic in Washington D.C., Yoegel tossed in 11 points to go with a career-high five blocked shots.
Next up is Yeshiva (NY) University on Sunday, Feb. 21, in Johnston Hall, 7 p.m.
Men's Basketball
Moravian Drops Another to Scranton
The Moravian College men's basketball team fell to visiting The University of Scranton, 89-62, in their second meeting in Landmark Conference action on Feb. 16, bringing their overall record for the abbreviated season to 0-6. 
Scranton's lead reached 25 points before the Royals headed to the locker room in Johnston Hall with a 46-24 advantage as freshman guard Tyler Mish hit a late jumper for the Blue and Grey for the final points of the half. Scranton kept its lead for the entire second half with Moravian getting within 20 points, 70-50, on two free throws from Freshman guard Alex Dietz with 7:35 to play. 
The Greyhounds host Marymount (Va.) University at Johnston Hall on Saturday, Feb. 20 at 3 p.m. before visiting Cairn University, Feb. 22 at 7 p.m.
Softball
Greyhounds Ranked 19 in Division III Preseason Poll
The Moravian College softball squad has been selected at No. 19 in the 2021 National Fastpitch Coaches Association Division III Top 25 Preseason Poll.
Moravian was 9-1 last year after the annual spring trip to Florida when COVID-19 cancelled the remainder of the season. Head Coach John Byrne enters his 28th season with an 863-249 record, and he has 16 returning players this spring.
The Greyhounds are slated to begin the 2021 Landmark Conference season on Saturday, March 20 at this time when Juniata College comes to Blue & Grey Field for a doubleheader.
In 2020, the Greyhounds' program finished ranked in the top 25 for the 11th time since 2002 including a high of second in the 2004 final poll after the Greyhounds played in the national championship round at the Division III World Series. The Hounds have also received votes in the final poll three other times since 2002. Moravian spent several weeks as the No. 1 team in the nation during the 2004 season.
To view the full 2021 NFCA Division III Top 25 Preseason Poll, visit https://nfca.org/divnews/ncaa3/east-texas-baptist-starts-no-1-in-nfca-division-iii-top-25.
Leave a Comment