Moravian Students Anxious to Return to In-Person Instruction
Moravian College, along with many others across the globe, have adapted to the harsh reality of COVID-19 by holding the majority of its classes online. While some Moravain professors are continuing in-person and hybrid courses, many have chosen the all-online route.
An article published to Scholarship America addresses pros and cons of strictly online learning in the time of COVID-19.
It's argued that an online environment is convenient, comfortable, and affordable. "With the option to attend college from your living room, many students are saving on commuting and housing costs," says Nikki Eye, author of the piece. "An added boon on virtual learning is the flexibility of studying remotely, a talent that poises many students to be uniquely prepared for a professional marketplace where remote options are commonplace."
In a poll I sent to 78 Moravian College students between the end of January and beginning of February, just over 80% of participants answered that they would choose in-person classes over online.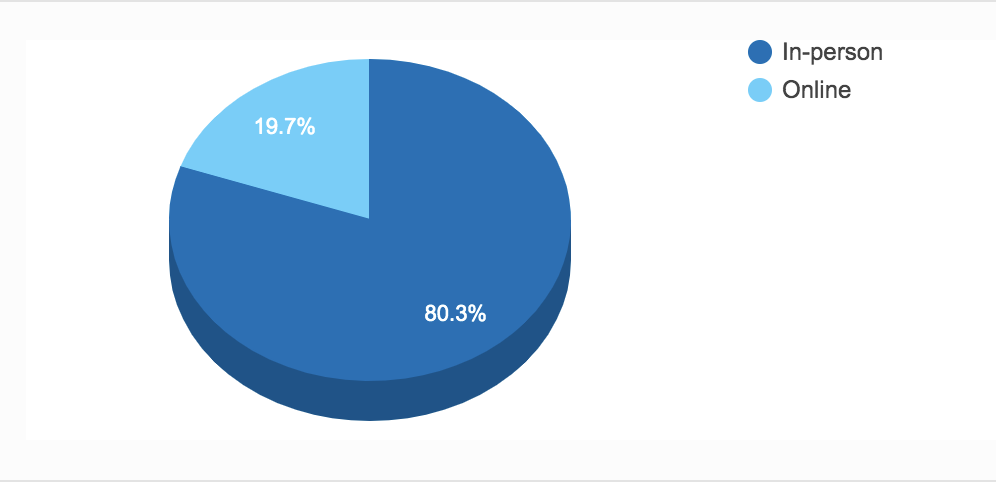 The most frequently stated reason for favoring in-person classes was that it allows students to better maintain an organized daily schedule. 
"When I have in-person classes it's easier to get a routine down because I have a set schedule with places I need to be at a certain time," said Brittany Schleicher '22. "With online classes it constantly feels like I have free time because I don't have to leave my dorm in order to complete my day."
Students also reported that it has been more difficult to talk with their peers while taking online classes.
"When I first transitioned to online learning, it was awkward when my professors would ask a question and all you heard was crickets," said Haley Rudofker '22. "Now it seems normal. Now professors know better than to wait for a response and rather just call on any random student, or else the class would just stare at each other in silence."
Other issues were mentioned, such as the lack of experiencing a true college experience during the time of COVID-19. "While classes online do save me gas money, I'd much rather prefer to be on campus than at home," said Sierra Dittmar '21. "I feel like there's a whole campus life I'm missing out on with online learning."
In addition to many of Moravian's students itching for the full return of in-person instruction, some professors have already begun fulfilling these wishes.
"My enthusiasm for literature and creative writing rubs off best on my students, I think, when we're directly in the presence of one another rather than meeting over a screen," says Professor Andrew Crooke, adjunct professor of English. "Through body language and eye contact, we are better able to gauge each other's reactions and engage in open dialogue."
While many view this as an either-or situation, an article from University Business suggests otherwise, noting that "the in-person versus online learning debate is still missing the point," arguing that replacing this idea of dual learning modes with a unified combination of the two will better benefit the needs of students. 
Viewing both sides of this argument favorably diminishes the negative feelings associated with each when focusing more on one over the other. Look at this like a hypothesis: if professors encourage hybrid learning more than/as opposed to strictly online or in-person, then students' performances in their courses will improve.
Moravian, as is true of as many other schools, is expecting to offer mainly in-person classes during the fall semester of this year for the first time since the wrath of the coronavirus.
Since vaccinations are now available to Moravian's campus, all students and faculty may begin to enjoy classes face-to-face (or at least mask-to-mask), which is projected to bring more stability into everyone's daily lives.
Leave a Comment