MoCo Faculty Navigate COVID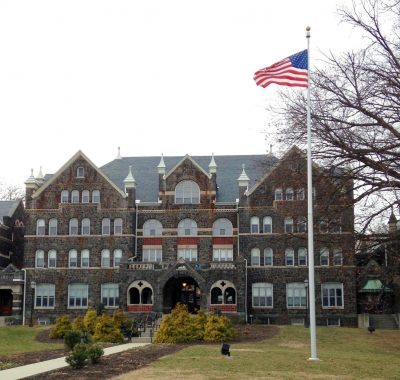 The last year has challenged all of us. That includes the College faculty and staff, who have had to make adjustments both at home and at work. 
We decided to check in with them to see how they're faring in this new landscape. 
None of the faculty with whom I was in contact said they had contracted COVID, but many stated that their extended family got or were exposed to the virus. "Several of my family members have contracted COVID, all people in their seventies or eighties," said Dr. Khristina Haddad, chair of the political science department. "Some were very ill, some were mostly asymptomatic. All have recovered." 
Other faculty experienced family disruptions because of the virus. The mother-in-law of  Dr. Kin Cheung, assistant professor of Asian religions, caught one of the last flights in late spring to return home to southern China, missing milestones in the life of Cheung's newborn son.
 Professionally, faculty members reported that they struggled to teach remotely and to stay on top of their independent research. Research resources have been difficult to access in-person, and the demands of dealing with online education and children at home have limited the time faculty can devote to their own work. 
At the same time, professors say that Zoom has allowed them to connect with students in important ways.
The faculty I surveyed said that they miss the "normal" flow of conversation and interaction with their students and co-workers. Professors find that holding class online lowers the quality of engagement with their students, particularly when students don't turn on their webcams. 
They also mentioned the challenges of communicating without body language and learning new ways of pacing their class conversations, due to technological challenges like lags in audio transmission, Internet issues, and muting.
"I thrive on conversation and participation," said assistant professor of nursing Dr. Karen Groller, pleading to her students. "Please talk to me." For their part, students contend that Zoom learning makes it difficult to connect and communicate with their peers and professors. 
Faculty said they have worked to adjust to the reality of remote teaching, adapting their courses  and in some cases completely redesigning them to accommodate for the differences in virtual and physical learning. "I am definitely working at unusual times," said Haddad, "including times when I would usually just be there for my family."
President Bryon Grigsby emphasized the importance of maintaining mental and physical well-being during this time. "You need to be mindful that you take care of yourself [because] you are doing it all in one location,"  he said.
Professors also expressed their worry about the impacts of COVID on those outside of the Moravian College community. Grigsby discussed his concern for historically disadvantaged groups who may have chosen to take time off from education because "data demonstrates that returning is really hard and often not successful." 
Cheung likewise noted the "exacerbation of inequality" of the online environment, as "those without or who cannot afford fast reliable connections suffer in their learning." 
To help students make it through the pandemic, many professors suggested that they break work into manageable chunks, be mindful in communicating with others, and take care of themselves. 
Leave a Comment