Fall Semester Sees Major Changes to Moravian Dining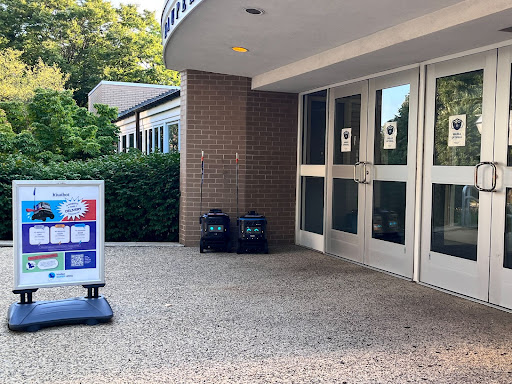 Now that a few weeks have passed since the start of the semester, many students and faculty will have noticed that there were a variety of changes and improvements to Moravian's dining locations. 
Most immediately noticeable are the new computer screens where food can be ordered. Before, the screens were slow and unintuitive, but now there is a completely new user interface and the screens are much faster. This seems to have substantially improved traffic flow now that ordering is now much faster and easier.
On top of that, there have been a variety of changes specific to each dining location on campus. 
The B&G for example has expanded hours. On weekdays, it opens at 11 am and closes at 10 pm. But on Friday and Saturday it remains open from 10 pm to 2 am. During that 10-2 period though, it will be Kiwibot delivery only (more on that later). Online order pickups are free.
"These changes were made because we received a lot of student and staff feedback that they'd like us to be open earlier," said marketing manager for Dining, Christine Bainbridge.
There are also a variety of changes to the menu and food and drinks available to buy. 
Mozzarella sticks and chicken wings are available, as well as a litany of new customization options for the food you order, specifically with burgers, chicken sandwiches, and loaded fries and tots. There's also a fridge specifically for Gatorade, which leaves more room for other drinks. You can also purchase Peets Coffee. 
The Star has proper dishes and silverware rather than the plastic silverware and paper plates that were introduced at the onset of the pandemic. Plastic reusable cups are now being used instead of paper ones. To reduce traffic flow, numerous stations have been relocated, such as the bagel bar, which now sits further away from the salad bar. 
There are also some changes to the grill, as there seem to be different burger patties and different options for the cheese to have on your burger. A variety of new options, particularly plant-based foods, appear on the menu.
DeLight's Café has some new salads and also add-ons for smoothies, such as yogurt and nuts. Clewell is better staffed and has made-to-order menu options again, along with the pre-made menu options. 
"The feedback we received indicated they liked made-to-order choices but also a rotating menu of entrees," said Bainbridge.
Most notably though, is the new Kiwibots. 
They have been the talk around campus since last semester, so students are rightfully curious about these new delivery bots. Currently, they only deliver to North Campus and the St. Luke's building on 1441 Schoenersville Rd. 
To utilize this service, students can download the everyday app and connect their meal plans. That's right Dining Dollars and Hound Bucks can be used for Kiwibot delivery. It costs $2 per individual delivery, plus a 10 percent service fee. Alternatively, there are three levels of subscription plans for a semester starting at $40. 
Despite these improvements though, staffing remains an issue for campus dining locations. The reason B&G is Kiwibot delivery only from 10-2 on Friday and Saturday nights is that it allows it to be minimally staffed while still being open. 
"We are still short-staffed in some areas," said Bainbridge. "We apologize for the inconvenience, because occasionally it interrupts our normal service."

The dining staff is dedicated to listening to student feedback, as evidenced by the wide variety of changes to campus dining services this fall. 
"We are always striving to provide options that students want and we take student feedback into all of our decisions, so we encourage students to keep telling us what you think of new dishes, service – everything," said Bainbridge. "There are QR codes posted in each dining location that students can scan and we strive to respond within 24 hours to your comments (please leave us an email so we can give you a response). "
Dining is looking for student workers, too — and paying more to attract them. "We've raised our pay rates to $12/hourly plus a $200 sign on bonus," said Bainbridge. "Student workers helped keep our operations open last year. We're hoping more students will want to join our team and gather valuable work experience right here on our campus."
Leave a Comment