Meet Dorothee Hou, A New Addition to Moravian's Modern Languages and Literature Department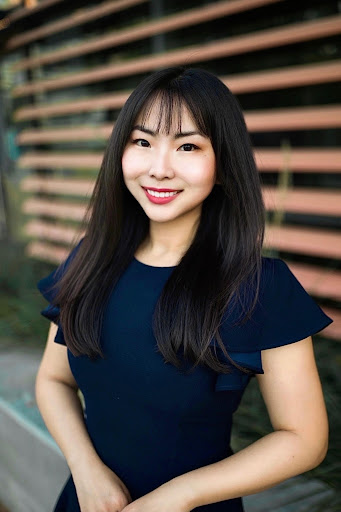 Dr. Dorothee Hou recently joined Moravian's Department of Modern Languages and Literatures as a postdoctoral teaching fellow for the 2021-22 academic year. This fall, she will teach courses in Chinese cinema and modern Asian culture.
Hou comes to Moravian via the ASIANetwork, a consortium of North American colleges striving to incorporate Asian studies into liberal arts education, and the Henry Luce Foundation, which provides grants for various academic programs.
Born and raised in Beijing, China, to a family of college professors, Hou first came to the United States during her junior year at Beijing Jiaotong University, when she spent a year in Massachusetts as an exchange student
There, Hou was "introduced to worlds that I was never aware of when I was living in Beijing," she said. "[In China] I grew up in a bubble; I grew up on a university campus because both of my parents are professors. Coming to the U.S. for the first time, I was just very excited to come out of my little bubble." 
After returning to China and earning her bachelor's degree in communications and media studies, Hou moved to the U.S. to pursue her master's degree in Asian studies at Florida State University.
While there, she participated in an interdisciplinary program which allowed her to take courses in multiple departments. In this program, she discovered a passion for research and teaching, and with some encouragement from her professor decided to pursue a Ph.D. in comparative literature at the University of California, Davis. 
During her educational journey, Hou said she switched majors multiple times but ultimately is glad that she explored what she really enjoyed rather than sticking to a single subject. 
When asked about the postdoctoral teaching fellow program, Hou said it was designed to connect scholars to liberal arts colleges with an emphasis on teaching Asian cultures.
"The highlight of this position would be that it promotes teaching and introducing Asian cultures — for me, literature and film specifically — in a liberal arts setting," Hou said. "And because it is a fifty-fifty position, meaning 50% teaching and 50% research, I also have the privilege of working on my own academic work. It's the best of both worlds." 
As part of the program, Hou has the opportunity to work with Dr. Kin Cheung, assistant professor of Asian Religions, and Dr. Claudia Mesa, professor of Spanish and the Cohen Endowed Chair in English and Literature, who will assist her in the next two years. 
Hou's main research project right now is a monograph about China's Rust Belt in the northeastern region of China, formerly known as Manchuria. 
This area was occupied by Japan in the early 20th century before coming under the control of China's Communist party. Because of its geographical region, it served as a transportation hub to Russia, connecting East Asia to Europe via the Siberian Railroad. This meant the area was prime to become an industrial base of China. When international trade opened up in this region, the old factories became inefficient, thus creating the Rust Belt, similar to the one in the United States. 
For the 2021 Fall semester, Hou will be teaching FORL 196: Introduction to Chinese Cinema, and FORL 198: Monsters in Modern Asian Culture. Hou chose these two topics because she thought it would be better to introduce Asian culture through visual elements like films, in the case of FORL 196, and anime and manga, in the case of FORL 198, rather than through traditional written literature. 
"Asian movies and visual culture plays a pretty big role in America's popular culture," Hou said. "It registers [now] more than [it did] two decades ago, especially for our younger generation. I think it is still quite innovative to introduce it in an academic setting, so that we can use our analytical skills and academic skills to decipher the meanings behind these — on the surface, very light-hearted things — but what can we find on a deeper level?"
When asked about the work that goes into developing a college-level course, Hou said that the most important thing is to consider what the students want. 
She said that even though the professor organizes the course, the success of the course really depends on what students need or what they hope to gain out of the course, and as such, class material is subject to change. During the course, Hou gathers feedback from students about how they feel about certain topics, and those that they deem unnecessary might be skipped, while those they deem worthwhile may be further expanded upon. 
When developing FORL 196: Introduction to Chinese Cinemas, Hou said she surveyed the other courses that Moravian offered, and it seemed like a good addition. The course was designed to give students a sense of the timeline of Chinese history and culture. 
Hou decided to teach this introductory course in her first semester, so that if students expressed a particular interest in one genre, time period, or theme, they could expand upon that in the following semesters. She mentioned some of the films that will be shown in class, including a socialst-era propaganda film, a Bruce Lee film, and an art-house movie from Hong Kong. Hou emphasized that the course covers more than just mainland China, as it also covers Taiwan and Hong Kong, the latter of which she expressed the most excitement about teaching, and more.
As for FORL 198: Monsters in Modern Asian Culture, Hou did a teaching demonstration of this topic during her interview at Moravian, where she received positive feedback from peers and decided to expand it into a full course. Additionally, she consulted one of her colleagues from UC Davis, who is an expert on Yōkai, Japanese monsters, to help her refine her knowledge on the subject in order to teach it effectively. Hou believes this class will be especially appealing to students since it covers media such as Pokémon, which was a big part of many students' lives growing up. 
"We're thinking about cultural artifacts traveling across borders and cultures, and how they got so successful," Hou said. "It also helps us form a larger critique on popular culture and its circulations in a global era." 
In addition to the ones she's teaching this fall at Moravian, Hou has also taught courses on modern and traditional Chinese literature and on Mandarin Chinese, among others. Hou would be willing to teach these courses as well if there is a demand for it. Hou said she enjoyed teaching Mandarin because of the interaction and intimacy involved with teaching languages. 
Hou said that students interested in taking a course with her do not need any prior knowledge of Asian culture or language, as she designed them for students who have little or no background knowledge. She did, however, say that students should be prepared to talk in class, as her courses are very interactive and include group discussions. 
One thing Hou is interested in doing while at Moravian University is to learn about the history of the Bethlehem area and of Moravian University.
When asked about her professional accomplishments to date, Hou said that as a junior scholar, her greatest accomplishments lay ahead of her, not behind, and she will continue pushing towards these goals. For now, Hou strives to continue working on her book and research project about China's Rust Belt. 
Looking to the future, specifically after the conclusion of her postdoc fellowship program, Hou is uncertain about the future, but that is for the best, she said. She will continue to strive to be a great academic and educator, just like her parents.
Leave a Comment