April Fool's Day Review: "The Adam Project" Pops Onto Netflix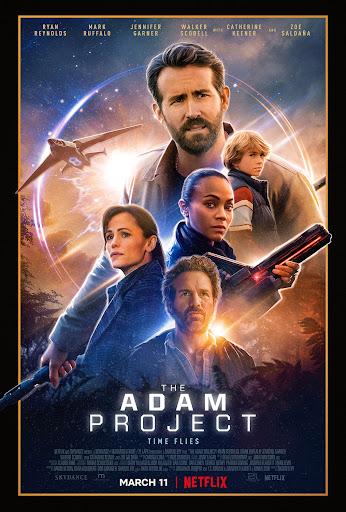 So this weekend I decided to watch "The Adam Project" by Shawn Levy known for absolute masterpieces such as "Real Steel," "Free Guy," and "Night at the Museum." Guy's clearly a legend, so to celebrate, I made some popcorn and pulled up a nice comfy blanket and queued up the movie. 
Speaking of popcorn, I've gotta say the Pop Secret brand has got to be the worst major brand of popcorn. As everyone knows, a key aspect of popcorn is the salt to butter ratio, but for some reason, the butter in this popcorn feels like it's hardly there. Because of this, it feels like the salt is the only thing pulling the weight in adding some nice flavor to the popcorn. 
Comparatively, Orville Redenbacher perfects the salt to butter ratio, providing a nice and tasty addition to the movie-watching experience. It feels like they really understand just how much butter to use without making it too much, and it shows in the finished bag.
These aren't the only popcorn dining options for the at-home movie-going experience – no, no – there's also the already-popped and prepackaged popcorn that even comes in a variety of flavors and variations. 
You can get just plain popcorn, but there's also regular butter, white cheddar, and a variety of other flavors. In particular, white cheddar and similar cheese-like flavors complement the popcorn very well. 
There are also many variations with chocolate, peanut butter, caramel, and other sweet toppings. If you want the absolute worst, bottom-of-the-barrel versions of popcorn, well, these are for you. 
To put it simply, the words sweet and popcorn do not belong in the same sentence and it takes a nice savory snack and turns it into a crummy Americanized desert. Stuff like this is an insult to one of the best snacks for a movie or otherwise. People who eat popcorn like this probably scarf down Captain Crunch iced pancakes with a package of triple stuffed Oreos on top for breakfast.
Lastly, you can get loose kernels and make them on the stove or a popcorn maker such as my deluxe Death Star one that for some reason creates a messy tornado of unpopped kernels everywhere. This option is probably the most customizable of the three major options, but it's also the most time-consuming. Regardless, if done well, this can be the best option of the three because it allows you to directly control the sacred salt to butter ratio to your liking.
Obviously, though this doesn't at all compare to the holy grail of popcorn, movie theater popcorn. I don't know what it is about it, but it's so much better than any other popcorn. The butter is easily the best of any popcorn variant. If you are at a theater where you put the butter on yourself, a nice life hack is to use an extra straw and line it up with the butter dispenser so you can send more butter into the lower depths of the bucket, which makes it so you don't eat just a single layer with butter before it's just dry and tasteless.
Hm? Oh….. yeah, the movie. "The Adam Project" sucked – 4/10. Watch "The Batman" instead, in theaters now and HBO Max on April 19th.
Leave a Comment