2022 Moravian Writers' Conference – Roundtable and Keynote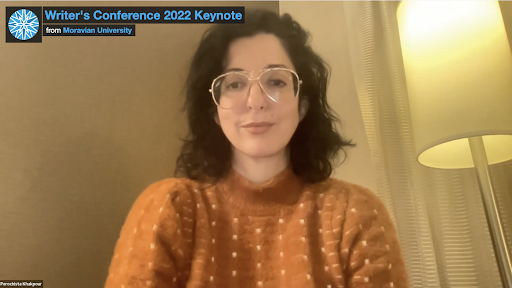 On Friday, Mar. 18, the Moravian Writers' Conference began its 2-day series of free events centered around this year's theme: Writing, Health, and Justice. 
Both writers and medical practitioners led in-depth workshops and discussions to shed light on topics like narrative medicine, workplace trauma, disparities in healthcare, and the healing power of writing. The events on Friday included a Roundtable and Q&A with five conference speakers and a keynote address with acclaimed author Porochista Khakpour.
Co-directed by Moravian professors Joyce Hinnefeld and Catherine Brandes, the Roundtable and Q&A, which was held virtually from 4:00 – 5:30 p.m, featured guest speakers Hasshan Batts, Carly Bergey, Nina Solis, Nicole Defenbaugh, and BJ Ward. The approximately 40 attendees were free to ask questions in the Q&A section, which were addressed in the last 30 minutes of the talk.
With Brandes moderating, Hinnefeld started the discussion with a question for Carly Bergey: what can an individual healthcare practitioner do to improve their care in the face of such large systemic healthcare disparities? 
Bergey, a speech language pathologist and writer with a specialty in narrative medicine, emphasized the importance of self-care; practitioners should let themselves feel their feelings and take breaks, connecting to others and not attempting to solve everything on their own.
Nicole Defenbaugh, an associate professor at Weber State University and former clinical communication specialist at St. Luke's University Health Network and Lehigh Valley Health Network, was then asked how stories can make an impact in the healthcare community.
Defenbaugh described the importance of privileging not just the patient's but the provider's story as well. With both groups sharing their stories, we can create awareness and see each other as human beings.
"It's a linguistic connection between patients and providers because it's a language that we all speak – we all have these stories and experiences," said Defenbaugh.
Hasshan Batts, a prison survivor and leading expert on trauma-informed care, added that it's powerful to think of our stories within stories, and writing them can strengthen empathy for yourself and others. We can be a community and understand that there are "no big 'I's and little 'You's."
Nina Solis, a hematology/oncology/Covid-19 nurse and writer, spoke to the power of the singular voice, saying that advocating for safer work environments and elevating other voices can also be an effective way of coping.
BJ Ward, speaking from his perspective as an acclaimed poet, quoted his grandfather: "A stream wouldn't have its song if it weren't for the rocks it hits." In other words, kinship is created through sharing your writing. He also likened this story-sharing to the "returning home" aspect of a hero's journey that could help other people on their own journeys.
The discussion continued organically for the next hour, covering a wide range of ideas.
Defenbaugh described chronic illness as the hero's journey with no end, and how chronically ill people are being pushed out of COVID-related decisions and seen as dispensable. 
Solis talked about the elderly as another forgotten group, as many of these people cannot afford or operate the technology required to get the care they need.
Batts emphasized the revolutionary power of writing – how it was not so long ago that his ancestors were banned from reading and writing, and how history will want to change our narratives. Knowing this, he's "writing for the skin I'm in."
Then the speakers took some questions from attendees. On the question of how to support healthcare professionals in our writing, advice included listening to feel (not just to respond), creating safe spaces to talk honestly about bias/stereotypes, and being "limitless in our imaginations" to advocate for others.
When asked how they were coping during this turbulent time, the speakers had no easy answers or quick fixes. Solis commented that while working on her workshop presentation about coping with burn out, she herself was burnt out. She advised working through moments as they came, expressing your feelings without feeling the need to solve all the problems.
Another question illuminated the idea that the pandemic has given many people a taste of the lack of control that chronically ill and marginalized groups face on a daily basis.
The session concluded on the question: how has writing improved your health? The speakers talked of writing's ability to ease anxiety and panic, help you resist acidic circumstances, remind you of who you are, foster self-compassion, let you feel less alone and misunderstood, and empower and advocate for those whose stories have been silenced.
A recording of this event will be available to view until May 1, 2022, and can be found here.
Later at 7:30 p.m. on the same day, Porochista Khakpour's keynote address was held on Zoom. It was titled, "My Journey in Disability and Chronic Illness on the Margins of Identity in the Pre- and Post-Covid World."
The event began with Catherine Brandes introducing Belinda Waller-Peterson, assistant professor of English at Moravian, who then introduced Porochista Khakpour. Attendees were again off screen and could ask questions throughout the keynote, which would be answered after Khakpour's presentation.
Khakpour is the author of four critically acclaimed books, her most recent being "Brown Album: Essays on Exile and Identity," and her most famous being the 2018 memoir "Sick.". This keynote, she said, would walk us through her journey as a chronically ill person and her experience of writing a book that became part of the chronic illness canon.
She started off talking about a particularly hateful piece of hate mail she received – one from a man who claimed she was above reproach because of her multiple marginalized identities (woman, queer, disabled, POC, Muslim). 
Khakpour realized that this man was angry at who she was rather than what she said. He thought she was getting away with something just by being. Reading this hate mail set the tone for the ways Khakpour's marginalized identities would intersect with her story of illness.
She began telling that story by saying it was never one she wanted to tell. "Sick" wasn't the book she wanted to write – she always dreamed of being a fiction writer. Yet, in connecting with online communities who supported the stories of her illness experiences, she decided to write it. She felt that she owed a book to those communities.
Khakpour then read several excerpts from "Sick." She described how her Lyme disease relapses were always connected with political turmoil – how PTSD spawned from her and her family leaving Iran at war and coming to America as foreign refugees, and that PTSD triggered her relapses. Moreover, she never felt comfortable in her body. She never felt like she had a home, outside or inside.
Khakpour also said that some of her sickest years came after "Sick," in the form of psychological trials from cyber-harassment.
She was targeted by the Reddit group "Illness Fakers" – an online community who declared that specific people were faking their illnesses and thus gaining unearned privilege and power. Khakpour noted that there were deaths linked to this group's targeted individuals, through both suicide and the group deliberately calling their targets' hospitals to ensure they didn't get treatment. The group thought they were doing something righteous, and Khakpour became one of the characters in their story.
On the Reddit page, an alias she didn't recognize claimed they knew her and her family and told lies about her illness: this culminated in her parents receiving strange phone calls asking if they were Khakpour's parents before hanging up. Though Khakpour got support from her own online community, the Illness Fakers group continued to stalk her, and she became so focused on them that she wondered "if it was possible to stalk your stalkers."
Then she shifted to the topic of the pandemic. For her, losing friends and being surrounded by so much death was horrific. At the same time, she has seen the greatest genuine inclusivity for the ill in years coming from the COVID-19 pandemic. With the deaths of millions, more people have cultivated empathy for the ill and paid attention to marginalized chronic syndromes. The question now: can we learn from this, or learn nothing and return to the normal that led to this?
"Let me tell you a story, even if it's the one I didn't want to tell," Khakpour ended her speech, emphasizing the empathy in our universal impermanence and unknowing.
Hinnefeld then read some questions from attendees. When asked if she thought she'd found her home yet, Khakpour said that New York has come close, but it was still up in the air. She also said that writing "Sick" was sadly a violent process, not as healing as she wished, because she was pushed to finish it and tour when she was very ill. She views talking about "Sick" as an activist project, letting her help people with her knowledge, which does feel good.
She also talked about taking care of yourself emotionally throughout chronic illness, the many good online support groups for destigmatizing mental illness, and how supportive it is to just sit and listen to friends and family with chronic illness, among other topics.
One final question asked Khakpour to expand on this idea of uncertainty and irresolution that weaved itself through "Sick." Khakpour answered that living in the gray area is the way to live. We put so much emphasis on knowing the answers, but we just can't. The project of being human is hard and endless and uncomfortable, and we should share in that unknowing.
While writing "Sick," Khakpour reminded herself of this: "You're not responsible for the answers, but to shed light on the questions."
A recording of this event will be available to view until May 1, 2022, and can be found here.
View Comments (1)