Moravian's Kiwibots: Delivering to a Dorm Near You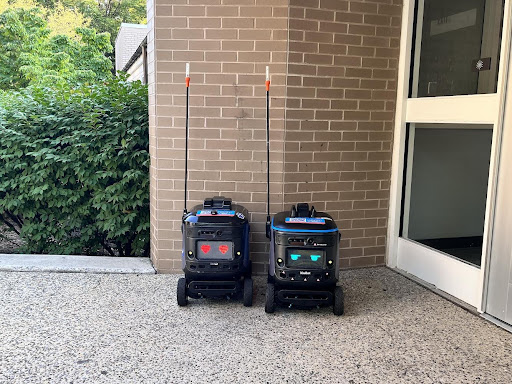 Moravian University introduced Sodexo Kiwibots to its North Campus on August 30, 2022. 
Kiwibots are small robots that deliver food around campus that is ordered on the Everyday app. Fifteen robots currently operate on Moravian's campus. When student place their food orders, they get a link to track and receive it. Only this link can unlock the Kiwibot's compartment, deterring others from tampering with the food inside. 
The bots wait at their delivery location for five minutes. If the person who ordered the food does not claim it, the bot returns to the location where the order was placed. On average, Moravian's Kiwibots deliver between 10 and 20 orders a day.
When asked about the cost of purchasing and maintaining the University's 15 Kiwibots, Christine Bainbridge, marketing manager of Dining, said, "The investment is funded by student subscriptions and Kiwibot purchases.[But] If students don't use the service, it could, unfortunately, go away." Bainbridge didn't put a number to that investment, but estimates from the publication dot.la suggest that Moravian may have paid somewhere between $37,500 and $60,000 to purchase its fleet of bots. 
We have all seen Kiwibots rolling around campus, struggling to make turns and halting in the middle of the sidewalk for seemingly no reason. This is largely due to the autonomous nature of the bots. 
According to TechCrunch+, when the bots get in situations they cannot get themselves out of, remote operators take over driving. Moravian has a three-person team monitoring the bots' GPS devices and cameras, and when the robots get stuck, the team will ride scooters to the bots to assist them. 
Ali Kashani, the CEO and co-founder of Serve, a company that created autonomous delivery robots, told TechCrunch+, "Remote video feed turns off and the robot continues navigating autonomously. . . . Robots can always request assistance if in need of one, say if they come across something unexpected. They also turn video on while crossing busy intersections. But for the majority of the time, they operate autonomously." 
Because the bots are mostly autonomous, students may wonder how far they are able to travel from campus. "You won't see the Kiwibots going from North to South campus because of all the relatively large streets it would have to cross and the logistics involved," said Bainbridge. "The farthest they will go on North campus is to the Seminary/Bahnson Center, and as far as the St. Luke's Rehabilitation Center at 1441 Schoenersville Road." 
Weather is another issue, particularly now as temperatures cool and snow season approaches. Kiwibots are up to the challenge, said Bainbridge. "[They] are weatherproof and have all-terrain tires. As long as the paths are clear of snow and ice they will be able to maneuver just fine!" 
Kiwibots are designed to serve the delivery needs of everyone in the Moravian community. 
Commuters are able to order food before and after classes, or before they go home for the day, said Bainbridge. "We've talked to faculty about having meals sent to their building if they have a lot of classes. Busy students who are working on a project or in the middle of something can have food sent right to them. And definitely, someone with mobility challenges, or someone who is not feeling well can have a meal delivered really quickly." 
The Kiwibots deliver from Tuesday to Thursday, from 12 pm to 8 pm. and on Fridays and Saturdays from 6 pm to 2 am. 
Moravian offers three different Kiwibot subscription plans. The Silver Plan is $40.00 and offers 15 deliveries, the Gold Plan is $109.00 for 45 deliveries, and the Platinum Plan is $179.00 for 70 deliveries. Without a subscription, a single delivery is $2 plus a 10% surcharge of your cart total. 
Moravian is currently looking to hire Kiwibot Student Reps. Reps are expected to answer student questions about the bots and services, attend events, and promote the mobile app. Called Kiwibot "ambassadors," they will receive $12 an hour as well as free merchandise and deliveries. A link to the job posting can be found here: https://linktr.ee/moraviandining 
Dining wants to hear what students think about the new Kiwibots service. Submit your feedback via this form. 
Leave a Comment