A Moravian Standout Balances Academics, ROTC, and Sports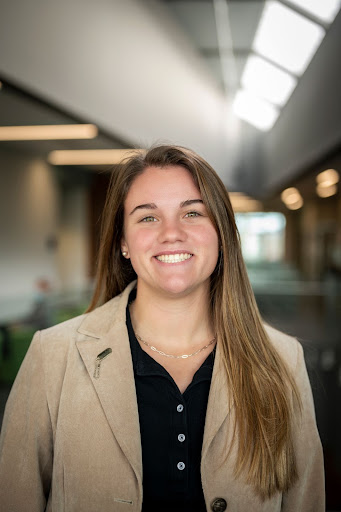 In a few weeks, Maddie Wickel will graduate from Moravian, having seemingly done it all. 
Wickel is a senior cadet with the Reserve Officers' Training Corps (ROTC) Program, a discus, hammer, and weight thrower on the track and field team, and a political science major at Moravian University who generally makes the Dean's List. She will be leaving Moravian University and her hometown behind after graduation. 
Wickel grew up in Whitehall, Pennsylvania, and graduated from Bethlehem Catholic high school in 2019. She felt from a young age that the Armed Forces was where she would end up. "I woke up one day when I was in seventh grade, and I knew that I wanted to join the military," she said. 
She initially looked into going to West Point Military Academy but also decided to apply for an ROTC scholarship as her Plan B. However, after more research, she found that ROTC would be able to give her the traditional college experience at over 1,000 schools nationwide. An ROTC scholarship would also allow her to join the track and field teams at those schools, a real draw since Maddie was a thrower in high school.
One of the schools that offers ROTC is Moravian. When the University's track and field coaches recruited her, she decided to be a Hound and excel in ROTC, track, and academics.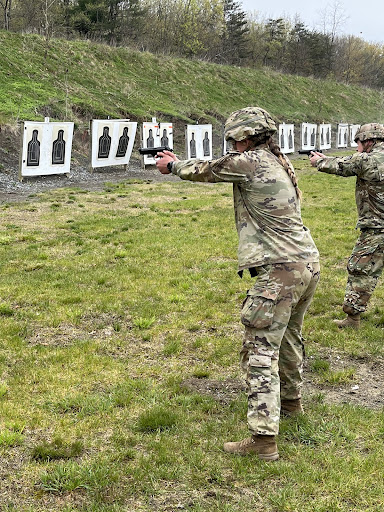 It was a steep challenge, and Wickel admits that "freshman year was a learning curve." She compares it to a roller coaster, with good and bad semesters. 
To better manage her time, she invested in paper planners and utilized Google Calendar. Those simple aids were game changers, helping her manage her course work, track team responsibilities, and the roughly 15 to 20 hours a week required by the ROTC program (which is now 70 to 80 hours a week).
"[My] academic schedule has kind of gone on a singular upward path," she said. "[And] track and field is very flexible, especially with Coach Jon as our coach."
Coach Jonathan D'Ottavio is the throws coach for Moravian's track and field program. He believes Wickel's commitment is impressive, especially for how much she deals with in a day, noting that track and field commitments take up six days a week. "It's something everybody should aspire for," he said.
Wickel's determination and passion for everything she is involved in have resulted in numerous accolades. 
She placed in the top 1% of ROTC cadets in the nation, ranking 71 out of 5,671, which is the highest any cadet from Wickel's ROTC battalion – called Steel Battalion – has achieved in the history of the program. Thanks also in part to Wickel, Steel Battalion ranked 1st in the 45 battalions in the 2nd Freedom Brigade, a very high honor. Wickel placed 3rd in her platoon in Cadet Summer Training, as well. 
At the same time, Wickel stood out in track and field, earning first place in the weight throw at the Landmark Conference indoor track and field meet her junior year.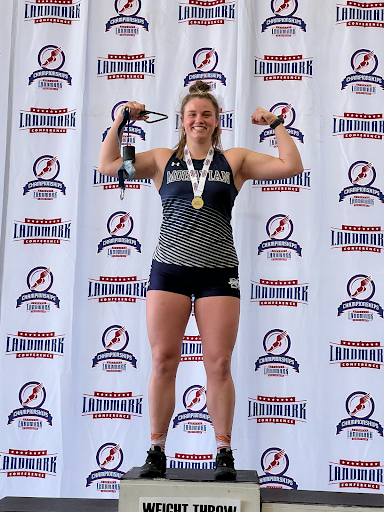 Come May, Wickel will be sworn in as a Second Lieutenant and leave for Fort Benning, Georgia, where she will be in Infantry training with armor officers. There, she hopes to "rank in the top of her class so I can get a slot in Ranger School," she said. Once she passes Ranger School, she will go to Airborne School and will subsequently be sent off to her duty station. Her top choice is to be in Italy with the 173rd Airborne Unit, which she says is "one of the best infantry units that we have overseas and overall in the infantry branch itself." 
One thing Wickel wishes she had during her time at Moravian University is more support. 
"When I was a freshman, I felt there was a lot of support for the ROTC program [here]," she said. "[But] I feel there needs to be more support for [Moravian] to grow our numbers because we are [just] a satellite school, not the host school for Steel Battalion ROTC." To boost the program, Wickel and a few other students created the Student Veterans Association club at Moravian.
One person who really influenced her career at Moravian, besides her Track and Field coach, is Marilyn Kelly-Cavotta, the director of the Department of Veteran and Military Affairs.
Taking on all these tasks and executing them so effectively is not for the faint of heart. Wickel has fought through the trials and tribulations of academia, ROTC, and athletics and has come out on top. 
View Comments (2)