USG Roundup: Offering Club Support, Upcoming Changes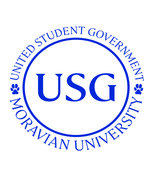 • Dining services are offering new graband-go style breakfast sandwiches in the B&G, located near the sushi station. • The Academic Planning and Program Committee (APPC) approved a marketing minor and a supply chain management major.
• APPC also approved a new major: early education, English as a second language, in addition to creating a minor in finance.
• Eight USG members attended an LVAIC (Lehigh Valley Association of Independent Colleges) leadership conference at Lafayette College with other student government leaders on April 1, which included a day full of workshops, presentations, leadership development and networking.
• The Student Engagement Committee launched a recent initiative emailing all students about upcoming club events, so reach out to clubsusg@moravian. edu to add your club event to the list.
• Philosophy Club and The Muslim Student Association have recently been re-established as a club, so feel free to reach out to their club leaders if interested in joining.
• Stitches, a crocheting club, and The Italian Student Association were approved as new clubs.
• The USG PR team has been updated to include Rachel Korb, Grace DiDomenico, and Liz Kameen. • The PR team is available to help clubs with advertising, flyers, social media posts, and any other concerns; just reach out and ask!
• USG recently held a supply drive for The Allentown Rescue Mission from March 27 to April 10, collecting canned goods and nonperishable products. • AAUW has rebranded into the Gender Club, and they are currently seeking new e-board members.
• The Student Wellness Committee tabled during Mental Wellness Day, offering affirmations, candy, and a mirror to leave positive notes on.
• Due to some confusion, there have been some adjustments to the Club Finance Google Drive. If experiencing any issues, reach out to [email protected].
• USG approved The Comenian's discretionary request to allow funds for this physical edition, so our staff extends a warm thank you to our friends at USG!
Leave a Comment