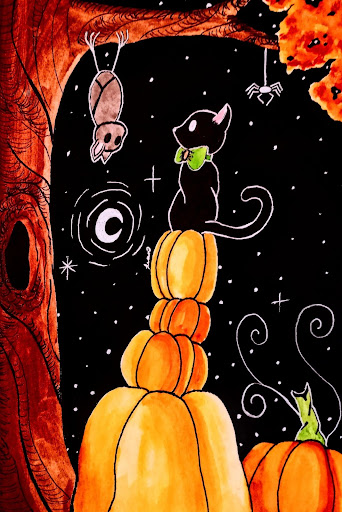 Beaumont, a wee black house cat, sat in the window of the upstairs sitting room, gazing out at the stars and the moon that shone so beautifully. Lulled by the crackling of the fire in the hearth, Beaumont was lost in thought as he daydreamed about the upcoming Halloween party Miss Sally was planning. Then, a small spider swung down beside Beaumont.  
"Beaumont, ole pal," the spider said as he dangled nearby, "I've gots some bad news, so I do."
"Sigmund! What's wrong?" Beaumont asked the spider. Sigmund was Beaumont's best friend, and he knew that Sigmund was serious whenever he had a concern.
"It's Tilly," Sigmund replied. "She's feelin' a wee bit down, so she is. It's almost Halloween and she's never been able to haves some good 'n proper enjoyment of it, she told me."
"She never told me that it bothered her before," Beaumont replied. 
"With them truths 'n all, I think she's finally popped her lid from all them frustrations," said Sigmund. "She just did all that blurtin' out of her feelings to me, so she did."
"Well, I don't like it when my friends are sad. I'm going to go talk to her," Beaumont said. Beyond the glass, he could make out a small, bat-shaped silhouette hanging upside down from a branch of the great oak tree. Tilly often hung out there, usually when coming to pay a visit to Sigmund and Beaumont. Beaumont hopped down from the sill and made his way outside. 
The air was cool and crisp, as it often was in the month of October. The leaves on the trees around Miss Sally, Beaumont's human's house were brilliant shades of yellow, red, and orange. The leafy bows and branches of the oak that stood proudly outside of the sitting room window were no exception. A gentle breeze drifted through, rustling these fiery crowns and sending leaves cascading down like rain. Sigmund caught a ride in Beaumont's bright green and gold bowtie as the cat ran to the tree.
Beaumont, stopping beneath the tree, looked up and called out to the bat figure in the branches.
"Tilly? It's Beaumont," the black cat yelled. "Sigmund said you were feeling down."
"Oh, Beaumont," the bat called back, craning her neck to look down at Beaumont. "I'm just so sad that I've never had a proper celebration for Halloween before. I've spent years hanging around, watching you help Miss Sally and Mr. Thomas carve pumpkins. I've always wanted to do that, myself, or at least touch a pumpkin with my own wing. You all have such a lovely time, it would seem. But I can't celebrate like you do, Beaumont. You and Sigmund know I get a nasty headache if I'm upright and not flying. I think I'm going batty thinking about it."
Beaumont listened to his friend, taking in every word. Then, his ears twitched, and his tail flicked. 
He had an idea.
"Well, maybe I can help you out," Beaumont meowed with a smile. "If you can't go to the pumpkins, what if I brought them to you?"
Tilly flapped her wings in excitement, "That would be the most amazing thing! You'd do that for me?"
Beaumont laughed jovially, replying, "I'd do anything to help my friends."
Beaumont, with Sigmund still in his bowtie, went to Mr. Thomas's pumpkin patch. The pumpkins that grew there were of all different sizes and shapes. Beaumont sighed, seeing how large they were, despite their variety in appearance. Normally, he would have one of his humans carrying the pumpkins for him, but it was the middle of the night, and Beaumont wanted so badly to see his friend happy. 
"You best be a gettin' chewing them pumpkins free," Sigmund said, hopping from Beaumont's bowtie and skittering over to the first pumpkin, a large, tall one with a squat base. "I'll choose 'em, you do those chewin' of the vines so we can gets 'em free."
Beaumont got to work, gnawing free pumpkin after pumpkin, following his spider friend. Now he just had the painstaking task of rolling them all the way back to the oak by Miss Sally's. 
One hour went by, then two, then three. But finally, Beaumont had enough. He put one pumpkin on top of another, stacking them up into a crooked tower. Then up he went, scaling the pumpkins carefully until he was at the top. Sigmund hung down beside Tilly as Beaumont spoke.
"Tilly, look what Sigmund and I brought you!" Beaumont chimed merrily.
He beamed as Tilly saw this marvelous orange tower before her. The pumpkin tower was so close she could reach her wing out and touch it. And so she did just that. 
"This is so amazing," Tilly said, tears of joy and appreciation swimming in her dark eyes, making them sparkle like jewels. "I've flown close to them before, but I never thought I'd be able to put my wing on a pumpkin and touch it! Thank you Beaumont, Sigmund."
Beaumont flicked his tail, glad to have made his friend happy. 
"Happy Halloween, Tilly."