The Silver Lining of Coronavirus
When I drove out of Easton, Pennsylvania, for Spring Break 2020, I never imagined that I would not be returning to campus to complete the rest of the semester.   
But that is what happened, and here I am, inside my suburban home in Warren, NJ, where I remain quarantined with my family.
Warren, a straight 40-minute drive due east of Easton along Route 78, is citified enough to have both a Starbucks and a Moe's, but for the most part it is very rural, with several farms and many neighborhoods where there are more deer than people. Recently, some of Warren's oldest woodlands have been replaced by "cookie-cutter" neighborhoods, but my home is tucked away in a secluded part of town, where it remains embraced by trees and shrubs that likely existed well before the Revolutionary War.
Eight weeks ago, when tasked with a series of remote classes to complete, I carefully searched my home for the optimal study spot, and I selected the oval, oak table in our kitchen.  
Conveniently, it was just steps away from the refrigerator in case I needed a quick study break, and due to the nearby floor-to-ceiling windows, plenty of warm natural light illuminated the tabletop. Next to the table was a tan and gray fieldstone fireplace with an almond brick hearth that was tinged with black soot from the fires enjoyed by our home's previous owner. Our family, though, rarely used the hearth except to showcase my mom's growing candle collection. 
From my kitchen chair, I had an unobstructed view of the backyard lawn through these windows, with the exception of an unflowered pear tree that grew about six feet away and a brown, weathered metal bird feeder that hung from one of its lower branches. Surrounding the bottom of the tree's trunk was a mound of freshly chopped, brown mulch along with some recently planted pink perennials. Outlining the rear perimeter of my yard was a black, wrought iron fence, which separated our regularly manicured lawn from the twigs and overgrown brush that grew rampantly in the woods on the other side.  
Despite living in quarantine, I was able to meet several new friends while sitting in this chair. As I logged into my remote classes each day, I frequently was greeted by the regulars at the bird feeder.  
Typically, Frank and Margaret, a cardinal pair, were the early risers who perched on the feeder's rimmed ledge. I named them after my aunt and uncle, who were both passionate about eating free food. Like my aunt, Margaret the cardinal was also very chatty, and she consistently reminded me with her series of loud "peeps" when the feeder was empty. On several mornings I saw Frank pick up the seeds from the feeder with his orange, triangular beak, spit out the ones that were not pleasing, and then romantically feed the remainder into Margaret's open beak.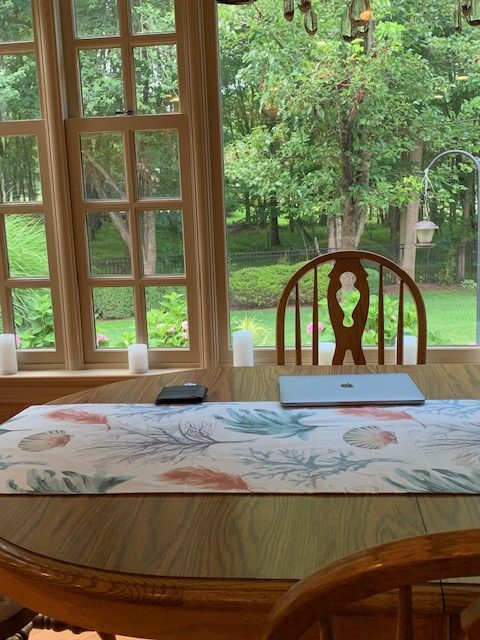 I have yet to uncover their nest to see if a family of young ones may have resulted from their romantic breakfasts, but I continue to keep an eye out for it.  
The "hats" generally arrived afterwards. I called them "hats" because they had a triangular tuft of gray feathers protruding from the tops of their heads. With the assistance of the All About Birds website, I confirmed that these fancy-looking friends were tufted titmice. 
Unlike Frank and Margaret, who were more than happy to eat their seeds at the feeder, the "hats" preferred take-out food. They were my "grab-and go" friends who carried their seeds to the pear tree's branches, carefully dropped them between their feet, and pecked only at the ones they enjoyed. 
By contrast, the doves were the bottom feeders of the bunch. Instead of flying up to the feeder for food, these friends scavenged through the mulch to find the seeds that other, more finicky birds knocked to the ground. 
One afternoon, while attempting to study psychology, I saw a small tan mass through the fence that I never remembered seeing before. Instead of paying attention to Professor Shaw's psychology video, my eyes continued to drift over my computer screen to that area.  
No longer was I able to control my suspense. I pressed pause on the video, walked out my back door,  and cautiously tiptoed across the lawn to the fence at the rear of my yard. Nestled in the midst of tall weeds and branches was a sleeping young fawn, covered with white spots.  I could not believe that his mom left him there alone, especially because we had many hungry foxes and bears who freely roamed throughout the woods.  
I quietly travelled back to my house, grabbed a handful of peeled baby carrots, and returned to the fawn. Carefully, I threw the carrots through the fence and aimed them at the mossy ground that surrounded him, hoping that he would wake up. 
However, this Bambi snoozed through it all. When I ran out of carrots, I returned to the kitchen and watched the video, yet I was concerned that Bambi was going to be eaten by our local predators.  
However, like a parent who arrived at the daycare center to pick up her son at the end of a workday, Bambi's mom sauntered back to the brush late in the afternoon and woke little Bambi from his deep slumber. As he nursed from his weary-looking mom, I saw his white fluffy tail rapidly wag back and forth, and I felt relieved to know that he was now happy and safe. 
A few weeks later, while sitting at the kitchen table and writing my last paper of the semester, I heard a loud "hrwoom," followed by silence. It resembled the sound of cars' whirring along on a highway, and it was hauntingly familiar; however, I hoped that it was just the sound of the birds outside.  
Moments later, a loud, constant, high-pitched chirping emanated from the fireplace hearth.  With disappointment, I realized that our friends, the chimney swifts, had flown in once again from Peru to visit us.  
They must really like our chimney because this is their third stay with us, and each year they invite more of their swift friends to join them. As we have done in the past, we removed all of my mom's candles from the hearth and filled it up with thick, gold patio furniture cushions, hoping to muffle their screechy songs. 
Each morning, at 4:30 AM, they sang their loud, unrelenting chirps in unison, which I knew would only get louder after their babies were born. When they depart for Peru in the fall,  I hope that my dad will install a chimney cap so that they will have to seek alternative vacation accommodations next summer.
The coronavirus pandemic — a devastating ecological phenomenon that is thought to have originated from bats within the natural world — forced me to abruptly leave my professors and classmates and shelter in fear within the confines of my home; however, it also surprisingly provided me with a wonderful opportunity to notice and appreciate an alternative, more beautiful aspect of nature: the web of natural life teeming outside in my backyard.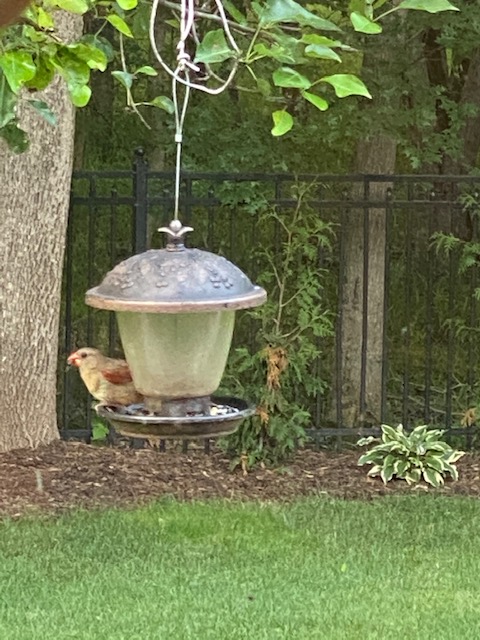 Because my life had always been hectic, with constant demands from college, athletics, family, and friends, I never before took the time to stop, look, and notice the beauty of nature that thrived so close to where I lived, but the pandemic provided me with an unexpected value — this gift of time. 
In addition to enjoying the wildlife's quirky habits during my prolonged study breaks, I realized that these animals also fulfilled my need for friendship at a time when I was not able to physically visit with other people. While my family members were working independently in other rooms and the fury of the virus continued to wreak havoc throughout the world, it was reassuring to have these animal companions join me as I completed my monotonous routine.   
I continue to enjoy watching my bird friends through the window, while observing proper social distancing from the bird feeder. When the feeder becomes empty, I know that Margaret will let me know and authorize a limited visit to refill it.
---
Ryan Mangini is a junior at Lafayette College who is majoring in Government & Law and Economics. He wrote this essay as an LVIAC student in Professor Mark Harris's Environmental Writing course this summer.
Leave a Comment